Support Units of Qatari Hajj Mission Continue to Work According to an Integrated System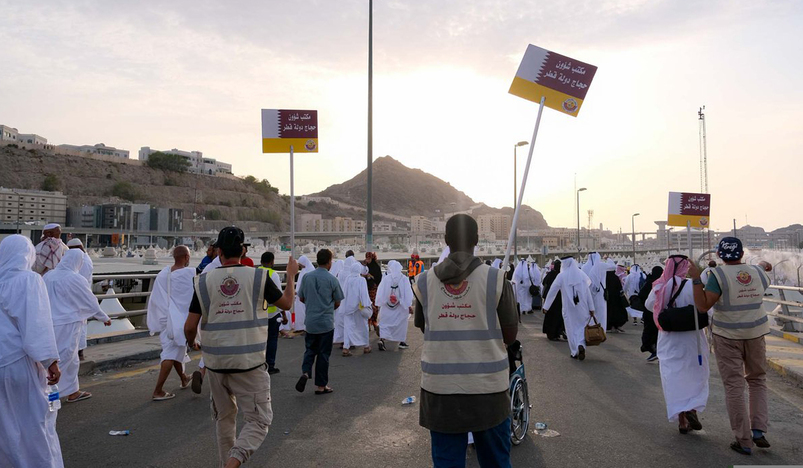 Qatari Hajj Mission
The Qatari Hajj mission continues its tireless work in supervising, coordinating and following up with all campaigns during the presence in Mina camps, according to grouping plans prepared and supervised by the Qatari missions cadres in the interest of the safety of Qatar's pilgrims, and preparing all the factors and means that enable them to perform the 'stone the devil' during the days of Tashreeq with ease.
In a related context, the supervisory departments of the Saudi health authorities praised the equipment of the medical unit of the Qatari Hajj mission, and stressed, through their continuous communication with the specialists of the Qatari medical mission, that the medical clinic of the mission is one of the best medical clinics in Mina camps for this year 1443 AH.
The support units of the Qatari Hajj mission work within a framework of integration and coordination to serve the pilgrims of the country in all campaigns in Mina camp, by providing health care provided by the medical unit through two clinics equipped with all medical equipment and devices; One for men and one for women, with the provision of the latest emergency equipment, an ambulance with male and female paramedics, as well as three paramedics equipped with the innovative emergency suit; Two for men and one for women. The medical unit of the Hajj mission also includes distinguished competencies of doctors, nurses and pharmacists (men and women), who were selected from the most skilled medical staff, and the medical staff included all treatment specialties.
The team of the call center and the unified support for the pilgrims of Qatar, which works around the clock, intensified its work on the tenth of Dhu al-Hijjah; Through the grouping of pilgrims while they are in the camps of Mina, by following up the movements of the campaigns from their places of residence to the camp.
The call and support center received some calls and inquiries from pilgrims and campaign officials through the toll-free hotline from inside the Kingdom of Saudi Arabia (8003040444), and they provided immediate assistance to them. The centers field and guidance teams also continued to follow up on the movement of campaign groups from their places of residence to the places of their camps in Mina and the movement of buses during the return to the residence after midnight, accompanied by some pilgrims, in order to guide them and to ensure their safety.
(QNA)