S'hail 2022 Exhibition Inspires Partaking Artists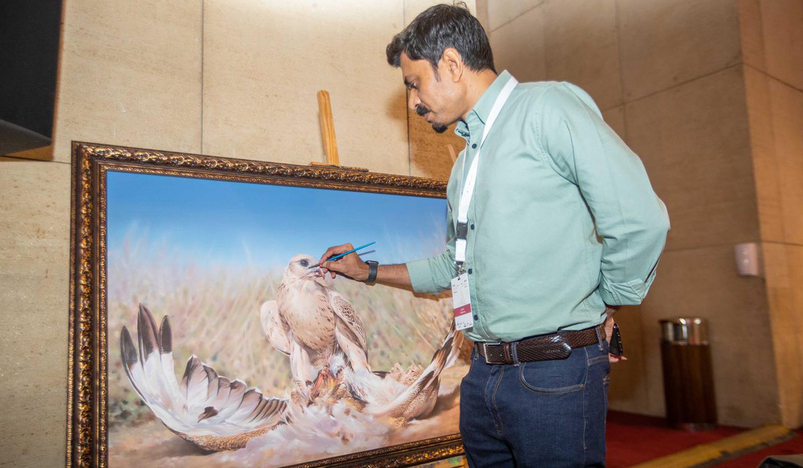 Artists
Katara International Hunting and Falconry Exhibition (S'hail 2022) represents a space to celebrate the tangible and intangible heritage of hunting par excellence through a number of activities.
Qatari artists and residents compete in highlighting their talents by drawing predatory birds domesticated by man, and became his companion at home and in trips to the wild.
Falcons auctioned in the exhibition show off their harmonious plumage, graceful figure, and wide eyes that captivate the onlookers as soon as the hood is removed and photographers race to get pictures. The artists spread out in the exhibition spaces, competing in drawing falcons without prior agreement, some were requested to finish paintings before they were completed, as if it were a second unannounced auction by the artists.
Organizers of the S'hail 2022 stressed the importance of fine art, as it has become one of the pillars of the exhibition, and its role in documenting and preserving heritage, and supporting artists.
Abdul-Hameed Al-Siddiqi, an artist, told QNA that this is his first participation in S'hail, where he paints the falcon in different poses and with multiple techniques, in oil, acrylic or watercolor.
Yesterday, Siddiqi was busy painting the falcon "Afrin", one of the most famous falcons in Qatar in acrylic colors, spreading his power while preying, in addition to a painting of a peregrine falcon.
He pointed out that visitors, especially falcon lovers, like to acquire these paintings.
Not far from him, the artist Mounir Al-Kokbani took a place with a constant movement of visitors,"I paint in oil colors and charcoal in my second participation in the S'hail exhibition, and focused on falcons and one of the Qatari celebrities on a hunting trip," speaking to QNA.
He explained that there is an interaction between the audience and the artists, where "they keep eyes our works while performing them in the smallest detail".
In a similar statement, the artist Fouz Saif commented :" I am participating in the S'hail exhibition for the fourth year in a row, and my drawings are all related to birds, where three works were selected for us, two of them for display and one for live drawing show before the public," noting that the public has a great fondness for realistic art paintings, especially from fans of hunting, mentioning that she uses pastel pastel and oil in drawing.
In the section dedicated to weapons, the artists Zeina Barra and Sakir Hussein were present, where they armed themselves with their colors and brushes to carry out their works of art.
While Zeina is a master of realistic painting, as evidenced by her various participations and the high awards she won, the artist Sakir Hussein has combined realistic painting with photography and design with a delicate sense, but his participation in the exhibition was limited to painting.
"This is my sixth participation in a row, as the exhibition is constantly evolving year after year, and I draw three types of falcons, each in a special and individual painting, and I focus on the fine details in the falcon, I try to stay away from the error as much as possible, so that the painting has its special aesthetics," the artist Zeina Barra told QNA.
As for the artist Sakir Hussein, he pointed out that he designed a number of works for the S'hail exhibition, in addition to executing his drawings in oil and wood colors.
Katara International Hunting and Falconry Exhibition (S'hail 2022), considered one of the largest international exhibitions specialized in falconry, provides everything related to the field of hunting and falconry, and includes cultural and heritage pavilions.
It also includes many recreational and heritage events, including a falconry auction, falconry and hunting exhibitions, poetry sessions, seminars and lectures. The exhibition also dedicated a pavilion for hunting handicrafts and falconry supplies.
(QNA)