Where to Go for Your Next Coffee Break in Lusail?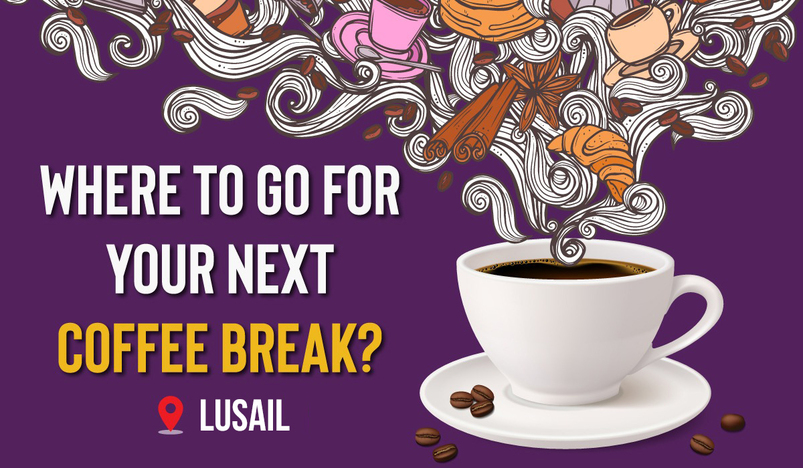 Coffee Break
In this up-and-coming city, it is guaranteed that there are still some spots for you to check out. If you're in the area, drop in by one of these cozy, chic cafes to enjoy a filling and delicious break.
1. Bodega Café
A fast-casual concept, Bodega is a corner shop in Lusail city that specialises in fresh coffee, sandwiches, pastries, grab-n-go meals, and sweets. With the mission of creating fresh food, they aim to avoid preservatives by preparing their daily menu in the central in-house kitchen. Pay a visit to this chic café in the luxurious city of Lusail to enjoy a good break.
Location: Marina Tower 16
Contact: 3050 3090
2.  Calm Street Café
This café embodies its name with an open terrace to allow its customers to enjoy a calm, relaxing atmosphere paired with a smooth cup of coffee and a delicious bite. You can have your sweet cravings answered here as well.
Location: Lusail Marina 50, Ground Floor
Contact: 4467 2318
3.  Ink Café
The perfect place for a caffeine fix, Ink Café not only serves some of the best coffee but also provides a wide variety of food and desserts to choose from. Sandwich or salad, ice cream or cake, they have got you covered. With its art-inspired interior, it is a unique spot for you to relax with friends or coworkers.
Location: Lusail Night Market
Contact: 7441 4481
4.  Love Café
Apart from a romantic getaway, this café's locale allows you to relax on the beachside which makes it a unique spot for a coffee break. With seating on the sand and spread out along the beach, enjoy a breezy afternoon or a cool night with a lovely view.
Location: Waterfront Hotel Beach
Contact: 7400 7404
5.  Atmosphere Café
This quaint café lives up to its name by setting a calm, relaxing atmosphere for you to unwind in and catch a break. Whether it is a cup of coffee or a quick bite, or something sweet to end your day, this café hits just the right spot.
Location: Street 112
Contact: 6000 1278
6.  Everest Café
You can enjoy a variety of iced drinks, pastries, and desserts at this holistic spot. With an all-white interior, this café is guaranteed to help you relax.  
Location: Lusail University
Contact: 5574 4515
7.  Laura Café
This café boasts an impressive outdoor terrace with a panoramic view of Lusail city. They offer a selection of breakfast items all day under an Arabic and Indian fusion theme.
Location: Marina Twin Tower B
Contact: 4493 8525