THINGS TO DO ON A RAINY DAY IN QATAR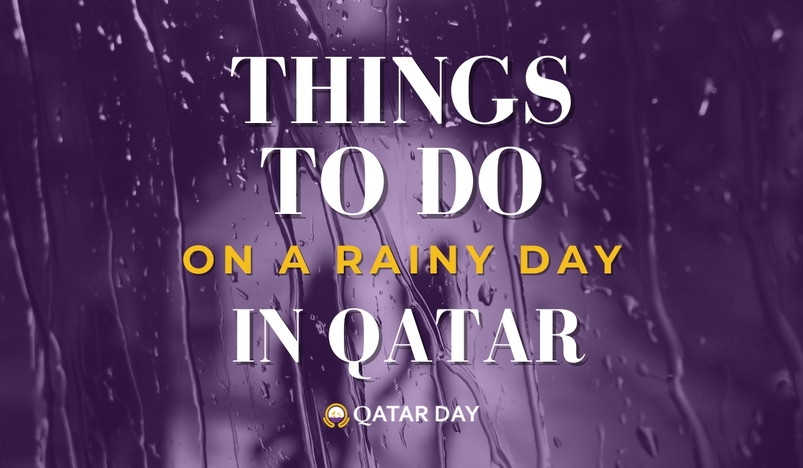 THINGS TO DO ON A RAINY DAY IN QATAR
Qatar is known for its scorching desert heat and sunny skies, but every now and then, the heavens open up, and the country experiences a rare rainy day. While these moments might be infrequent, they offer a unique opportunity to explore the nation in a different light. So, if you find yourself in Qatar on a rainy day, fret not! We've got you covered with ten exciting things to do, but first you've got to ask yourself:
Do you want to be outdoors in the rain?
If yes, then here are some of our favourite things to do!
1. Embrace the drizzle: When it rains in Qatar, it's often a light drizzle or a brief shower. If you enjoy the rain, find a suitable outdoor location such as the Doha Corniche or a park. Take a leisurely walk or sit by the waterfront to enjoy the calming effect of raindrops.
2. Capture the Moment: Rain in Qatar can be a rare and picturesque sight. Grab your camera or smartphone and take photos of the rain-soaked cityscape, architecture, and greenery. It's an opportunity for some unique shots.
3. Enjoy Café Culture: Doha has a thriving café culture, and sipping a cup of hot coffee or tea at a café with outdoor seating while watching the rain can be a cozy and enjoyable experience.
4. Get yourself some comfort food: With all the many delivery options in Qatar, you can order yourself a warm steamy bowl of your favourite dish and enjoy it while cozying up to the view outside.
Now, if you want to stay indoors and AWAY from the rain, here are our top suggestions for you!


 
1. Visit one of the many gorgeous museums:
   Rainy days are the perfect time to explore the museums in the country. Head to MIA, an architectural marvel along the Doha Corniche or the 3-2-1 Olympic and sports museum, dedicated entirely to sports. Qatar's museums house an impressive collection of Islamic art and take you on a journey through the many eras in the country's development, giving you a deep dive into the culture and history of the region.
2. Indulge in Retail Therapy at Villaggio Mall:
   Enjoy a shopping spree at Villaggio Mall, an Italian-themed shopping center. With its vast array of boutiques, restaurants, and an indoor canal, it's a great place to stay dry and pamper yourself.
3. Relax at the Al Messila Spa:
   Escape the gloomy weather by getting a spa treatment at Al Messila Spa. Whether it's a soothing massage or a traditional hammam experience, you'll feel rejuvenated in no time.
4. Savor Qatari Cuisine at a restaurant with a view of the rain:
   Experience the rich flavors of Qatari cuisine at one of the many restaurants located at Pearl Qatar or West Bay with a spectacular view of the horizon. So you get to enjoy the rain while staying dry, with a stunning view of the Doha skyline and a delectable array of dishes.
5. Catch a Movie at a Luxurious Cinema:
   Enjoy the latest blockbusters in comfort and style at one of Qatar's luxurious cinemas, like the IMAX at Novo Cinemas in the Pearl-Qatar or the Katara Cinema.
6. Attend an Art Exhibition:
   Qatar has a thriving art scene. On a rainy day, explore the various art galleries and exhibitions showcasing local and international talent.
7. Escape into a Bookstore:
   Head to one of Qatar's well-stocked bookstores like FNAC, Borders or Virgin Megastore, grab a hot cup of coffee, and lose yourself in a good book.
8. Experience Thrills at Virtuocity or Megapolis:
   If you're traveling with family, Virtuocity at Doha Festival City or Megapolis at Pearl Qatar are both fantastic places for indoor entertainment, with arcade games, virtual reality experiences, and more.
While rainy days are a rarity in Qatar, they provide a unique opportunity to explore the country's indoor treasures as well as outdoor spaces and experience its cultural richness. So, embrace the raindrops and make the most of your rainy day in Qatar! Happy rainy days!