QU Career Fair Kicked Off with Participation of Over 70 Public and Private Bodies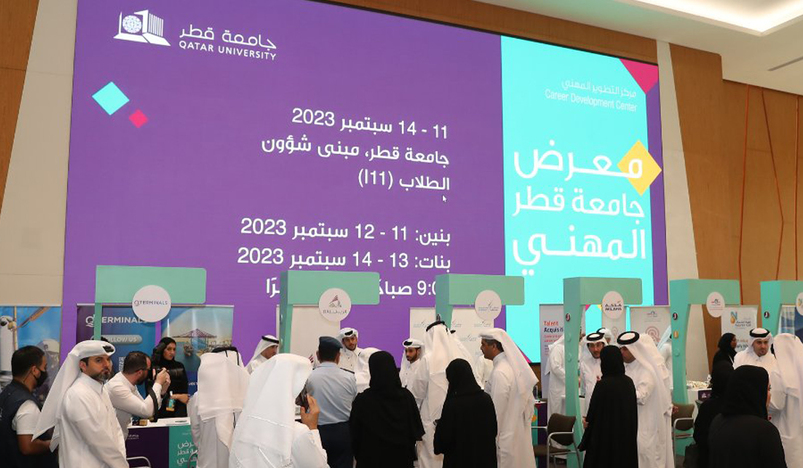 QU Career Fair
Qatar University (QU) launched today the 16th edition of its annual Career Fair, with the participation of over 70 government and private bodies in the country. Attending the inauguration of the QU Career Fair were QU President Dr. Omar Al-Ansari and a number of senior officials from the University and representatives of the participating ministries and entities.
The QU Career Fair aims to introduce students to the professional opportunities available in the labor market as well as training and academic sponsorship.
The four-day Career Fair provides countless opportunities for students; this includes summer training and academic sponsorship in various sectors such as energy, industry, finance, business, education, health, sports and services, in addition to awareness-raising activities about the labor market and the required specializations and the necessary skills.
Talking to reporters, Civil Service and Governmental Development Bureau's (CSGDB) Civil Service Affairs Director Saif Ali Al Kaabi praised the university's efforts in organizing the event, noting that the role of the CSGDB in this event is to direct students and guide them to the specializations required in the labor market to meet the state's needs in various sectors, in coordination with the Ministry of Education and Higher Education.
He pointed out that the exhibition provides many job opportunities, training, qualification and government scholarships for Qatari students, with a focus on specific specializations that meet the needs of the country, such as medical, engineering, information technology and other vital scientific fields.
Al Kaabi noted the participation of the private sector, along with the government sector, in providing such opportunities for students, hoping that the event would achieve its goals in guiding students and opening a window to the labor market.
Gadeer Mohd Zainal, Head of Student Employment, Career Development Center, noted that the Career Fair is one of the important events that QU is keen to organize on an annual basis, as it brings together the largest number of employees under one roof. She pointed out that the event contributes to QU's strategy, to prepare graduates for the labor market and stressed that the exhibition serves several groups in the community including secondary school students, who can visit and get to know the existing professional opportunities, which may help them choose the right educational path strategically and thoughtfully.
The QU Career Fair is organized annually by the Career Development Center, which provides counseling, training and professional development services and helps to prepare students to engage and compete for the best career opportunities. It also specializes in providing QU students with student employment during their study at QU.
(QNA)