Qatari Hajj Mission Unveils Medical HT Rescue Jacket for Service of Qatari Pilgrims in Holy Sites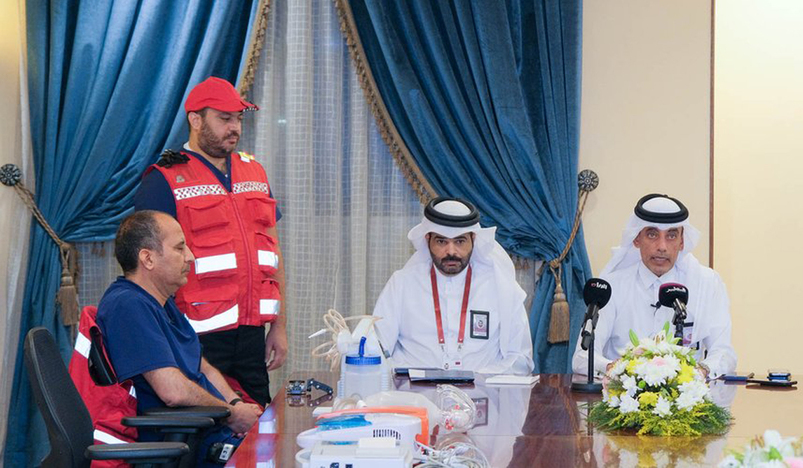 Qatari Hajj Mission
The Qatari Hajj Mission rolled out the innovated HT Rescue Jacket which is the first of its kind that will be used in the Holy Sites during this year Hajj pilgrimage season for the service of Qatari pilgrims and offering medical care for them.
During a press conference held at the Qatari Hajj Mission in the Holy City of Mecca, the Head of the Medical Unit of the Qatari Hajj Mission Dr. Khalid Abdul Hadi clarified that HT Rescue Jacket is a new idea that was innovated and developed by the Medical Committee of the Qatar Red Crescent Society which is a unique Jacket that combines the entire devices and medical kits required by the paramedic for the immediate medical intervention specially during crowdy situation when pilgrims embark on performing the religious rites, particularly in the Holy Sites in Muzdalifah where it is extremely hard for ambulance vehicles to reach out the patients. However, the paramedic personnel who wear this Jacket is capable of reaching out the patients with high mobility to provide the emergency medical services.
Dr. Khalid Abdul Hadi emphasized that the innovated HT Rescue Jacket is deemed a mobile ambulance vehicle which contains the entire medical kits and equipment that normal ambulance vehicle contains based on the modern miniature devices from highly recognized manufacturing plants, adding that the jacket is characterized by smaller size and light weight (6.5 kg) which can be worn easily and keep moving around with any device compared to other medical devices used in the normal paramedic equipment.
He revealed that the medical unit of the mission has three paramedic jackets equals three ambulance vehicles which are to be used in the Holy Sites, as they contain Electrocardiogram EKG, The automated external defibrillator (AED), Fluid Suction Device, pulse Oximeter, Blood Pressure Monitor, Glucose meter, Asthma Nebulizer, Temperature measurement device, in addition to multiple primary paramedics for wounds and injuries and others.
(QNA)