Qatar to host DICC T20 Champions Trophy 2022 Cricket Tournament for the Deaf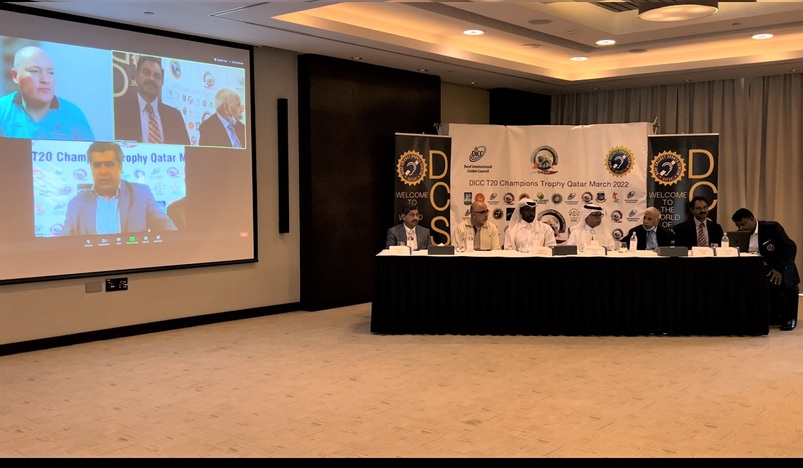 DICC Champions Trophy Qatar 2022
Paving the way for deaf cricketers to rise up to the international stage, Cricket Sports Centre Qatar, will be hosting the first-ever International Cricket Match for the hearing impaired and differently abled community in Qatar. The 1st DICC Champions Trophy tournament will be held from March 14 to 26, 2022 at Asian Town International Cricket Stadium, which hosted various ICC international events in the past.
The sports event is part of the organization's continuing commitment to provide the best opportunities to our world-class hearing-impaired cricketers around the globe. This will serve as an avenue to promote and develop Deaf Cricket in Qatar.
DICC Chairman Mr. Stefan Pichowski who joined the press conference online from UK appreciated Mr. Zahir Uddin babar CEO DICC and Mr. Christopher raja president of Deaf cricket sports centre Qatar for all their efforts to promote deaf cricket. The trophy was unveiled by the CEO Of DICC Mr. Zahir uddin Babar Infront of the press in Pakistan. The chairman of Deaf cricket sports centre Mr. Ahmad Mohammad Qasim thani Al Subaey said this the beginning of many more such events for the differently abled community in Qatar.
Paralympic Champion Mr. Abdulrahman Abdulqadir Fiqi and indian sports centre president Mr. Mohan Thomas were also present in the press conference. 
Deaf Cricket Sports Centre (DCSC), the governing body of Deaf cricket in Qatar will be hosting 6 countries the final 6 Teams will be announced on 30th of Jan 2022.
The deaf international cricket council is the international sporting federation for Deaf Cricket working closely with ICC to provide global cricketing platform for deaf cricketers all over the world, we have 15 full and associate members all over the world.
DICC has been working predominantly on the expansion plans as the per the decision made by the executive committee in 2017, to review the action plan for expansion of deaf  cricket in next ten years from 2017 to 2027. our aim was to create "A Bigger, Better, and a universal game"DICC has succeeded in accomplishing the goals of their plan as the Deaf Cricket is now on solid grounds as its gaining global popularity.
The organization has affiliated and recognized Deaf Cricket Sports Centre from Qatar as our official member and the governing body of deaf cricket in Qatar.
The Star Sports Deaf-ICC T-20 World Cup 2018 in India. That certainly confirmed a cheering factor among the cricketing public as viewing figures, including thousands of fans in India alone, were outstanding, and social media including record numbers for Facebook, Twitter and Instagram - had an excellent response.
DCSC President Christopher Raja and founder of Bravo cricket academy in Qatar said that they aim to make cricket available for everyone. The academy is coaching cricket for mainstream kids and seniors, autism kids and deaf soon would be having blind and wheel chair cricket classes.
"The differently abled people are as good as we are and we need to accept them as what they are and be open with them and give them the oppurtunity to choose the sport that they would love to pick up. Its just not cricket any sport for that matter. Sports would work like a therapy and will give them the confidence to make something out of their life and we all have the social responsibility towards them," Raja added.