Qatar Strongly Condemns Bombing of a Mosque in Afghanistan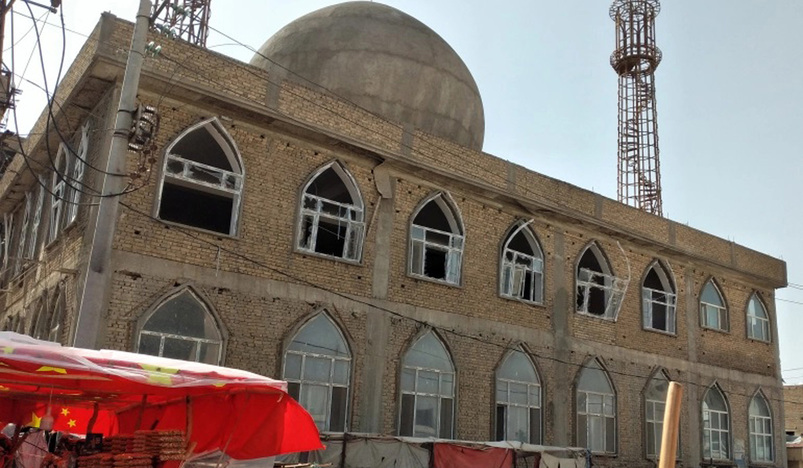 Shia mosque in Mazar-i-Sharif
The State of Qatar has expressed its strong condemnation and denunciation of the bombing that targeted a mosque in the city of Mazar-i-Sharif in northern Afghanistan, which led to deaths and injuries.
In a statement today, the Ministry of Foreign Affairs reiterated Qatar's firm position rejecting violence and terrorism, regardless of the motives and reasons, and stressed the State of Qatar's total refusal to target places of worship and terrorizing civilians.
The Ministry also expressed the State of Qatar's condolences to the families of the victims and the government and people of Afghanistan, wishing the injured a speedy recovery. (QNA)
At least 16 killed as explosions rock Afghan cities
At least 16 people have been killed in bomb attacks in two Afghan cities, including 12 people at a Shia mosque in Mazar-i-Sharif in Balkh province which has been claimed by the ISIL (ISIS) group.
Twelve people were killed and 58 wounded – including 32 in serious condition – by the blast on Thursday at the Seh Dokan mosque in Mazar-i-Sharif.
"Blood and fear are everywhere," said Ahmad Zia Zindani, a spokesman for the Balkh provincial public health department.
"People were screaming" while seeking news of their relatives at the hospital, Zindani said.
"Many residents were also coming to donate blood," he said.
In Kunduz, at least four people were killed and 18 wounded by a bomb hidden in a bicycle that targeted a vehicle carrying mechanics working for the Taliban government, police spokesman Obaidullah Abedi said.
An Interior Ministry spokesman said the roadside blast targeted a van of military mechanics and that school students were among the wounded.
Another roadside blast in Kabul wounded three, including a child, he added.
The number of bombings in Afghanistan has dwindled since the Taliban returned to power in August, but ISIL has claimed several attacks including Thursday's bombing of the Seh Dokan mosque.
"The soldiers of the caliphate managed to get a booby-trapped bag" inside the mosque, detonating it from afar after it was packed with worshippers, ISIL said in a statement.
On Tuesday, two blasts outside a school in a Shia neighbourhood of Kabul killed at least six people and wounded 25 others.
No group has claimed responsibility for that attack.
Taliban officials insist their forces have defeated ISIL, but analysts have said the group remains a key security challenge.
Richard Bennett, the UN's Special Rapporteur for Afghanistan on human rights, condemned the attacks.
"Today, more explosions rocks Afghanistan  … Systematic targeted attacks on crowded schools and mosques calls for immediate investigation, accountability and end to such human rights violations," he said in a tweet.