Lionel Messi suspended by PSG for unauthorised trip to Saudi Arabia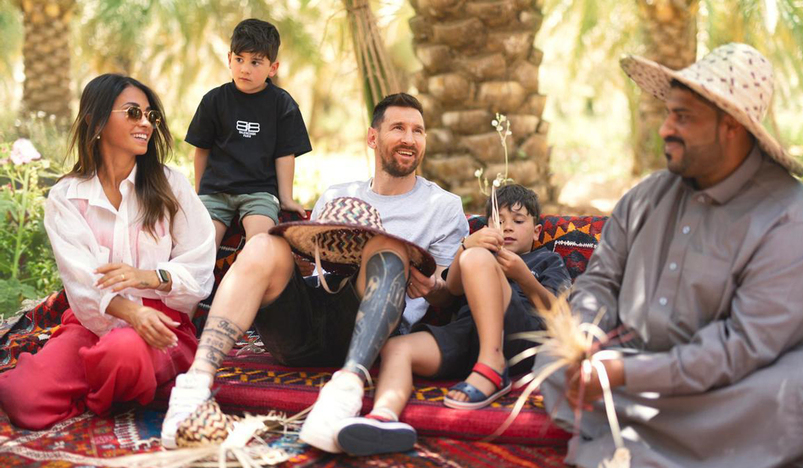 Lionel Messi
Lionel Messi has been suspended for two weeks by Paris Saint-Germain after going on a personal promotional trip to Saudi Arabia without permission; six-time Ballon D'or winner's two-year deal with PSG ends in the summer
Lionel Messi has been suspended by Paris Saint-Germain for going on a personal promotional trip to Saudi Arabia without permission.
Messi is understood to have asked PSG for permission to be able to travel to the country, which he did on Sunday night, having twice postponed a scheduled commercial trip there previously due to team defeats.
However, Messi did not get that permission and has therefore been suspended for two games and fined two weeks' wages after a day of meetings between the club's hierarchy.
The 35-year-old was pictured in Riyadh on Monday and advertised his presence in the country on his social media. Messi already serves as a tourism ambassador to Saudi Arabia.
The level of response from the club, who are declining to comment publicly, is proof of a new policy at PSG, driven by president Nasser Al-Khelaifi, whereby no one is bigger than the club - and the same rules will apply to everyone.
Messi will now miss the upcoming Ligue 1 matches against Troyes and Ajaccio, but could return for the match against Auxerre on May 21.
The World Cup winner is in the final months of a two-year deal with the Ligue 1 leaders, and last month Sky Sports News reported he wanted to witness their sporting plans for next season before committing to a new contract.
Messi, who returned to Paris on Tuesday, posted on his Instagram in partnership with VisitSaudi a picture of a row of palm trees with the caption: "Who thought Saudi has so much green? I love to explore its unexpected wonders whenever I can. #visitsaudi."
The post was liked by more than 5.6m people.
Saudi Arabian club Al Hilal want to sign Messi this summer when his contract at PSG runs out and, with the backing of the country, are prepared to pay him an astronomical £400m for just one season in order to market a league that contains both Cristiano Ronaldo and the 2022 World Cup winner.
Tourism minister Ahmed Al-Khateeb tweeted a welcome to Messi on Monday as well as posting pictures of the Argentina World Cup winner, only hours after he had played 90 minutes of PSG's 3-1 home defeat to Lorient, which cut their lead at the top of Ligue 1 to just five points with as many games remaining.
"I am happy to welcome Messi and his family to Saudi to enjoy the magical tourist destinations and authentic experiences," Al-Khateeb tweeted. "We welcome visitors from all around the world to experience a unique trip to Saudi Arabia and its hospitality."
Barcelona have already attempted to step up their efforts to make Messi a contract offer this summer by talking to LaLiga about generating more flexibility in their Financial Fair Play ratio.
The club are in talks with the league regarding their spending limits for next season, with the idea firmly in mind to try and bring Messi back to the Nou Camp for what is likely to be his last year in European football.
However, it will not be easy with Barca having been charged by LaLiga for breaching their limit with three players during the 2021-22 season, including ex-Chelsea defender Andreas Christensen and were forced to re-register Gavi as an academy player.
The Christensen fine has been successfully appealed but Barca remain at the very limit of what they can spend and will almost certainly have to move players on to accommodate a Messi return.
Nevertheless, the club are working very much with that intention in mind and they have been buoyed by the recent lack of progress in Messi's contract talks with Paris Saint-Germain.
However, manager Xavi told reporters last week it was "too soon" to speculate whether he would return to the club.
"When it comes to Leo, we don't know if it will happen or not," he said. "We don't know. It's too soon to talk about it.
"Winning the title is very important to us, for the club, the staff and the players it would give us a lot of stability. As for new players arriving, we will talk about it once we've won LaLiga."