FIFA World Cup Trophy Arrives in S. Korea on Promotional Tour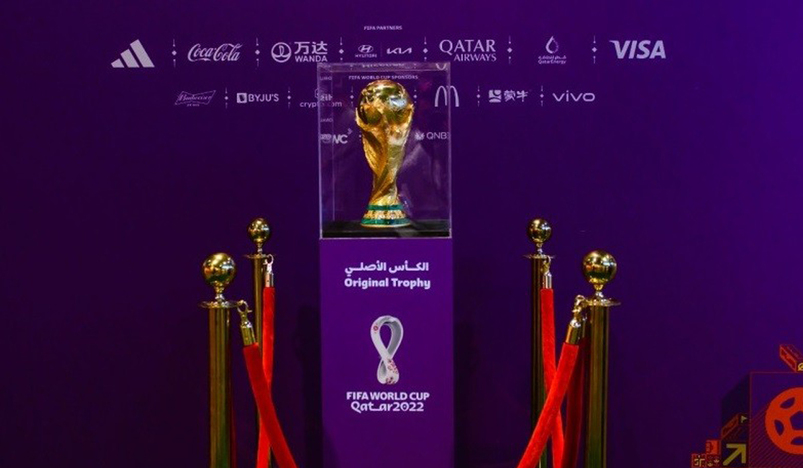 FIFA World Cup Trophy
The official championship trophy for the FIFA World Cup arrived Wednesday in the South Korean capital, Seoul, on its first East Asian leg of the global promotional tour of 51 countries before landing in Qatar, the host of the 2022 World Cup.
The FIFA World Cup Trophy Tour, first began in 2006, kicked off this year in Dubai last May, and for the first time, the trophy will visit all 32 nations that qualified for the tournament.
The trophy was unveiled to the media at The Hyundai Seoul, a major shopping mall in Yeouido, western Seoul, and will be presented to the public at the same venue Thursday. Former Brazil star Rivaldo, a 2002 World Cup-winning squad member, traveled with the trophy to Seoul as an honorary ambassador of the tour.
South Korea will be making their 10th consecutive appearance in the 2022 championship and 11th overall. The country co-hosted the 2002 World Cup with Japan.
Per FIFA rules, only former champions and heads of state may touch the trophy, which is awarded to the champions of the World Cup but remains in FIFA's possession, per regulations of the sport's global governing body. The team winning the tournament retains the authentic trophy temporarily and is later awarded the tournament edition trophy, called the Winner's Trophy, for permanent possession.
The authentic trophy is made of solid gold, depicting two human figures holding the globe aloft. The tournament edition is gold-plated, and the year of the given tournament, along with the names of the host country and the champion, will be engraved on it.
(QNA)