Easy groceries? Certainly says CEO of Jeeb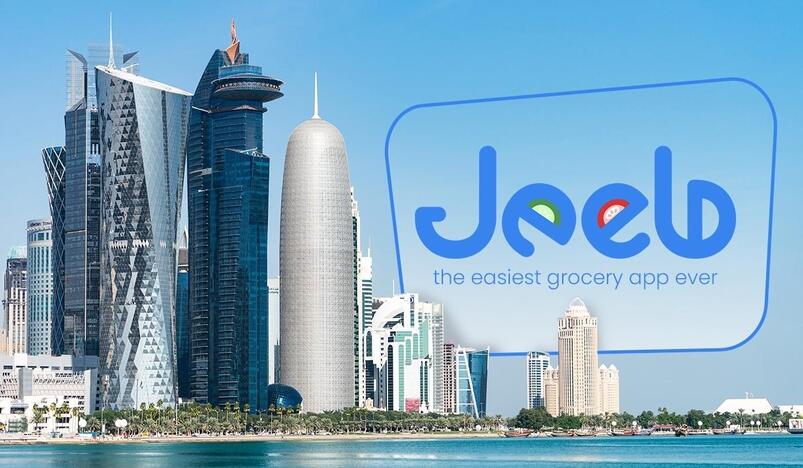 Easy groceries? Certainly says CEO of Jeeb
One of the trends that has been evolving in Qatar especially during and after the pandemic, is the emergence of online grocery apps. With the onset of summer, it is expected that more residents and locals will opt to shop online. They prefer the convenience of shopping from home, while utilizing door-to-door delivery services, and choosing from diverse options provided by these apps.
Shining their way through as "the easiest grocery app" in Qatar, Jeeb offers many unique features that no other app provides. What we found interesting about this app is that it uses novel advance that will help you order groceries in two easy steps! Jeeb brings many markets and a wide range of products to the palm of your hand.
About Jeeb
The app's name "Jeeb," was derived from the Arabic word "get" or "bring." It is a unique grocery app founded by the company CEO, or as CCT as he prefers, which stands for 'Chief Critical Thinker' Bashar Jaber better known as "BJ".
"It's a simple connotation that word has with our service, a specialized app serving customers in a special way. We are trying to offer a very easy app to use and make grocery shopping feel like less of a chore," said the young entrepreneur.
BJ felt that there is a need to fill the gaps that other online grocery apps have failed to cover. 
"Back then in 2019, there was not much scope for and usage of grocery apps in Qatar. When the pandemic came and people started taking advantage of these apps, I thought about starting Jeeb. But we wanted a different concept, and the concept was specialization" he recalled.
"The market's requirements have not been met by any means, vendors are reluctant to be subject to any commission fees by third party applications, and online grocery delivery is certainly not efficient for those looking to really fill their fridge, instead right now it is just enough for quick snacks"
Jeeb app empowers shoppers with over 15,000 product listings which is a great number of options for consumers, especially for a new app. It also provides a unique 2-step feature, recipes and more.
The app was launched last May 2022 in Qatar. "It's operational, people are loving technology that is very easy to use, and that's the purpose of Jeeb. We want to enhance user experience and interface; we are learning every day and welcome everyone's opinion" Bashar (BJ) Jaber added.
How it works and what is different about it
Grocery shopping is an errand that people either love or find tedious. Thanks to Jeeb, you can say goodbye to that daunting task of going through many steps before ordering your groceries.
Unlike in other apps, with Jeeb, you can save yourself a series of steps. From having to pick between vendors and comparing prices, to having to spend time searching for and add products to cart.
"If there are areas of Jeeb we've poured more focus on resources on, it would definitely be our search process, it is key for good user experience" 
Jeeb classifies it's searching process into two parts or sections to make it easier. 
They call it '2-Step', indicating the value proposition of time saving and efficiency. From having to manually search and add products to cart one by one, you get to do this once!
2-Step, a glimpse;
Select the 2-step option inside the Jeeb App (bottom menu)
Step 1 -   Write down whatever you need. You could upload your list by simply taking a picture of any list or extracting it from your gallery (it could be handwritten too!) or use our voice recognition if you're feeling lazy. Treat it like a kid's diary and go for anything!
Step 2 -   Select from the product options automatically provided by the app to build your cart and then, proceed to check out.
In comparison to a multiple of at least 5 times, and sometimes even higher as the grocery list grows, '2-Step' literally takes two steps.
A comprehensively involved app
Jeeb is the ultimate all-in-one grocery delivery app. Its main goal is to help you shop smarter, easier, and faster. Your daily dairy, bakery, fruits, vegetables, meat, poultry, household and cleaning products and all other day-to-day essentials are available on this app. Jeeb also allows customers to order in bulk, it is quite surprising how only a handful of grocery apps can deliver and safely transport heavy items with no delay; "It is where one of many loopholes in the current market lies" says Bashar Jaber
"As early as we are, we also sell Keto, organic, vegan, and sugar-free products. Soon enough our platform will be an attraction for clients with struggle in finding products tailored to their dietary requirements, in major variation and categorization. We made a special section for these and hope to grow it. Here's a fun fact: the country of origin of every fruit and vegetable product in Jeeb is highlighted in the app. For example, "Fresh Tomatoes USA" added BJ.
Vendor-Free
Jeeb is a vendor-free mobile application that allows users to shop for their grocery needs and daily essentials. "You don't have to worry about where the product comes from or which supermarket to get it from," said BJ.
User Experience
User experience is the core focus of Jeeb, with a well categorized easy to use interface making grocery shopping on the app seamless, convenient and quick. 
Sustainability
Jeeb supports Qatar in prohibiting single-use plastic bags by using eco-friendly packaging, which is 100% biodegradable. "We do not use cardboard, plastic bags, and anything that is not biodegradable. We love the environment and the earth and hope to reflect that not only in the way we transport our products, but the way we overall do things inside out" BJ stressed.
Jeeb wants to make a difference by attracting new users and exponentially furthering the phenomenon of trusting online services. "
With Jeeb, you can do some pretty "heavy-duty" grocery shopping. You can also rely on us for delivering frozen items as we have refrigerators, ensuring the products delivered to you are fresh and frozen. We want to restore trust in online grocery shopping and revolutionize the way people shop for groceries through enhanced shopping experiences and strategic partnerships," BJ expressed.
According to him, in an average lifetime, people spend 9 months of their lives going to grocery stores. He created Jeeb to fill the gaps and overcome uncertainties caused by delays, cancellations, product unavailability and to avoid more than one delivery partner showing up to one's doorstep.
What's on the Cards for Jeeb?
"We are planning to have more than 15,000 products by the end of the year. What they can expect is a wide range of products to select from and a lot of offers," BJ disclosed. 
The confident, enthusiastic businessman said that Jeeb is looking at expanding. "When that expansion comes there will be a lot of offers, vouchers and potentially free delivery for everyone on all orders," he concluded.
Why Download Jeeb?
Jeeb is unique in its own propositions that have an edge over its competitors in the market. Impressively, the easiest to use grocery app in Qatar, it is much better than the traditional grocery shopping experience and has been revolutionizing the way average human beings can literally just shop for daily essentials through their phone.
Download Jeeb today and enjoy grocery shopping using your phone at the palm of your hand from anywhere at any time!