Doha Festival City Celebrates Ramadan with Activities for All the Family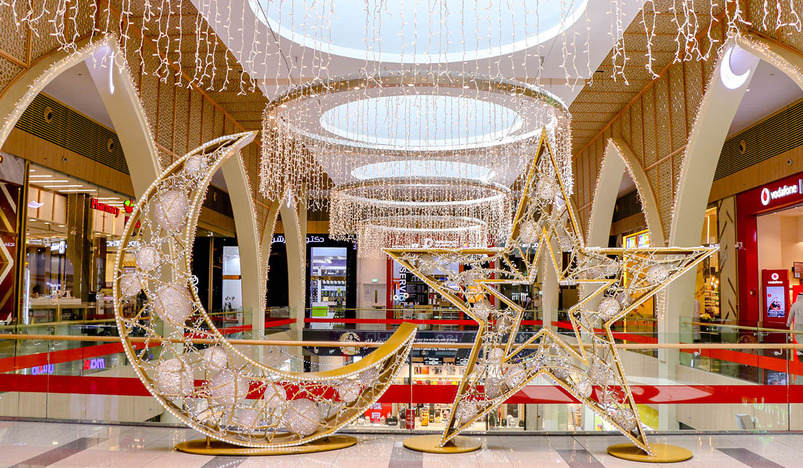 Doha Festival City
The Mall embraces Ramadan with a charity food drive in partnership with Qatar Charity, Garangao festivities, as well as a myriad of celebrations offering several exclusive deals to Kids Club members
Doha Festival City, Qatar's one and only choice for shopping, dining, and entertainment is celebrating Ramadan with Qatar's community through various activations and initiatives including a food drive with Qatar Charity, Garangao celebrations, and the relaunch of the Kids Club.
This year, the Mall takes on a warm and festive ambiance through Ramadan-themed installations to welcome friends and families, with majlis tents to add a traditional touch to community gatherings. Young visitors, up to 12 years of age, have their own kids majlis where they can participate in free arts and crafts workshops throughout the month. In addition to a VIP majlis located near the mall's main entrance that hosts visitors of all ages, inviting them to unwind and savour complimentary dates amid the Ramadan decorations.
Keeping with local and regional traditions, Doha Festival City is holding a host of Garangao night festivities on the 15th of April at 9 pm, with traditional performances throughout the mall, as well as the distribution of Garangao gift and treat bags at the kids majlis located near Cup of Joe. 
 To celebrate the month of giving, Doha Festival City is organizing a food distribution drive to labourers in Qatar in cooperation with Qatar Charity. The Mall's team will visit labour camps across the country throughout the holy month and distribute food boxes to the labourers.
The relaunched Kids Club has been enhanced to include more brands and greater offers than ever before. Members can enjoy exclusive offers and deals, with discounts up to 30%, at favourite brands including Babyshop, Blue Salon Kids, Carter's, FNAC, as well as Fujifilm, Gift Shed, IDEXE and IKEA. New brands which have recently joined the Club also include Lego, Lifestyle, Max Fashion, Mayoral, Napapijri, Shoe Mart, Sacoor Kids, Ecco, as well as Home Centre, Giordano, Pablosky, Petit Bateau, Samsung, Sfera, Shoexpress, Splash, Tally Weil, and Toys R Us. The programme also includes offers at dining and entertaining outlets including Angry Birds, Carluccio's, Edible Arrangements, Haagen Dazs, Jollibee, McDonald's, Nando's, and Wrap it.
Furthermore, shoppers can enjoy remarkable savings on their Eid shopping through the Mall's unique Kids Club membership programme, availing a host of offers and rewards as part of this free loyalty programme. 
Robert Hall, Doha Festival City's General Manager, said: "We are delighted to share these special Ramadan moments with our visitors, and have spared no effort in providing the most engaging attractions and activities for everyone to enjoy the festivities and indulge in their shopping experiences. On this special occasion, we are also celebrating this month of giving. As part of our #FestivalCares Programme, we continuously strive to be at the forefront of giving back to the community and sharing in the true spirit of Ramadan." 
Registration for Doha Festival City's Kids Club membership is online and free of charge. After registration, membership needs to be validated at the Customer Service Desk. To ensure safety and convenience for the Club members, the Mall will provide an e-card club membership to maintain a touchless environment and provide a handy access to cards through phone touch. To register, members can visit: https://www.dohafestivalcity.com/home/whats-on/kidsclub;
Doha Festival City is applying the necessary safety protocols to prevent the spread of the COVID-19 pandemic. Customers are required to show their green EHTERAZ status at the entrance of the Mall and to wear a mask inside retail shops. Social distancing stickers have been placed throughout the mall to ensure customers are following the safe distance measures.
For more information on the mall's operating hours during Ramadan and Eid, please call on 4035 4444 or Bahja on 4035 4444 (WhatsApp) or check https://www.dohafestivalcity.com/home/