Consul General of Qatar in Jeddah Inaugurates Medical Unit of Qatari Hajj Mission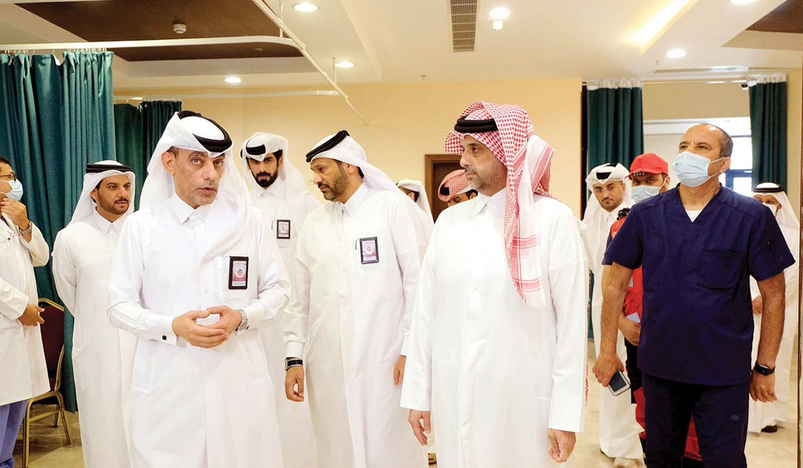 HE Consul General of the State of Qatar
HE Consul General of the State of Qatar in Jeddah Rashid bin Saeed Al Khayarin inaugurated on Saturday the medical unit of the Qatari Hajj mission after it was approved by the health authorities in the Kingdom of Saudi Arabia, in the presence of the head of the Qatari Hajj mission Ali bin Sultan Al Misifri and head of the medical unit Dr. Khaled Abdel-Hadi.
HE Consul General toured the medical clinic and its facilities, during which he was briefed on the sections of the clinic and the medical equipment provided by the mission to the pilgrims of Qatar. Also, he listened to a full explanation from the head of the medical unit about the clinic's sections and equipment, where the medical mission provided clinics for men and others for women, and allocated rooms for observation and isolation for the cases that require medical isolation for any patient, whether in the headquarters in Aziziyah or the holy sites in Mina and Arafat, indicating that the medical unit includes distinguished competencies of doctors, nurses and pharmacists (men and women), who were selected from the most skilled medical staff, to provide the best health services and necessary first aid according to the highest standards.
HE Rashid bin Saeed Al Khayarin praised the distinguished efforts made by the Qatari Hajj mission to serve the country's pilgrims, provide all medical services and health care, and create all means that facilitate performing the rituals.
He explained that the Qatari Consulate in Jeddah is cooperating permanently with the Hajj mission to serve the country's pilgrims and provide all appropriate services to the country's pilgrims, expressing his wishes that they return to the homeland safely after performing the Hajj rituals.
Also, he hailed the efforts of the government of the Custodian of the Two Holy Mosques and the provision of all facilities and services for the pilgrims to perform the duty of the fifth pillar.
The Saudi Ministry of Health had earlier approved the medical unit of the Qatari Hajj mission, marking the start of its work and its readiness to receive patients and visitors from Qatar pilgrims, as it fulfilled the standards and conditions required for accreditation and included all the required equipment such as clinics, pharmacy, examination rooms, isolation rooms, inpatient rooms, clinics and an emergency department in all sites and camps for Qatar's pilgrims.
(QNA)