Chairperson of Qatar Museums Inaugurates Zwara Exhibition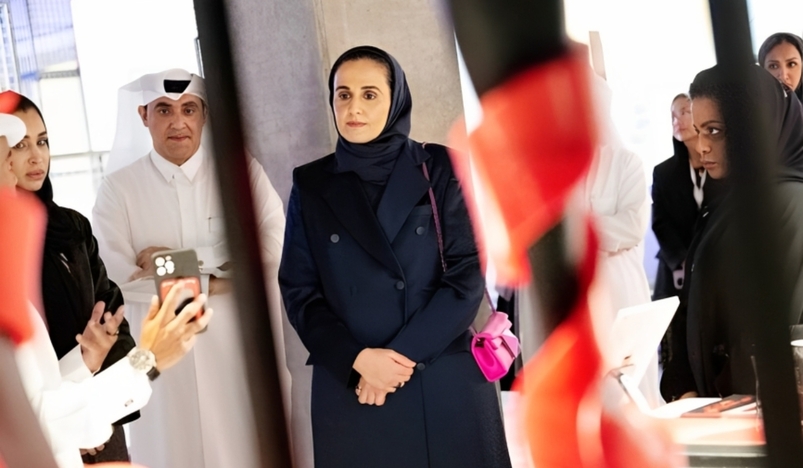 Chairperson of Qatar Museums Inaugurates Zwara Exhibition
Chairperson of Qatar Museums HE Sheikha Al Mayassa bint Hamad Al-Thani inaugurated the Zwara: focus on the Forever Valentino Exhibition, at M7, Qatars epicenter for innovation and entrepreneurship in design, fashion, and technology at Msheireb Downtown.
This year, thirteen designers were selected across various design disciplines for the exhibition.
Commenting on the opening of the exhibition, HE Sheikha Al Mayassa bint Hamad bin Khalifa Al-Thani said: "We are delighted to celebrate the opening of yet another exceptional exhibition at M7, showcasing the creative talents of our local and Qatar-based designers. Building upon the legacy of the Forever Valentino exhibition, this unique showcase embodies the enduring influence of Maison Valentino and its values. M7 is committed to nurturing and empowering the next generation of designers by promoting collaboration, cross-cultural and disciplinary exchange, and storytelling through design. We are proud to provide a platform for emerging creatives to develop their skills and showcase their vision."
The Zwara Programme is a multifaceted programme that seeks to spark creativity and collaboration in aspiring creatives against the backdrop of Qatars creative landscape. Held yearly, the programme highlights the importance of storytelling and experimentation in design, inviting creatives to explore exhibitions, archives, and collections and then respond to a design brief.
The selected participants were invited to attend a series of exclusive exhibition curated tours and workshops conducted by M7 and also had the opportunity to travel to participate in an optional 3 day-long programme led by the Valentino team at their Atelier in Rome, Designers engaged with Valentino team to understand the context of the Valentino brand, and? visited the Ateliers, Historical Archive and were given a brief about Valentinos Journey. This opportunity allowed participants to garner inspiration from the internationally acclaimed fashion house, and explore the codes and heritage of the Maison in their designs ".
The Zwara Programme is tailor made with the aim to connect the global to the local by making our blockbuster exhibitions accessible to aspiring local and Qatar-based designers. Were also proud that our industry partners such as Valentino recognize the importance of transferring their knowledge and share their legacy with the next generation of designers," M7 Director Maha Al Sulaiti said.
M7 is committed to connecting Qatars diverse design community and providing opportunities to emerging creatives. The exhibition is sponsored by Qatari interior fit-out company, Interspace who worked collaboratively with Qatar-based exhibition designers.
(QNA)