Beware of What you Share: Social Media Offences that can Land you in Legal Trouble in Qatar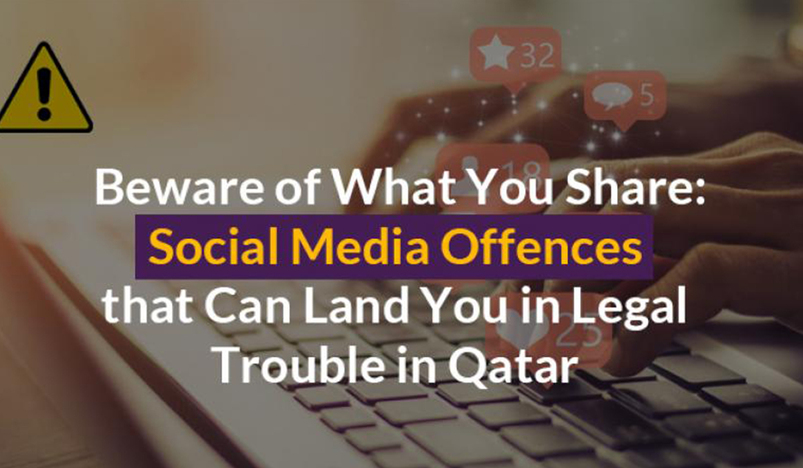 Beware of What you Share: Social Media Offences that can Land you in Legal Trouble in Qatar
It's the 21st Century, when the pandemic era and the 'New Normal' kick in. People work, shop, and go to school — all from home, thanks to the Internet. You can do everything at your fingertips and from the comfort of your couch.
The Internet has connected us to people all over the world in ways we may never have imagined possible. Because of this, we now have the so-called social media platforms and apps such as Facebook, Instagram, Twitter, YouTube, SnapChat, TikTok etc., where profiles and photos of people are being shared to socialize and communicate.
Qatar's Communications Regulatory Authority (CRA) has encouraged netizens to stay safe and vigilant when sharing and accessing multi-media, whether personal or promotional content.
Since cyberspace has no boundaries, interactive technologies like social media, can make or break an individual or a business' image. Although the possibilities are endless, there is a downside to this, too. 
Posting irresponsibly online can lead to penalties and fines in Qatar. To spare yourself from any legal charges in this country, use the Internet responsibly. 
Today, we bring you list of things that you must NOT be doing on networking sites to avoid penalties and ensure your safety against cybercrimes.
1. DO NOT SHARE YOUR PASSWORD
Sharing a password, or entering it into a fake Facebook/Instagram/Twitter page, or losing a phone while any of your social media accounts are still open, could lead to a serious breach of your page security. 
For your safety, avoid uploading private information, photos, and videos online. Get rid of suspicious messages and emails and should ensure your privacy settings are secure on social networking sites. Most importantly, never share your password.
2. DO NOT POST VULGAR PICTURES OF DRINKING ALCOHOL
The authorities accept non-Muslims drinking, but keep it under control. Facebook photos of drinks with friends will not likely offend, but drunken photos that offend Islamic values, or the morals of Qatar, can lead to legal trouble.
3. DO NOT MAKE 'FUNNY' COMMENTS ABOUT ISLAM
Insulting Muslims or insulting Islam could land you in trouble. Be careful while sharing and posting on social media. 
Posting content that hurts religious sentiments come under the Social Crimes chapter of the Qatari Penal Code and can invite fines of up to QR10, 000 and imprisonment up to 10 years according to the "Crimes Related to Religions and the Violability of the Dead" chapter of the penal codes, the imprisonment can be up to 1 year and a fine of QR100, 000.
4. DO NOT SHARE OR PRODUCE PORNOGRAPHIC MATERIALS
Qatar implements this law by disallowing its citizens to produce child pornographic materials. Materials that contain pornographic material of a child using information technology will be fined with the following:
Penalty: A jail time of up to 5 years and 500,000 Riyals fine await those people who are caught breaking this law.
5. DO NOT SHARE ACCIDENT PHOTOS
People who take or share photos of accident victims in Qatar could face criminal charges under Qatar law. The Law would punish anyone who "captures or transmits pictures of the deceased or injured in accidents without the consent of their representatives, through devices of any kind." 
6. DO NOT POST OTHER PEOPLE'S PICTURES OR VIDEOS WITHOUT CONSENT
Don't post without asking, whether it's a friend or a photographer. Ignoring this rule could lead to a conviction for breach of privacy or breach of copyright.
Anyone who is found to be guilty of circulating the photographs or videos of accident victims through any means and without any authorisation will be punished as per amendments introduced into the Law No. 11 of 2004.
"Whoever illegally intrudes into another person's private life and without consent" through different means, including "taking or transmitting somebody's photographs or pictures of other persons in a private place using any type of device, shall be punished by imprisonment for a term not exceeding one year in prison and/or a fine not exceeding QR5,000."
— Article 333 of the Qatar Penal Code
7. DO NOT SHARE SOMEONE'S PERSONAL INFORMATION
When sharing personal information, photos, location, and contacts, publically or with apps may result in undesirable outcomes. 
"Whoever spreads news, photographs or comments related to a person's private life, or that of his family, even if true, can be punished with a maximum jail term of one year and a fine of up to QR5,000, or either."
— Article 331 of the Qatar Penal Code
Violation: Violate any social values or principles, or publish news, pictures, audio or video recordings related to the personal or family life of individuals – even if it is true Penalty: Up to a year in prison and/or a maximum fine of QR100,000
8. DO NOT SLANDER, THREATEN, BULLY, OR HARASS SOMEONE ONLINE
Any posts or comments that are abusive or threatening to other people can land you in court. There have been several cases where people have complained to the police about such social media posts and the poster has been arrested.
Cyberbullying (bullying through electronic means) is another form of cyber crime. It refers to the use of online services to bully or harass a person with the intent to affect them socially, psychologically or even physically.
Examples of this behavior include sending abusive or threatening texts and emails, online stalking, or sending inappropriate images and videos, etc.
Penalty: A fine of 100,000 Riyals and up to 3 years in prison will be given to those people who blackmail, bully, or threaten someone via the Internet. 
9. DO NOT SEND FOUL MESSAGES
Sending threatening or sexually suggestive or explicit messages to people via popular messaging apps such as WhatsApp can surely land you in trouble. Doing so can invite hefty fines and imprisonment up to 3 months under Article 330 or if prosecuted under the purview of the Law on combating electronic crimes, the imprisonment can be up to 1 year and a fine of QR100, 000.
10. DO NOT INSULT SOMEONE ONLINE OR POST LIBELOUS STATEMENTS
"Whoever defames or insults the victim face to face and not in public, or by phone, or in a written letter, or in another indirect way shall be liable to imprisonment for a term not exceeding three months in prison and a fine not exceeding one thousand Riyals (1.000QR), or one of these two penalties."
— Law No. 11 of 2004 Issuing The Penal Code / Calumny, Defamation and Secret Disclosure/ Chapter Four / Article 330
Violation: Libel or slander another person online or by using IT equipment
Penalty: Up to a year in prison and/or a maximum fine of QR100,000
11. DO NOT SPREAD RUMOURS OR FAKE NEWS
Look before you share: 
People get their dose of daily news from social media, however, it is the perfect breeding space for rumour mongers as well. 
Before posting anything that could have any social ramifications, make sure it is not a rumour because if it is it can cause a lot of damage before people realize it was just a hoax. 
Use social media responsibly, don't contribute to anything that can have negative consequences for people around you.
Violation: Creating or managing a website to spread false news in order to jeopardize the safety of the state, its general order and its local or international peace.
Penalty: Up to 3 years in prison and/or a maximum fine of QR500,000
Violation: Spread, air or publish the false news with the same intentions
Penalty: Up to one year in prison and/or a maximum fine of QR250,000
12. DO NOT POST ANY CONTENT YOU DO NOT WANT TO BE USED BY SOCIAL MEDIA SITES
The Ministry warned in a public awareness message that Facebook has "broad rights…to use your content in any way it wants". That means – if you 'like' a product, or a place, Facebook can sell that information.
13. DO NOT TAG ANYONE WITHOUT CONSENT
You're at a party and suddenly your boss trips over a table and falls into the pool. Hilarious moment on social media, but have you asked their permission before you tag their name on your post? The CRA warns that tagging without permission can be a breach of defamation and privacy laws, both of which can carry hefty fines and even jail time. 
14. DO NOT SHARE CONFIDENTIAL INFORMATION FROM YOUR WORKPLACE ONLINE
If you are an employee in Qatar and you are using social media in personal capacity, you should be mindful of the following (otherwise, you can be in trouble if you do them online especially during your duty hours):
• You  should  never  disclose  any  information  that  is  confidential  or  proprietary  to your employer or any third party (e.g. companies, individuals and other government agencies) that has disclosed information to the Agency in confidence.
• You should never comment on anything related to legal or commercial matters such as regulatory matters, the status of  tenders and employment  contracts.
• Your existing employment contract should also be prohibiting this.
• You should keep in mind that what they publish will be widely accessible. For example, your supervisor and colleagues may come across what is being communicated online through their own use of social media. So, you should think about what they are saying and be responsible.
• If you identify yourself as an employee of the Agency, you should make it clear that the views expressed are yours alone  and should not use the Agency's logo or  other means that may cause the audience to believe that you are representing the Agency's views. You may use the following declaration as an example: The views expressed on this (e.g. blog; website...) are my own and do not necessarily reflect the views of...
• You should not infringe on the privacy rights of colleagues, such as by posting pictures of colleagues or giving out your contact details without their permission.
• Personal use of social media should be done at your personal time. You can be in trouble if you post anything online during your duty hours. 
New Regulations for Using Social Media Applications in Qatar
Qatar's Communications Regulatory Authority  (CRA) said in a statement that while it encourages creation of appropriate digital content and use of technology, it also intends to create awareness among netizens to stay safe and vigilant when sharing and accessing multi-media, personal or promotional content. 
This consumer alert would specifically like to alert users of apps such as that provide audio, video and multimedia content that may be offensive, sensitive or entirely inappropriate culturally, for under age audiences, or for security of individuals and businesses.
Consumers play an equally important part in helping CRA deliver its mandate for consumer protection by staying safe and cautious when using such apps. CRA would like to further advise and encourage users to keep the below guidelines in mind for safe use of social media apps:
No Access to Minors: 
As an informed consumer, ensure minor children in your family or under your care are using age-appropriate apps. Several social media apps have minimum age requirements, you should encourage children around you to respect and abide by such requirements. 
Supervise Your Children:
When unavoidable, monitor and supervise children's usage of apps that may display age inappropriate content. It is also advisable to use age restrictions in settings on smart devices that are used exclusively by children without adult supervision. 
Educate your kids to not use their real photos as profile pictures on social networking sites, to make complex passwords (change them regularly), ask about their activities online, who they talk to and what they talk about.
One of the common tricks used by cyber criminals is to blackmail people by developing an online friendship with the victim through fake identity to get them involved in an online video call, which is recorded without the victim's knowledge. The cyber criminals then start blackmailing their victims by threatening to send the videos to their friends or families or publish them online.
Another way to blackmail is to reach the victim's contents such as photos on social media by getting illegal access to the personal computer or mobile phone of the victim.
Use Official Apps: 
It also called for using the official applications that are locally available to ensure content you are accessing or sharing is culturally appropriate. 
Report Inappropriate Content:
Inappropriate content should also be reported, said the CRA. 
How to report a social media violation or cyber crime in Qatar?
Qatar is one of the very few countries in the GCC region to have a cyber crime legislation. This shows just how seriously it takes cyber crimes and cyber security to be prevented in the country.
To report any social media violations or cyber crimes, contact Ministry of Interior (MoI) Cyber Crime Investigation Centre via:
Online: Metrash2 (CID/reports)
E-mail: cccc@moi.gov.qa
Contact Numer: +974 2347444
Hotline: +974 66815757
Address: CID headquarters, Duhail, Doha - Qatar
The MoI in Qatar investigates and prosecutes all kinds of cyber crimes, that fall under its criminal investigation jurisdiction. Under the Qatari law, these include, but are not limited to, defamation and use of the Internet for a wide range of criminal purposes.
Beware of What You Share:
Nothing is private. The Internet is forever. Your posts are searchable. Your posts could cost you a job. Misunderstandings occur.
Social media sites today are the fastest, easiest and most convenient means of interacting with people online. A majority of the people in the world have an account on at least one of the social media sites as they have proved to be excellent tools of networking and communication. 
However, sharing too much information on social media is not advisable, although one can tweak the settings and choose what information remains visible to whom, but there still are things that one must not put out there on the social media web.
CRA, as the regulator for communications and postal sectors as well as access to digital media, continually works very closely with the relevant Government authorities, local service providers and other regulators in the Gulf Cooperation Council (GCC) member states to ensure netizens in Qatar have access to appropriate content and digital platforms.