Abundance of Goods, Competitive Prices Offered by Commercial Outlets during Ramadan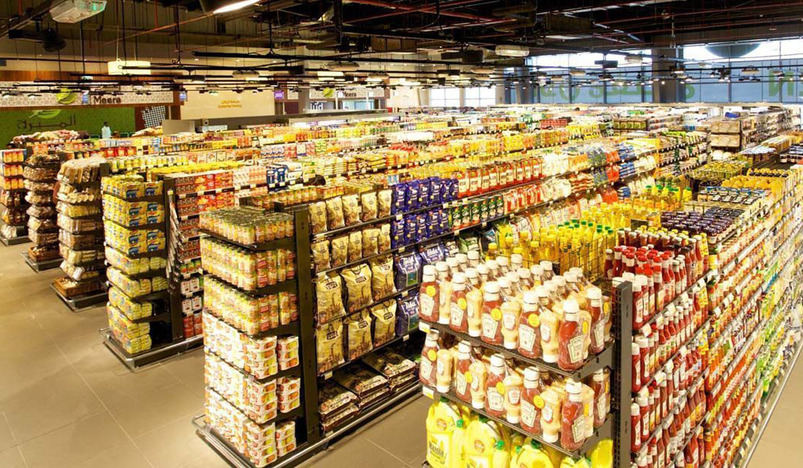 Commercial Outlets
Markets and shops across the country are witnessing an abundance of consumer and non-consumable food commodities of all kinds, and a doubling of supply quotas coinciding with the holy month of Ramadan, at a time when sales outlets are witnessing fierce competition to attract shoppers through a package of offers and discounts on goods.
Food companies, businessmen, and economists affirm the availability of sufficient stocks of commodities and food products to cover local consumption, noting that the prices of Ramadan commodities are stable thanks to the initiatives of the Ministry of Commerce and Industry, and the promotions and discounts, which led to market stability and increased the pace of competition. Commercial complexes have intensified their preparations to receive the holy month, where shops, especially food departments, have increased their activity to the maximum degree by offering various goods and products to meet the needs of customers at competitive prices.
In their statement to Qatar News Agency (QNA), they said that the markets and shops are witnessing remarkable movement these days by shoppers to buy Ramadan goods. Compared to normal months, the rate of consumption during the month of Ramadan increases by about 30 percent, raising the consumer's spending bill, which adds a financial burden during Ramadan.
To avoid this, one needs to set a budget for the holy month, avoid being tempted by offers, choose the appropriate time for shopping, and focus on essential goods and foodstuffs.
With the start of the blessed month, the Ministry of Commerce and Industry announced a number of successive initiatives for Ramadan during the past week. The ministry launched the discounted consumer goods list, which includes more than 900 commodities, in coordination with about 20 malls, shops, and commercial outlets. It also announced an initiative to double the share of rice, sugar, oil, and evaporated milk for citizens benefiting from food supplies, for one time.
In the same context, the Ministry announced the joint national initiative to encourage local production and subsidize the prices of sheep meat for the holy month of Ramadan, in coordination with the Ministry of Municipality and the Widam Food Company, where it was agreed to provide about 30 thousand local sheep, to sell them at discounted prices for citizens (two sheep per citizen).
The Ministry stated that these initiatives come within the framework of its keenness to provide the needs of citizens and residents of consumer goods at reduced prices during the holy month, as spending increases on the purchase of food and consumer goods, and other commodities of relative importance to the consumer, noting that it has coordinated with sales outlets to reduce the burden on community members.
The joint national initiative to encourage local production and support sheep meat prices for the month of Ramadan comes to ensure the availability of red meat to citizens at reasonable prices, in addition to creating a balance between supply and demand, which contributes to price stability in the markets. 
In response to Qatar News Agency's (QNA) questions, Al Meera Consumer Goods Company stressed it has raised its preparedness for the holy month by providing a sufficient stock of goods and products to cover consumption.
In addition, Al Meera launched several promotional offers from the month of Shaban to encourage customers to purchase Ramadan needs within a sufficient period of time and avoid crowding, noting that it is preparing to launch a variety of programs, initiatives, and interactive competitions throughout the month.
The company added that they have a sufficient stock of imported commodities, saying that local national products would also be available throughout Al Meera branches and present in the Ramadan promotional offers, in cooperation with local producers and Qatari farms.
In addition, Al Meera provides its customers with various offers for more than 500 products at a low price, including basic commodities like flour, some dairy products, juices, and other highly requested commodities during Ramadan, in addition to more than 900 commodities at a low price provided by the Ministry of Commerce and Industry (MOCI).
The company noted the availability of sufficient supplies of commodities and basic food products at all times. The company said that it operates according to a vision in which it possesses resources and strategic plans that enable it to overcome any obstacles and prepare proactively for various circumstances based on in-depth studies of market conditions on an ongoing basis.
Al Meera revealed its continuous coordination with various government and private institutions and agencies in the country throughout the year and not only during the month of Ramadan, stressing the concerted efforts to enhance the well-being of the people of Qatar, meet their needs, and always provide the best.
Al Meera noted that during Ramadan it launched a donation campaign in cooperation with a group of leading brands that donate part of their sales revenues to Qatar Charity to support needy families, and their customers will be able to donate directly at the payment boxes also for the benefit of these groups, as well as offering 1,000 vouchers for the Qatar Charity, which in turn delivers them to the beneficiaries.
Al Meera Consumer Goods Company is a shareholding company in the retail business and manages a network of more than 60 branches over the country. Al Meera also has diversification in supply chains in anticipation of any emergency challenges.
It maintains strategic stocks in partnership with the MOCI at all times, as well as its cooperation with local and international suppliers as the company imports from various markets around the world and provides continuous supplies for all the needs of consumers in Qatar while adhering to the highest quality standards. Eeconomic expert Khalid Al Kuwari pointed to the high demand for food commodities as the rate of consumption during the month of Ramadan increased by 30 percent compared to the regular months, noting that this week saw a turnout increase as citizens and residents went to buy their needs of food commodities and Ramadan requirements. In the holy month, as usual, banquets, invitations, and family gatherings increase the rate of consumption compared to other months.
Al Kuwari told Qatar News Agency (QNA) that consumer spending volume increases during the blessed month, despite its rituals, spiritual specificity and sublime religious dimensions.
Therefore, it is difficult to control the budget that is set for this month, as sudden and unforeseen demands appear during this period, he said, adding that the rate of spending increases either due to family occasions or evening parties in addition to an increase in spending on Eid necessities at the end of Ramadan.
To rationalize food consumption in Ramadan, the Ministry of Commerce and Industry presented a package of advice to consumers during the holy month, including setting a budget for shopping, a list for purchasing basic needs and adhering to them, avoiding rushing to buy unnecessary goods and foodstuffs, choosing the appropriate time for shopping which should not be durung the hours of fasting, in addition to avoiding being drawn into fake offers and discounts and ensuring the price of the product before and after discount, among others.
(QNA)