Where to find the best fragrances in Qatar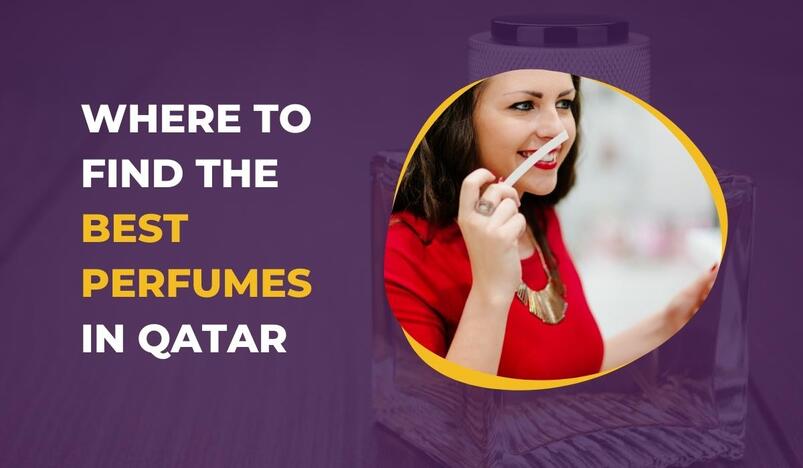 The best Perfume Shops in Qatar 
If you are new here in Doha and you are looking for some perfume shops, then we have got you covered! 
Here are some of our top choices for perfume shopping. 
1.Al Jazeera Perfumes 
As you walk into Al Jazeera Perfumes, you are greeted by the most pleasing oriental scents. You will be in awe of the wide selection of displayed perfumes and their stunning packaging.
 Al Jazeera Perfumes has remained a choice for many since its inception in 1998. It is a premium brand that everyone loves, which is why it was chosen as the brand for the official World Cup perfume in Qatar 2022.
Check out Al Jazeera perfumes, and we are sure that you will find something that you will love. 
Amongst the best sellers from Al Jazeera Collection are Venice, Macedonia, and Magic Moon. They also have a luxury collection, Montale line, and Bukhoor and Mamoul.  
To date, Al Jazeera Perfumes have 20 branches spread across Doha, and you can check them out on their website, where you can order perfumes as well.  
Contact: 55442290 
2.Ajmal 
The story of Ajmal is a unique one indeed. It started 70 years ago when the late Haji Ajmal's from India turned from a 'farmer to a perfumer'. Ajmal is now one of the biggest success stories. 
Ajmal is available in many branches in Doha. They are also available in every GCC country. 
Ajmal has many scent options, including the luxury collection of perfumes for women and men, unisex perfumes, perfume oils, and home fragrances.    
Amongst their best-selling products are Oudh Mubakhar, Evoke Fragrance, Viola, and Raindrops. They also have other fragrances that are a mixture of Amber and Wood.
Ajmal specializes in oriental fragrances and has all kinds of perfumes, from low-cost-budget perfumes to high-end ones. 
They also have gift sets that are sold for all kinds of occasions. If you like oriental scents, you will fall in love with their line of products. They also run multiple offers year-round, so check out their website or pay them a visit in any of their nine branches in Qatar. 
Contact: 44412324  
3.Rasasi 
Since 1973, the Rasasi brand has been setting the standard for luxurious beauty fragrances. The Dubai-based brand has a distinctive look with versatile scents, including floral, musk, fruity, sandalwood, and more.  
With Rasasi, there is a perfume for everyone, and they are well known for their beautiful fragrance packaging.  
Rasasi has the best Bukhoor that you could ever imagine. Rasasi is based in Dubai and has a large following in GCC countries. So check it out if you want to try something new.    
4.Haramain Perfumes 
What do you know about Haramain perfumes? 
Haramain is the best place to shop for men and women perfumes. It is the place to explore different types of scents, not just orientalist but French and European scents as well. 
Haramain was established in 1970, and they have always been at the forefront of bringing the best scents to their customers, which is why they are one of the most versatile perfume brands. And they continuously attract loyal perfume lovers from all around the world. 
As the name indicates, Haramain was found in Mecca, where many go to perform the Hajj Plemirege and Omrah. It was founded by Qadi Abdul Haq, a Saudi Arabian trader, and people would stop by the Haramain perfume shop in Mecca. Haramain is a leading perfume brand in the GCC and other countries, including Djibouti, UK, Morocco, and Bangladesh.
Al Haramain is located in many places in Qatar, with 10 branches in total. 
Visit Al Haramain website to learn more.  
5. Asgharali 
Asgharali perfumes will take you far away in a world of fantasy. With Asgharali you will capture those unique moments, with their long-lasting perfumes, that are hard to resist. 
Originally, Asgharali started in Pakistan, where the late Asgharali moved to Bahrain in 1919. Asgharali is now available in every GCC country. The perfumes are well known for their high quality.  
Their perfumes range from spray ones fragrance oils, oud, and more. They also have exclusive gift sets, Bukhoor, and skin care lines, such as body lotions, body butters, cosmetics, and more. They also have air fresheners and aqua based fresheners.  
You can find Asgharali in 6 Branches in Qatar. For more on their branches' locations, visit the Asgharali website.