Video clip of Erdogan making Putin wait awkwardly at Tehran talks goes viral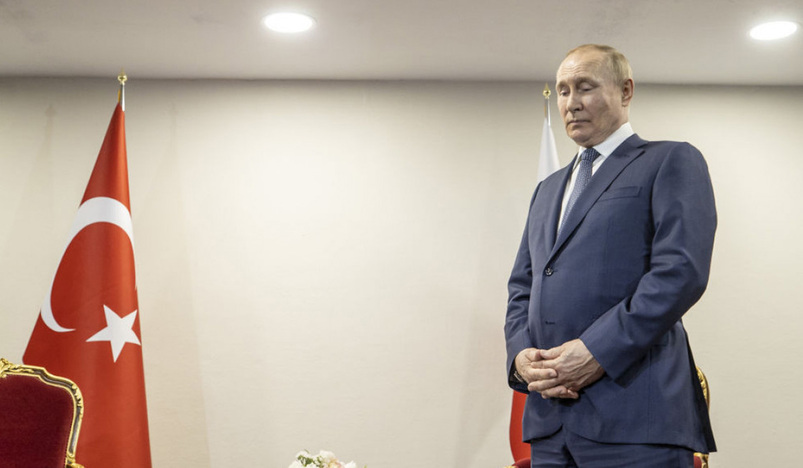 Russian President Vladimir Putin
Russian leader Putin was shown in a video fidgeting and moving his mouth awkwardly before being joined by Turkish President Erdogan, in what appeared to be a calculated snub.
A video of Russian President Vladimir Putin being forced to wait before his Turkish counterpart, Recep Tayyip Erdogan, entered the room during talks in Tehran has gone viral on social media.
In what appeared to be a calculated snub, the Russian leader waited for fifty seconds while media cameras filmed him in front of Russian and Turkish flags.
Erdogan then joined him in front of the media and shook his hand.
Putin appeared visibly uncomfortable throughout as he fidgeted and made movements with his mouth, leading to speculation about his health.
There have been unconfirmed claims that the 69-year-old Russian leader is suffering from terminal cancer or Parkinson's disease.
Anton Geraschenko, a Ukrainian government official, said on Telegram: "The whole spectrum of emotions of the humiliated and insulted Führer is on his face. The bunker is indeed the best place to stay with such a face."
Joyce Karam, a reporter for the UAE news website The National called the incident "sweet payback" for a time in 2020 when Erdogan and his entourage were forced to wait two minutes in a hall before meeting Putin in Moscow.
She said Erdogan's apparent "payback" showed "how much has changed after Ukraine".
Putin has a long history of making other leaders wait for him to arrive, in what has been called a "calibrated psychological policy".
Leaders who fell victim to this tactic include former German Chancellor Angela Merkel, former Ukrainian President Viktor Yanukovych, and former Japanese Prime Minister Shinzo Abe, according to Business Insider.
Erdogan and Putin were in Tehran to discuss the conflict in Syria with Iranian President Ebrahim Raisi.
The Turkish leader has been threatening to launch a new operation against Kurdish militias operating in northern Syria, and said that he expected Russia's and Iran's "full support" for it.
However, the two countries have backed away from giving Turkey a green light for the operation.
Russia and Iran have backed the regime of President Bashar al-Assad in the Syrian conflict, while Turkey has supported opposition groups and intervened militarily against Kurdish-led forces in 2018 and 2019.
Turkey is also currently leading negotiations to allow Ukrainian ships to export grain via the Black Sea port of Odesa.