TOD Launches Four-Part Documentary on FIFA World Cup Qatar 2022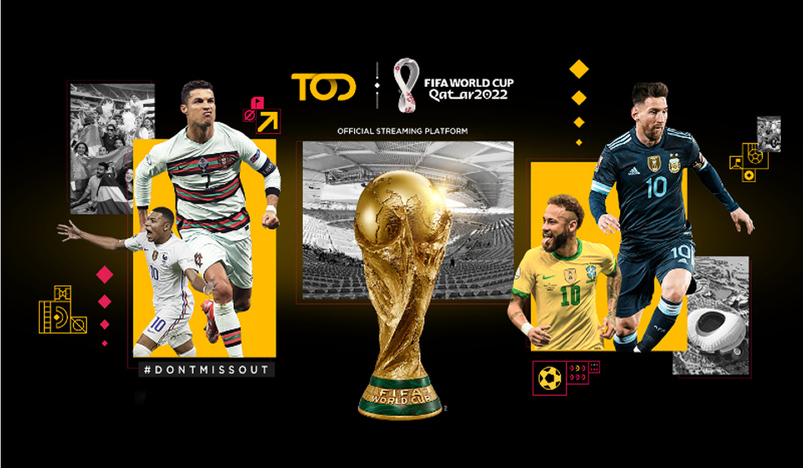 Qatar 2022
TOD, the leading sports and entertainment platform for MENA, is thrilled to announce the launch of its new and exciting four-part documentary, 'Qatar 2022'. Adding to TOD's collection of sports-centric documentaries, this captivating series offers an unprecedented glimpse into the FIFA World Cup Qatar 2022™, hosted for the first time in the Arab world. Viewers will follow the historic journey through four episodes of never-before-seen backstage footage, player interactions, and exclusive messages from the organisers.
Football fans can look forward to an exciting journey that delves into the heart and spirit of a tournament many have deemed the best World Cup ever held. The series offers a close-up view of tournament organisers, Arab fans, and players through engaging narrative and compelling imagery. It captures their feelings and the strong regional bond that produced a fantastic competition that set several world records.
Qatar 2022 features unique interviews with top players, coaching staff, and FIFA officials in addition to behind-the-scenes footage. The interviews offer special perspectives on the teams' tactics and decision-making procedures. Viewers will better grasp how the competition affected the lives of those who participated. The series also emphasises the teams' and coaches' feelings of triumph and despair during the tournament, highlighting both their victories and the difficulties they overcame on the way to success.
The series features notable football figures sharing their views, including Arsene Wenger, FIFA's Chief of Global Football Development, who commented that it was "an unbelievable experience." 
Football legend David Beckham is seen telling viewers that he has "met so many different fans from so many different countries," and that "everyone has been so excited about the football being here, being part of this World Cup," adding that he believes "it's been a very special one." 
Moroccan Achraf Hakimi is featured emphasising the tournament's impact on the perception of Arab culture, stating that "it wasn't just for us. We were there with all the Arab world, but for much of Europe, the Americas, for every one that went out there. They saw that Arab culture is not what they say it is, but what you experience firsthand." The player adds that he is "so proud, so happy with the World Cup and how it went" and that now, "everybody is able to speak well of Arab countries." 
Reflecting on his lifelong dream, Argentinian champions captain Lionel Messi shares with the audience: "It was something amazing, wasn't it? It was something so nice that I experienced. It is also difficult to explain because it is a lifelong dream that we made come true, that we can share with the people of Argentina."
John Paul McKerlie, VP Marketing and Sales at TOD, commented on the significance of the docuseries, stating: "Commemorating the historic FIFA World Cup, Qatar 2022 serves as a testament to the tournament's enduring legacy and its ability to unite nations through football. The documentary offers an unparalleled opportunity to relive the excitement, drama, and sheer spectacle of the FIFA World Cup, all from the comfort of your own home, and on the screen of your choice."