Thousands attend FIFA World Cup Qatar 2022 Volunteer Campaign Ceremony at Katara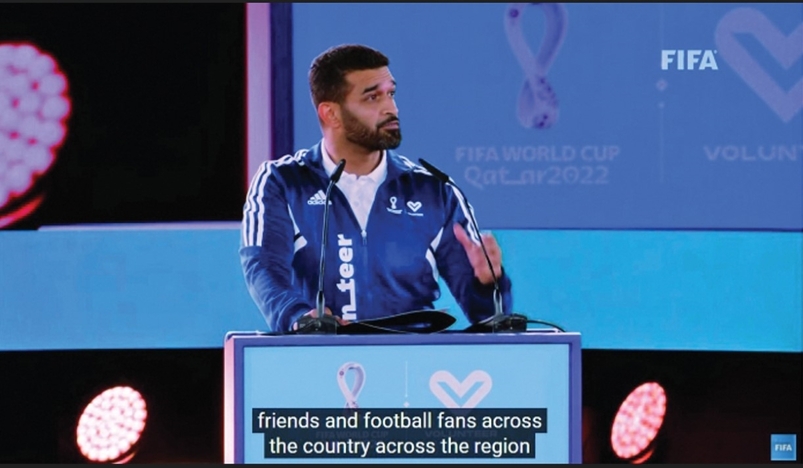 Supreme Committee for Delivery & Legacy Secretary-General Hassan Al Thawadi
The official volunteer campaign for the FIFA World Cup Qatar 2022 kicked off on Monday in a ceremony, showcasing the joy, team spirit and commitment of the people charged with making Qatar's dream a reality. 
The ceremony was attended by over 3,000 people at the Katara Amphitheatre, Mr. Gianni Infantino, FIFA President and Mr. Hassan Al Thawadi  Secretary-General of the Supreme Committee for Delivery & Legacy and Chairman FIFA World Cup Qatar 2022, announced that applications for volunteers are now open on FIFA.com.
They were joined by including Australia's all-time leading scorer Tim Cahill, Ghanim Al Mufath, Qatar's aspiring Paralympian and Mohammed Saadon Al Kuwari from beIN Sports.
Infantino said the following at the launch of the FIFA Volunteer Programme:''What a pleasure it is to be here with you tonight to officially launch the FIFA Volunteer Programme. It would be an incredible journey, one that will leave you with memories that will last a lifetime, but more importantly, you will be the first face and first smile that any visitor to Qatar will see. 
You will accompany them at the airport when they arrive looking for transportation, when they go to their hotel or when they look for a restaurant or at the stadium when they have to find their seat, parkings, celebrate or cry because football is also emotional. You are the World Cup's heart, soul and smile.''
Infantino added, ''We can show the entire world that Qatar, the Middle East and the Arab world are welcoming the world for an incredible experience because of you. The entire world will gather in Qatar to celebrate an unforgettable event. To deliver amazing, we need all of the volunteers and this is what FIFA is all about: bringing people together and uniting them, bringing people of all nationalities together to enjoy and celebrate a peaceful event.''
Hassan Al Thawadi said the launch event is one of the most important milestones on Qatar's jounrey to hosting the 2022 World Cup: ''I want to reach out to our friends all over the world and in the region and invite you to be an integral part of our tournament, story, and I want to reach out to you directly and thank you personally for what would be an incredible contribution to our tournament, which is, in effect, your tournament. I'd like to personally thank you for what would be an incredible contribution to our tournament, which is, in effect, your tournament.
"As volunteers, you will introduce many thousands of football fans to a new region and culture, as well as help to tell a wonderful story or perhaps the most prominent, talked about and written about sports event in history, while also having a positive and invaluable impact on people, our communities and societies. In times of upheaval and uncertainty across many parts of our interconnected world, you will help to foster a new era of understanding and shared values.''
Thawadi added, ''You will also help to bridge the east-west and north-south divides. You will accomplish this by extending a little hope and friendship to the rest of the world.''
Alvaro Pastor and John Gallagher attended the ceremony live from their homes in the United States and Mexico, respectively. Both recently volunteered at the Arab Cup and expressed their excitement for the World Cup in Qatar.
Alvaro, who began volunteering at the 1986 Mexico World Cup on home soil expressed that It will be an unforgettable experience, he said that: "There is no better feeling than having a World Cup taking place in your home country because you'll see the colors, fans, and excitement,".
Gallagher said "I am looking forward to the World Cup this year, and if anyone is thinking about volunteering for the first time, it would be an amazing experience," Gallagher said.
Several ambassadors of the 2022 World Cup in Qatar, including Brazil's Cafu, Argentina's Javier Mascherano, France's Marcel Desailly, and Afghanistan's Nadia Nadim, have spoken out in support of volunteering.
Applications to be a part of the volunteer team at the FIFA World Cup Qatar 2022 are now open via volunteer.fifa.com.
Qatar is gaining ground in the volunteer movement, and the latest campaign is likely to be the largest in the country's history. Volunteers have already begun to discover the value of volunteering and have begun sharing their stories. Applications to be a part of the volunteer team at the FIFA World Cup Qatar 2022 are now open via volunteer.fifa.com.
A total of 20,000 enthusiastic volunteers will work across 45 functional areas at official and non-official sites including stadiums, training sites, the airport, fan zones, hotels and public transportation hubs.