Syria attends first Arab League meeting in 11 years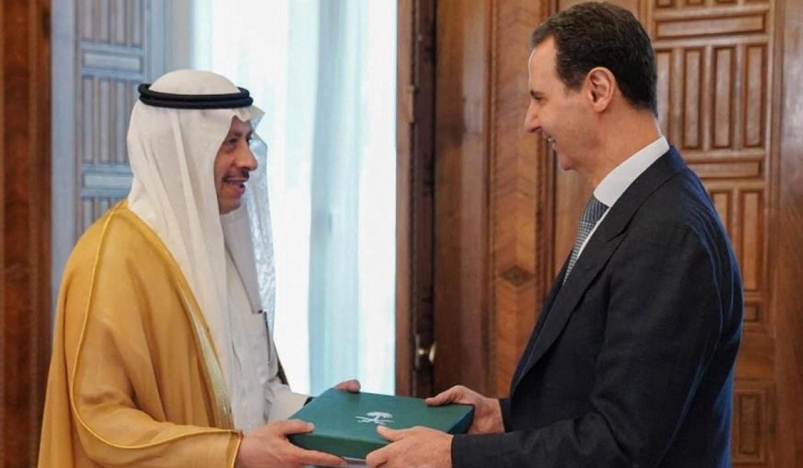 Syrian President Bashar al-Assad
Syria ended over a decade of exile from the Arab League on Monday as its officials took part in a preparatory session ahead of Friday's summit in Saudi Arabia.
"I... take this opportunity to welcome the Syrian Arab Republic to the League of Arab States," Saudi Finance Minister Mohammed al-Jadaan told the meeting, which was broadcast live by state TV channel Al Ekhbariya.
Jadaan said he was "looking forward to working with everyone to achieve what we aspire to", as the camera panned to the Syrian delegation.
It was the first time Syrian officials participated in an Arab League meeting since the body suspended Damascus in November 2011 over its violent crackdown on protests which spiralled into a conflict that has killed more than 500,000 people and displaced millions.
Earlier this month, the pan-Arab body officially welcomed back Syria's government, securing President Bashar al-Assad's return to the Arab fold.
Saudi King Salman has invited Assad to attend Friday's summit in the Red Sea port city of Jeddah, which would be his first since a 2010 meeting in Libya.
"This is a new opportunity for us to tell our Arab brothers that we do not look to the past but towards the future," Syrian Foreign Minister Faisal Mekdad said upon landing in Jeddah on Monday evening.
"There are many challenges that we must discuss and mobilise to confront, including the Arab-Israeli conflict," Syria's official news agency SANA quoted Mekdad as saying.
'Arab solidarity'
Regional capitals have gradually been warming to Assad as he has held onto power and clawed back lost territory with crucial support from Iran and Russia.
The United Arab Emirates re-established ties with Syria in 2018 and has been leading the recent charge to reintegrate Damascus. It has also invited Assad to attend the UN climate summit in Dubai later this year, SANA reported on Monday.
Diplomatic activity picked up after a deadly earthquake struck Syria and Turkey on February 6.
During Monday's preparatory session, Syria's Economy Minister Mohammad Samer al-Khalil called on Arab nations to invest in his country in light of "promising opportunities and new laws that attract investment", according to SANA.
A decision in March by Saudi Arabia and Damascus ally Iran to resume ties has also shifted the Middle Eastern political landscape.
Riyadh, which cut ties with Assad's government in 2012 and had long openly championed the Syrian leader's ouster, confirmed last week that work would resume at the two countries' respective diplomatic missions.
While Syria's frontlines have mostly quietened, large parts of the north remain outside government control, and no political solution to the conflict is in sight.
Top diplomats from nine Arab countries discussed the Syria crisis in Saudi Arabia last month, and five regional foreign ministers including Syria's met in Jordan on May 1.
The Arab League's secretary-general, Ahmed Aboul Gheit, said on Monday that Syria's return could revive "the principle of Arab solidarity", according to a statement delivered by his deputy, Hossam Zaki.
'Serious challenges'
But not every country in the region has been quick to mend ties with Assad.
Qatar said this month it would not normalise relations with Assad's government but also noted this would not be "an obstacle" to Arab League reintegration.
Aboul Gheit said the "positive atmosphere" created by the end of some disputes in the region "should not push us away from the reality that the Arab region has been witnessing for years, which is the accumulation and overlapping of serious challenges".
Among these, he added, was "a new wave of displacement", a likely reference to the month-old conflict in Sudan, an Arab League member state, which has prompted some 200,000 people to flee the country and displaced hundreds of thousands more within its borders.
The conflict is expected to be a major agenda item during the summit on Friday.
A senior Saudi diplomat said last week that army chief Abdel Fattah al-Burhan, one of two generals at the heart of it, had been invited to represent Sudan but that it was unclear who would attend.
Representatives of Burhan and of his adversary, paramilitary leader Mohamed Hamdan Daglo, have been in Jeddah for more than a week for talks facilitated by Saudi Arabia and the United States.
On Thursday, the two sides signed an agreement committing to respect humanitarian principles, but they have yet to agree on terms of a possible truce.
AFP