Sustainability Exhibition Hosted by EAA at World Cup Fanzone in Doha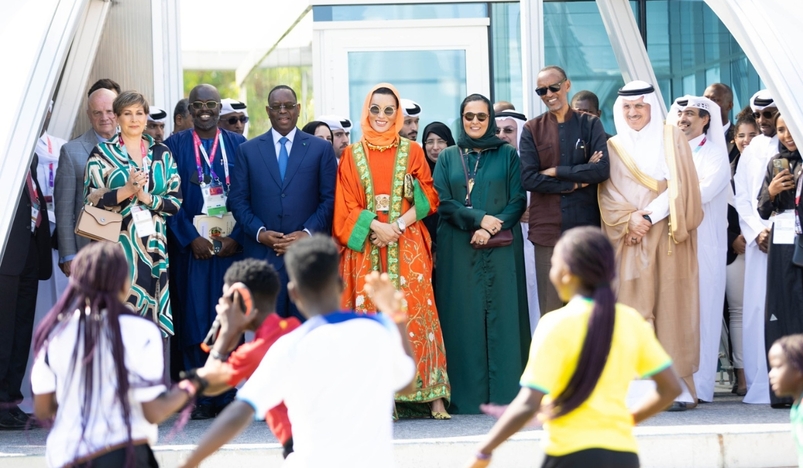 Sustainability Exhibition Hosted by EAA at World Cup Fanzone in Doha
Though the "Scoring 4 the Goals" initiative, the Education Above All Foundation (EAA) is celebrating the Sustainable Development Goals (SDGs) of the United Nations during the 2022 FIFA World Cup.Tens of thousands of football fans will be invited by the initiative, which debuted on 21 of November, to the FIFA Fan Festival at Al Bidda Park to promote the EAA's work to give refugees and internally displaced persons (IDPs) access to education. 
The campaign's launch was also attended by EAA Education Commissioners Sheikh Moza bint Nasser and Sheikh Al Mayassa bint Hamad Al Thani.
Visitors will be able to play and study in a structure created by the late, renowned architect Zaha Hadid. Additionally, the structure replicates a classroom created for the target neighborhood. Visitors are urged to take part in the campaign's social media promotion of her SDGs by using the hashtag #ActNow.
Parachute displays, live music performances, art installations, and soccer clinics are among the events.
Fans may also learn more about the SDGs and how crucial it is to achieve them in immersive art shows.
"Our commitment to sustainable development is a message of confidence in the future and hope for the world. Achieving the SDGs is fundamental to building a better world for all of us and this There is never a better time to come together here and now for the World Cup to do that," said EAA CEO Fahad Al Suraiti.
"Humanity, too, can come together as one team to achieve sustainable goals," encouraged Al Suraiti, highlighting the crucial role that sport plays in bringing people together and igniting crucial debates.
Important embassies from countries including Rwanda, Senegal, Canada, Mexico, and Liberia were already present in the pavilion.
Influential people including World Health Organization Director-General Tedros Adhanom Ghebreyesus and Nobel Peace Prize laureate Kailash Satyarthi have also paid a visit to the EAA facility.
Key collaborators in the EAA campaign include the World Bank, Islamic Development Bank, UNICEF, UNESCO, UNHCR, and Forest Whitaker Peace and Development Initiative.
In a statement, the EAA said the campaign was a chance for people to unite and rejoice after the COVID-19 outbreak caused the world to face unimaginable difficulties that interfered with the SDGs' goals.