Sheikha Jowaher Patronizes Graduation Ceremony of QU's Female Students, Honors Outstanding Graduates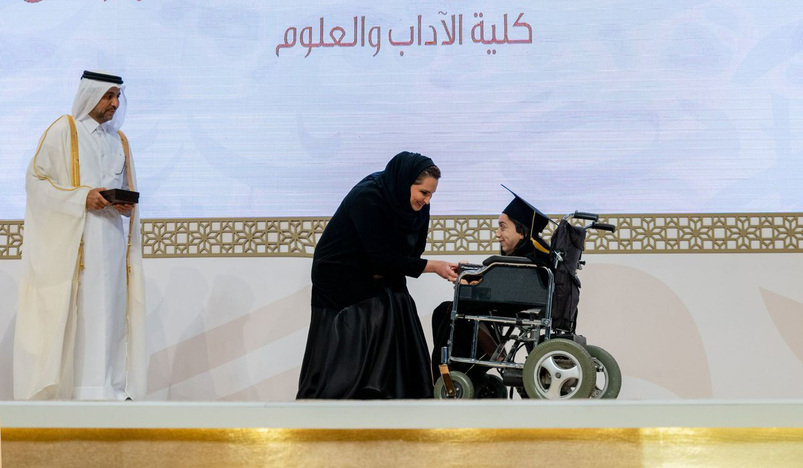 HH Sheikha Jowaher bint Hamad bin Suhaim Al-Thani
HH Consort of HH the Amir Sheikha Jowaher bint Hamad bin Suhaim Al-Thani patronized the graduation ceremony of the 45th batch (Class of 2022) of female undergraduate and graduate students from Qatar University (QU), which was held at the University's Sports and Events Complex on Thursday morning.
A number of Their Excellencies Sheikhs, Ministers, members of QU's Board of Trustees, QU Vice-Presidents and parents attended the ceremony.
Her Highness honored the 479 outstanding female graduates out of the total number of 2767 female graduates in various disciplines.
During the ceremony, a film was shown about QU's achievements during the academic year 2021-2022 in various fields.
The ceremony also included a speech by HE President of QU Dr. Hassan bin Rashid Al Derham who stressed that Qatar University, thanks to the efforts of the students, has contributed to achieving the goals of the State through its sober formation, institutional culture, scientific and research capabilities and preparation of generations of competencies, praising the concerted efforts of various sectors of the University, which yielded results and transformed the strategy into a tangible reality.
The ceremony also included another speech for the graduates delivered on their behalf by the graduate student Dana Ali Al Mulla who noted that the Qatari woman played a pivotal and pioneering role in various fields, and have proven her worth as a leader and main mobilizer for building the future of Qatar, adding that that Qatari woman was strongly present in the field of raising, educating and developing young people. She stressed that graduation is only the beginning of creativity, calling for work and giving in order to leave a trail in every path taken.
(QNA)