Revolutionizing Qatar's Roads: EcoTranzit Launches Qatari-Patent Electric Vehicle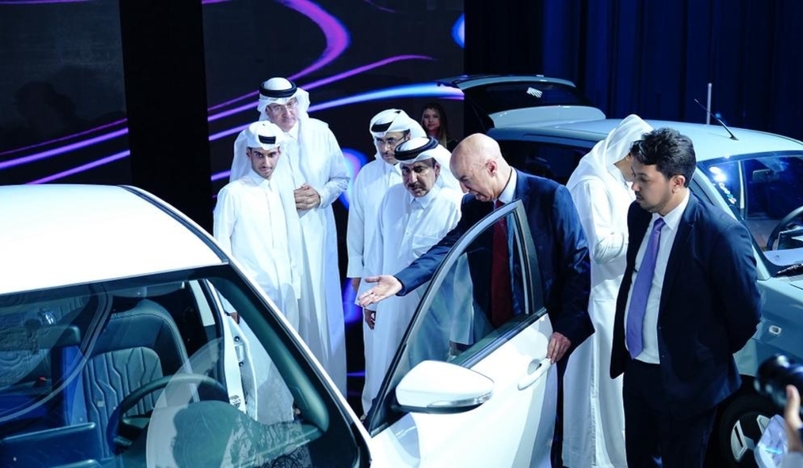 EcoTranzit Launches Groundbreaking Qatari-Patent Electric Vehicle, Paving the Way for Sustainable Transportation
Under the Patronage of the Ministry of Transport and in the presence of His Excellency Jassim Bin Saif Al Sulaiti, Minister of Transport , EcoTranzit Company has unveiled Qatar's first electric vehicle brand under its exclusive intellectual property rights. The announcement was made amidst a momentous event held in Doha on June 5, 2023. 
The event was attended by esteemed figures including H.E. Sheikh Dr. Faleh Bin Nasser bin Ahmed bin Ali Al Thani, Minister of Environment and Climate Change; H.E Ahmad Al Sayed, Minister of State and Chairman of Qatar Free Zones Authority; H.E. Sheikh Khalifa bin Jassim Al Thani, Chairman of Qatar Chamber of Commerce and Industry; Engineer Essa bin Hilal AL-Kuwari, the President of Qatar General Electricity & Water Corporation "KAHRAMAA"; H.E. Dr. Eng. Saad Ahmed Al Mohannadi, President of Ashghal, alongside other esteemed dignitaries, governmental representatives, automotive agencies, and relevant entities
This groundbreaking endeavor aligns seamlessly with Qatar's National Vision 2030, demonstrating a resolute dedication to revolutionizing the transportation sector into an environmentally conscious and sustainable industry. Furthermore, it exemplifies the prevailing global shift towards curbing carbon emissions emanating from conventional vehicles, which significantly contribute to environmental pollution.
During the event, prototypes of EcoTranzit's electric cars under the VIM brand were unveiled. This noteworthy achievement not only underscores Qatar's steadfast commitment to curbing carbon emissions but also acknowledges the company's endeavors in fostering national innovation, empowering the local workforce, and nurturing talent development. By laying the foundation for such industries, these collective efforts will play a pivotal role in driving future localization.
Being at the forefront of the electric vehicle and sustainable transportation solutions domain, EcoTranzit, a trailblazing Qatari enterprise, has made significant strides in securing intellectual property rights for an extensive array of electric cars and buses, in collaboration with its esteemed international partners. This pivotal move serves as the initial stride in the establishment of a comprehensive industry encompassing both lightweight and heavyweight electric vehicles, proudly bearing the VIM brand. In line with this vision, the company has already commenced investments in assembly plants and preliminary production lines, while laying out strategic plans to further cultivate a semi-integrated industry in the near term.
Furthermore, EcoTranzit aims to forge ahead by establishing the inaugural regional center in collaboration with pertinent authorities, dedicated to the certification of electric vehicles. This esteemed certification center will diligently verify that electric cars and buses conform to worldwide specifications while upholding Gulf standards, thereby bestowing them with the appropriate accreditation certificates.
EcoTranzit's foray into the realm of eco-conscious transportation solutions stands as a momentous leap forward within the Qatari and Gulf markets. The company presents state-of-the-art technologies and innovative designs tailored for public, private, and commercial transportation needs. Its contemporary cars and buses seamlessly integrate environmental sustainability, energy efficiency, and captivating aesthetics. Furthermore, EcoTranzit has made substantial investments in electric vehicle infrastructure and complementary technological systems to offer holistic solutions for the electric transportation ecosystem. Presently, the company engages in the production of diverse public buses, assembly of electric cars, as well as the provision, installation, and operation of electric chargers and associated technological solutions.
His Excellency Sheikh Khalifa Bin Hamad bin Khalifa bin Ahmed Al Thani, Chairman of EcoTranzit, expressed his enthusiasm for this significant achievement, stating: "We are thrilled to embark on this remarkable and vital venture within our beloved nation through the introduction of these innovative electric vehicles. Our paramount objective is to redefine the realm of intelligent mobility by offering environmentally conscious vehicles that seamlessly integrate contemporary design, top-notch specifications, and practical models suitable for diverse applications. We are unwaveringly committed to serving our environment and society, augmenting the quality of life for future generations, and forging a wholesome and sustainable future."
Every vehicle provided by EcoTranzit comes equipped with cutting-edge technologies, state-of-the-art batteries boasting intelligent charging systems, and a diverse array of sophisticated information and communication systems. Furthermore, these cars encompass extensive safety measures and intelligent electronic connectivity systems, streamlining the charging process with compatible devices. Notably, all vehicles meticulously adhere to global and Gulf standard specifications, ensuring top-notch quality and performance.