Qetaifan Island North prepares to welcome up to 50,000 visitors daily in November and December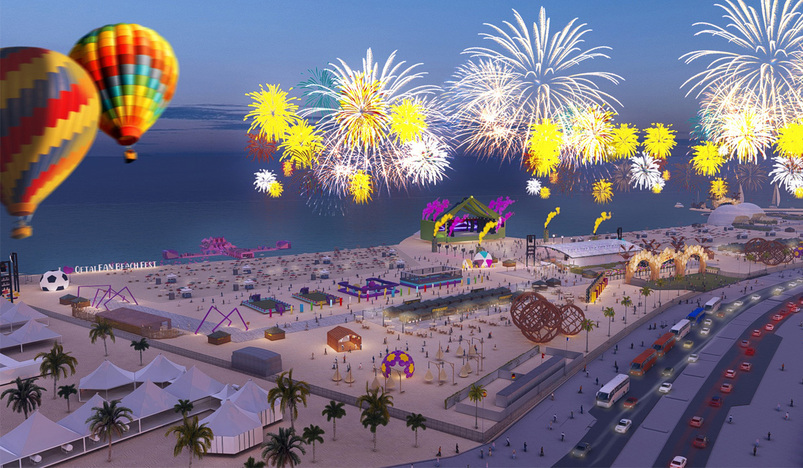 Qetaifan Island North
Qetaifan Island North is getting ready to welcome Football fans visiting Qatar and tourists to the diverse entertainment and cultural events that it will be hosting.
Starting from QetaiFAN Camp, which has 1,800 luxury Arabian tents with a distinctive sea view of Lusail city, fully furnished, including breakfast and access to QetaiFAN Beach Fest. As well as the Arabian Village which will be introducing visitors to the diversity and hospitality of the Arab culture, Al Thuraya Village which is offering entertainment activities for both families and children to enjoy, and lastly the Beach Club which will welcome visitors to enjoy lots of beach events and entertainment shows. Qetaifan Island North is only 5 Km away from Lusail Stadium, making the island one of the must-go-to during November and December.
Hesham Sharaf, Chief Operation Officer at Qetaifan Projects, assured that the island is ready to welcome visitors.
"Despite the challenges and difficulties, we focused on raising the island's readiness to welcome fans in coordination with the concerned authorities and institutions, in order to provide the best means of safety and security for fans." He added, "we have considered the preparation of the necessary logistics, including roads, traffic, and pedestrian lanes. The island will also include 4 clinics to provide 24-hour services, parking spaces for up to 4000 cars, security companies to provide security teams, and rescuers inside and outside the events. In addition to police officers and traffic police in coordination with the Ministry of Interior, all in support of the events and activities on the island. We thank all entities and institutions that have cooperated and will cooperate with us to highlight the island at the highest level required. "
In this regard, Sheikh Nasser bin Abdulaziz Al Thani, Head of Business Development, Qetaifan Projects, expressed his happiness over the hosting of the events at Qetaifan Island North, saying, "there is no doubt that the hosting of our beloved country and as an Arab country for the major sports event is in itself an opportunity to highlight the growth that included all sectors of the country, and we at Qetaifan Projects consider hosting the tournament as a starting point for more achievements in the future." Adding, "considering that Qetaifan Island North is the first tourist entertainment destination in Qatar, we have worked to provide a comprehensive and unique tourism and entertainment experience for visitors and fans where the events will include all categories and satisfy all tastes." He added, "we have taken care of the smallest details as we partnered with international and local companies such as Universal Ventures, Madaeen Al Doha, AHK Enterprise, Fusion Group Holding, as well as Al Wajba for organizing conferences and events."
1,800 Luxury Arabian Fully-Furnished Tents Qetaifan Island North is one of the most prominent contributors in providing distinctive accommodation for football fans, by offering a camp consisting of 1800 luxury Arabian fully furnished tents, that will be providing all hotel services including breakfast and free internet. In addition to a clinic, and security services available 24/7. As well as a beautiful and picturesque view of Qetaifan Island North beach where each tent is designed to host two individuals. The Camp guests can also pass by the biggest beach festival in terms of events, open throughout the day, as well as enjoy events, and live performances on the island's linear canal.
QetaiFAN Beach Fest The Island is also preparing to present the largest entertainment festival on its beaches during November and December. Lots of beach entertainment events, beach sports, F&B, augmented reality shows, daily concerts by the most prominent Arab and foreign artists, free internet, and huge screens on the beach to enjoy watching all football matches.
The Arabian Village Looking to attract Arab and international audiences, the Arabian Village is designed to highlight the Arab culture's diversity and hospitality by allocating an area of 17,700 square meters that includes a pavilion for each Arab country, to be the window for visitors and fans of these countries to present live performances that will host Arab artists and cultural and entertainment performances. In addition to Arab cuisines and traditional shows. The village will also have live broadcasting of the matches on big screens. The Village's visitors are expected to reach 50,000 visitors per day.
Thuraya Village Al Thuraya Village is offering international and well-known games and entertainment shows for all visitors and families to enjoy during November and December. The village includes restaurants, daily live music shows, a circus show for children, in addition to souvenir shops, and other exciting shows for all family members to enjoy. The village is expecting to reach 10,000 visitors per day.
Soft Opening of Meryal Waterpark Meryal Waterpark will also open its doors to visitors during November and December. Its unique design is inspired by the history of the oil and gas industry in Qatar. Meryal is the largest waterpark in the region featuring 36 water rides and the world's highest tower of its kind the "Icon Tower", located on a small island opposite Qetaifan Island North and linked to it with an overwater bridge.