Qatar's Pride Nasser Al Attiyah Wins Fifth Title at Baja Spain Aragon Rally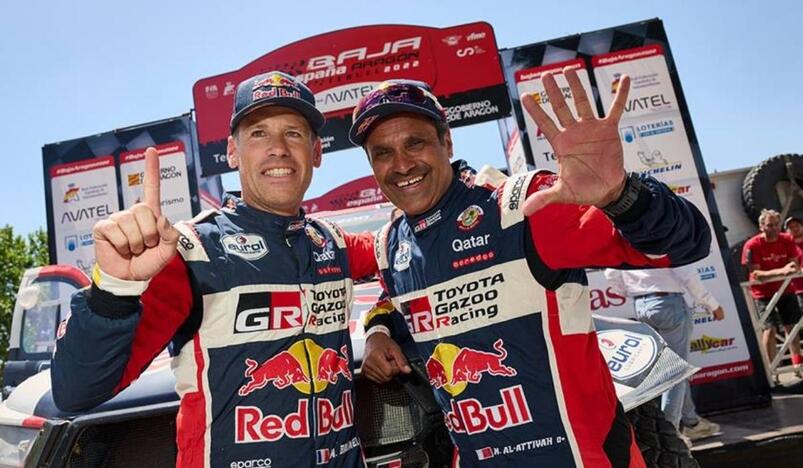 Nasser Al Attiyah celebrates his fifth title with his co-driver Mathieu Baumel
The Qatari rally driver and 4-time Dakar Rally champion Nasser bin Saleh Al Attiyah claimed his fifth title by winning the Baja Spain Aragon Rally; the fourth round of the FIA World Cup for Cross-Country Bajas, where 92 cars competed for the Baja Spain Aragon champion title. In addition, Al Attiyah achieved best time in the general ranking of the rally's stages in seven hours, 20 minutes and 43 seconds.
Al Attiyah was ahead of his Saudi counterpart and the runner-up in the general classification Yazeed Al Rajhi , and six minutes ahead of Brazilian Luke Morris, who finished third.
For his part, the Qatari rally champion expressed his immense happiness for winning his careers fifth title in the Rally Baja Spain Aragon, and his gratitude to the rally's organizers.
Moreover, Al Attiyah said in a press statement today that attaining victory was not easy, as the roads were challenging, however he feels satisfied with his car, yet he thought that more tests need to be run and that undoubtedly the current version was more difficult than all the previous ones.
The Toyota GR Hilux driver consolidated his position towards attaining the title together with his co-driver Mathieu Baumel when they landed first position in the first two special stages of the rally, whilst landing third place in the third and last stage today in one hour, 58 minutes, and 13 seconds, covering 160 kilometers. On the other hand, the Saudi Yazeed Al Rajhi came first and Brazilian Luke Morris came second in today's special stage.
It is noteworthy that Al Attiyah has previously won this rally four times in 2008, 2016, 2017 and 2021, where he became the driver winning most championships in Spain, sharing this title with Spanish Nani Roma. 
Source: Qatar News Agency (QNA)