Qatar's First Female Restaurateur Provides a "Priceless Experience"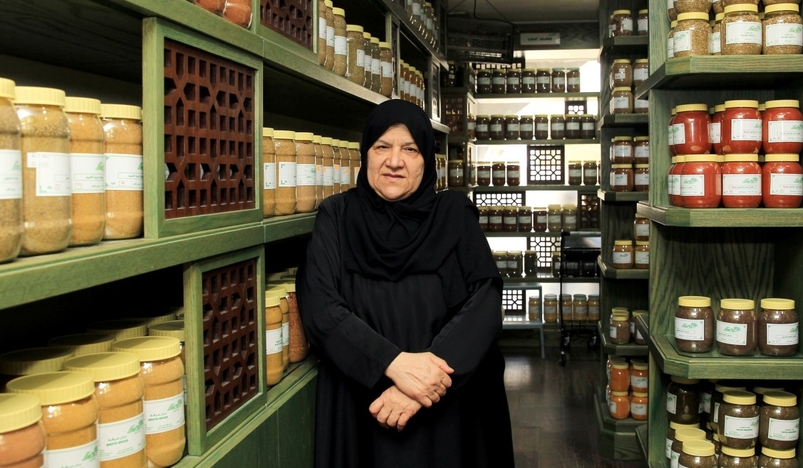 Shams Al Qassabi
Chef Shams Al Qassabi's food has a taste of home because he fills it with soul and cultural origins. The flavors explode in the tongue and pleasure the senses. 
As The Peninsula walked, tasted, and smelled the authentic experience, Mastercard offered her cooking and her tale as a "priceless experience."
The first Qatari woman to manage a business in the historically male-dominated Souq Waqif and the first Qatari woman to own a restaurant, the chef, restaurateur, and cookbook author earned a name for herself in Qatari history. 
According to Eman, her eldest daughter, she battled a lot. And after years of toil, her efforts paid off; Shams, which means "sun" in Arabic, characterizes her as continuing to shine.
Her tale is one of struggle, tenacity, and women's empowerment—from manufacturing spices out of a broken coffee grinder to where she is now. According to Eman, her mother came from a wealthy, traditional family."Qatar then was not the same as now, women weren't common in the workplace, education wasn't mandatory for women, they read and write and that is all (khalas), because eventually they will get married, take care of the house, have children."
That was the traditional method, but when her father, Shams' spouse, unexpectedly retired in his early 40s, Shams felt obligated to assist and support the family. When she displayed her spices at the Modern Family exhibition in 2001, she had her first taste of business. The drive was difficult, she wasn't sure who to lend money to or whether it would be risky, and she thought back to what her late father had said: "A successful trader should value the zero," and Shams started from nothing.
In her backyard, she had a small lemon tree that regularly yielded fruit. The neighborhood loved the first pickle she made with this. After that, she began selling them in order to generate money for the exhibition"She was selling the pickle jar for QR20, and from there she got QR500 as capital," said Eman.
Shams was astounded by the sum of money she had made—QR32,000—after the exhibition's opening week."If I can do something from nothing, then I can do more," the chef claimed that she felt inspired and motivated to do better. After the exhibition was over, she gained tonnes of customers and decided to open a store in her home, where customers of all social classes flocked. "This is too much," Eman's father used to say, "Khalas (enough)." Shams' career was at its height.
And the bumpy road started, people questioned her, and Shams thought: "Wait a minute, until when will I be struggling, fighting for myself? I'm not doing anything wrong, I'm here with my decent clothes, presenting my country, culture and I'm tired of people pointing at me as the not educated, no degree woman, and like anyone else I would like to have a job, not a degree will define me. I can produce with my hands, if H H Sheikha Moza bint Nasser did the Education City.. who am I to be afraid of?."
When the Souq Waqif was repaired and refurbished in 2004, a new opportunity presented itself. She is well-known for her spice shop, which she opened with the support of the management. She has being transported around the traditional market like a "chess piece," according to Eman. She had been in the Novo Cinema area before being transferred to a more advantageous spot with a view of the West Bay skyline since people appreciated her spices. She was brought here by Father Amir H H Sheikh Hamad bin Khalifa Al Thani, according to Eman.
Her new space was fashioned to resemble a waiting area where customers could enjoy a cappuccino or a latte for two months alongside her spice business. Al Shomous was the name of her eatery. Shams honed her creative abilities during this period when nobody visited and she was giving away her food to passersby. She concentrated on the food presentation and prepared meals using her mother's recipe; soon, people couldn't get enough of it.
The next day, her portrait was shown widely in the press when a photographer identified himself as being from Amiri Diwan. Customers flocked to her business and restaurant to try her meals as a result. Her restaurant has 300 seats throughout the winter, up from the original six at the beginning. 
Shams' factory in the Industrial area is the first to be created for food, and she has manufactured 480 different spices that are sold in her shop. Shams and her daughter recently returned from Nepal after gathering some spices, and she brags that all of her ingredients are natural and that she collects them personally.
Chef Shams, a boisterous 60-year-old woman, demonstrated that success is possible for everyone, regardless of educational background. "Looking back, I should not be worried or scared and not have invested my time thinking in what people will think about me, I shouldn't be hesitant – and that would make my life easier."
From her spices to her homemade delicacies, her passion for Qatari culture was palpable, this is her contribution to the country. "My mom's love for Qatar, the culture – I haven't seen anyone like her. People asked if they could franchise the restaurant, but my mom rejected it, she said it won't be authentic and won't be something special to people who will come to Doha and see it."
"She wanted the world to come to her, to see Qatari food and cuisine, that was her priority." And the world has seen – and tasted what Chef Shams has to offer: genuine Qatari cuisine. And that's a priceless experience.