Qatargas 4 Receives Reliable Asset Award from Shell Qatar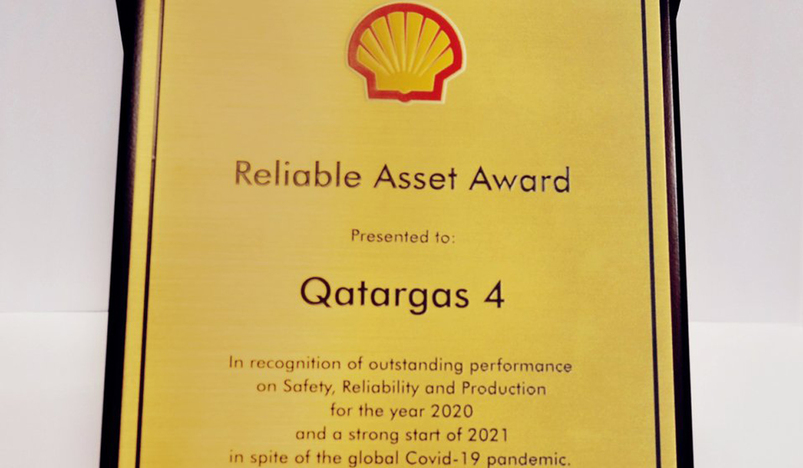 Qatargas 4 (QG4) received the Reliable Asset Award from Shell Qatar
Qatargas 4 (QG4) received the Reliable Asset Award from Shell Qatar in recognition of its outstanding performance on Safety, Reliability and Production for the year 2020 and early 2021 despite the challenges posed by COVID-19 pandemic.
The award was presented by Hasan Abunada, Shell Qatar Vice President QG4, to Ahmad Hassan Al-Sulaiti, QG3&4 Asset Manager, in the presence of Ahmad Helal Al Mohannadi, Chief Onshore and Operations Support Officer, Khalifa Ahmed Al Sulaiti, Chief HSEQ Officer, and Ahmad Ashkanani, Onshore Operations Manager.
Presenting the award, the Shell Qatar Vice President said: "The excellent performance of QG4 in 2020 and the very good start of 2021 put QG4 at the top of Shell assets worldwide. As such, this has been recognized by Shell Executive Vice President - Asset Management Excellence, Bart Van de Leemput. This achievement is the product of the constant attention to details and high commitment of the QG4 management and team." Shells Reliable Asset Award is granted based on three main criteria namely Goal Zero in Process and Personal Safety; Production ahead of plan; and top quartile unplanned downtime.
Commenting on this achievement, Chief Onshore and Operations Support Officer Ahmad Helal Al Mohannadi said: "This recognition from Shell underscores the commitment we make and keep as a Company towards maintaining premier performance and ensuring quality in everything we do. This became possible thanks to a strong management leadership, shareholder commitments, workforce performance, productivity and assurance towards Qatargas goals and objectives. In our quest to provide quality LNG and other hydrocarbon products to the global market, we proudly and safely operate and maintain our facilities to premier standard."
SOURCE: QNA