Qatar unveils 5-year plan for self-driving vehicle regulations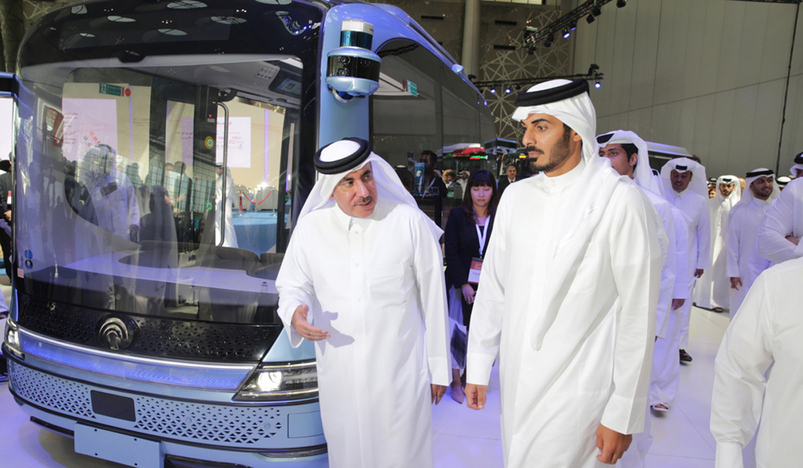 HE Jassim Saif Ahmed Al-Sulaiti with HE Sheikh Khalifa bin Hamad bin Khalifa Al Thani
Minister of Transport HE Jassim Saif Ahmed Al-Sulaiti today inaugurated the MOT's "Sustainable Transportation and Legacy for Generations" Conference and Exhibition, which runs on September 17-18, at the Doha Exhibition and Convention Center, under the patronage of Prime Minister and Minister of Foreign Affairs HE Sheikh Mohammed bin Abdulrahman bin Jassim Al Thani.
Minister of Interior and Commander of Internal Security Force (Lekhwiya) HE Sheikh Khalifa bin Hamad bin Khalifa Al Thani, Governor of Qatar Central Bank HE Sheikh Bandar bin Mohammed bin Saoud Al-Thani, Minister of Municipality Dr. Abdulla bin Abdulaziz bin Turki Al Subaie, Minister of Commerce and Industry HE Sheikh Mohammed Bin Hamad Bin Qassim Al Thani, Minister of Communications and Information Technology HE Mohammed bin Ali Al Mannai, and numerous state and transportation industry officials, were in attendance.
In his opening speech, Minister Al Sulaiti said Qatar's investments in developing the infrastructure projects and the transportation sector's support services came in implementation of the directives of HH the Amir of Qatar Sheikh Tamim bin Hamad Al Thani, and resulted in Qatar having an integrated, connected, and sustainable transit system, positioning the country high on world map of transportation industry, and enabling it to host major events efficiently.
He said e-bus operation percentage neared 70% by Q3 of 2023, moving at a steady cadence to transform public bus system to electricity 100% by 2030 in step with the goals of Qatar's National Environment and Climate Change Strategy and the pillars of QNV2030.
To support innovation and keeping pace with global advancement in the industry, the Minister announced the launch of the Self-Driving Vehicles Strategy, which features the execution of a plan over the coming five years to regulate the terms and conditions of using such vehicles in Qatar, aiming to provide smart, and environmentally conscious transit systems.
The Minister said the Ministry of Transport is currently working on studying the standards and specifications of electric vehicles (EVs), in conjunction with the bodies concerned, in order to put and approve the minimum technical specifications and safety standards of EVs, in addition to establishing a center for inspecting and verifying EVs' specifications conformity and issuing approval certificates required.
On maritime transportation, Minister Al Sulaiti said the advanced infrastructure and technologies deployed at Hamad Port did contribute to transforming the port to a regional hub port for re-exportation and transshipping, thanks to its expanding transportation network connecting it with over 100 ports worldwide.
The Minister went on to say Al-Ruwais Port continues its key role revitalizing regional trade exchange after undergoing significant enhancements and establishing new quays.
He added that work is underway to finalize the 3rd phase of the port's development plan, including deepening and enlarging its navigation channel and basin to increase its capabilities, thereby keeping up with ever-increasing ship traffic and importation and exportation operations.
Minister Al-Sulaiti also noted the significant impact of the development works the Ministry conducted at Doha Port and how that contributes to supporting tourism industry's plans and revenues through large cruise ship trips.
The Minister stressed the maritime transportation sector continues bolstering its overseas investments through QTerminals, which is now present at several world ports and in the Netherlands in the future.
Speaking of air transportation, Minister Al-Sulaiti said the outcomes of the major efforts to develop the air transportation sector through establishing a modern system supported with modern services, were clearly seen during FIFA World Cup Qatar 2022.
Over 26,500 aircraft movements were recorded at both Hamad International Airport and Doha International Airport during the tournament.
Moreover, the two S-band radar system and long-rang L-band radar have started operation, supporting Qatar's full management of its Doha Flight Information Region (FIR), which is a milestone in airspace management.
Meteorology field also saw great progress with weather information stations currently reaching 48, which continued to enhancing meteorology services for maritime and air navigations, in addition to authorizing the maritime center - the main feeder of weather predictions for commercial vessels.
Minister Al Sulaiti said the number of air transportation agreements signed with world countries has reached 175, giving the national carrier access to larger opportunities to expand its network of global destinations. The national carrier of Qatar currently flies to more than 160 destinations via HIA, which currently receives 40 global airlines and 3 more carriers to be added soon.
Minister Al Sulaiti concluded his speech by saying efforts will continue to further develop the transportation and mobility system to support all industries, enhance trade, facilitate mobility and goods transportation, and improve the quality of life for everyone living in Qatar, as well as leaving behind a legacy for generations to come.
Following his speech, the Minister accompanied the attending ministers and officials on a tour in the accompanying exhibition where some of the latest sustainable transportation technologies and innovations are on display. He also witnessed the signing ceremonies of several agreements by some of the participating entities.