Qatar University Hosts 3MT Competition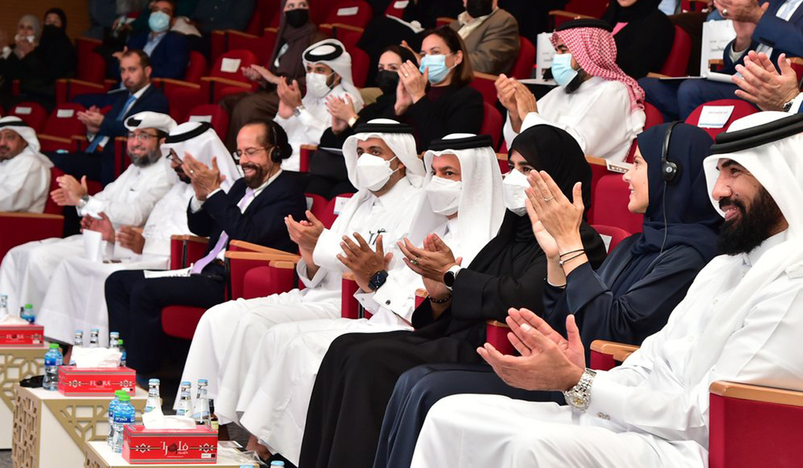 3MT Competition
Qatar University (QU) organized the National Three Minute Thesis (3MT) Competition 2022, the 3MT competition is an academic competition that challenges Masters and PhD students to present their research within three minutes to the general public.
The 3MT Competition celebrates the discoveries made by graduate students and encourages them to communicate the importance of their research to the broader community. This is a unique opportunity to celebrate Qatars graduate students and highlight the many graduate study opportunities available here in Qatar.
Qatar University has conducted this event annually over the past 8 years, and QU is taking the competition to the national level this year. All higher education institutions based in Qatar that offer thesis-based graduate programs are invited to participate. Participating universities include: Qatar University (hosts and organizer), Doha Institute for Graduate Studies, Hamad Bin Khalifa University (HBKU), Al Rayyan International University College (ARIU), Virginia Commonwealth University-Qatar (VCU-Q), Texas A&M University, Qatar (TAMU-Q), University of Calgary-Qatar, Oryx Universal College with Liverpool John Moores University, Qatar Finance and Business Academy (QFBA)-Northumbria University and Joan Bin Jassim Joint Command and Staff College.
In his speech on the occasion, HE Dr. Hassan Rashid Al Derham, President of Qatar University, said: "Today we meet with you at Qatar University at this national competition. We are pleased to host all the participants from various educational institutions in Qatar alongside Qatar University students in this competition. We are always happy to work with these educational institutions for one goal, which is to achieve Qatar National Vision 2030." Dr. Al Derham added: "Through the creation of scientific facilities and the growth of graduate programs, Qatar University has worked to build a solid infrastructure and increase the scope of its research. In the university, the culture of scientific inquiry has permeated deeply, and we at Qatar University are collaborating with this trend.
This competition is intended to explore and draw eminent students from graduate studies and scientific research, to recognize their potential, and to hone their inductive skills as our partners in Qatar work to develop solutions to the problems we face here in Qatar." Dr. Hassan thanked all the organizers of this competition in the scientific research and graduate studies sector, and the official sponsor of this competition, ConocoPhillips Qatar. He also thanked all the judges in this competition and everyone who contributed to the success of organizing this event in Qatar.
In his keynote speech, Dr. Abdullatif Mohamed Al Khal, Deputy Chief Medical Officer and Director of the Department of Medical Education at Hamad Medical Corporation (HMC) said, please add the job title about the impact of postgraduate research in Qatar and explain that investing in research will lead to significant changes and developments in the scientific infrastructure and that working in the research field will provide opportunities for many scientists to contribute to the development.
The Vice President for Research and Graduate Studies, Prof. Mariam Al Maadeed, declared: "The events organized and held at Qatar University, notably the National Three Minutes Thesis Competition (3MT), are initiatives that aim to build a strong community in Qatar by creating an innovative and creative environment. Which targets to strengthening relationships with universities, locally and internationally, as well as finding solutions and proposals for the different challenges faced by societies." For his part, Todd Creeger, President of ConocoPhillips Qatar, said: "At ConocoPhillips Qatar, we are proud of being the official sponsor of this competition organized by Qatar University. While providing high-quality educational curricula, ConocoPhillips would like to congratulate all the finalists and wish them all the best in this competition."
(QNA)