Qatar Tourism, Mwani Qatar Expect 200,000 Visitors from Cruises in Current Season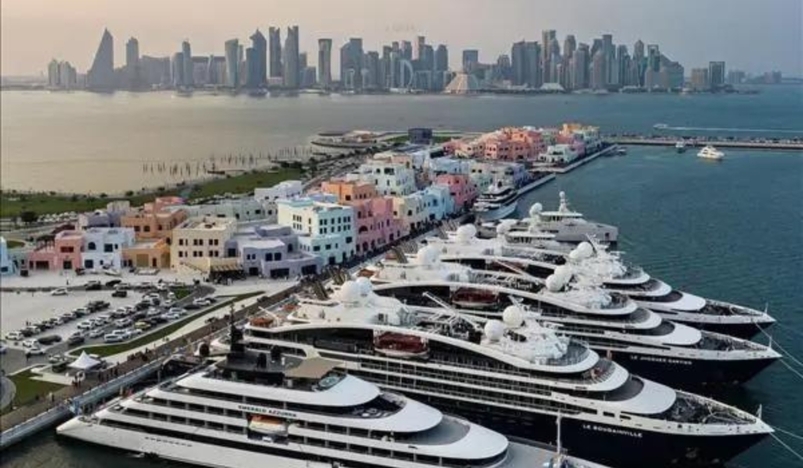 Qatar to Expect 200,000 Visitors from Cruises in Current Season
Qatar Tourism (QT) and Mwani Qatar announced the return of the 2022/2023 cruise season, expecting the arrival of more than 50 cruise liners with approximately 200,000 visitors from now to the end of April 2023.
A press release by Qatar Tourism today said that over the season, cruise liner passengers will be welcomed at the Cruise Terminal, a newly designed infrastructure that pays homage to classic Arabian architecture. Docking in Doha Port, passengers will witness the newly renovated port that recently stood home to major international cruise liners offering floating accommodation for thousands of international fans during the FIFA World Cup Qatar 2022 tournament, including the MSC World Europa, MSC Opera and MSC Poesia.
Head of Tourism Product Support at Qatar Tourism Maryam Saoud said: "Qatar's cruise sector has grown tremendously in recent years and now contributes an important pillar to our tourism strategy. We're seeing continued, increasing preference for Qatar as a destination for both regular cruise calls and cruises with turnaround calls.
Indeed, Doha Port's strategic location in the heart of the city is truly unique and offers our visitors an excellent opportunity to make the most out of their time in Doha. We are ready to welcome thousands of new travellers who are guaranteed a distinct tourism experience in Qatar through the different tourism products on offer and in collaboration with our strategic partners."
For his part, Manager of Public Relations and Communications at Mwani Qatar Hamad Ali Al Ansari said: "Qatar continues to strengthen its position as a leading tourism destination in the region, in line with the goals of the Qatar National Vision 2030. At Mwani Qatar, we are proud to work with our stakeholders and cruise lines to ensure that these goals are achieved and work toward making Qatar the most sought-after cruise destination in the region." He added:
"As part of the renovation work undertaken in Doha Port's infrastructure, and after further expanding and dredging the navigational channel and port docks to reach deeper depth, we are now able to receive mega cruise vessels. Indeed, Doha Port is being developed to become one of the main tourist attractions in the region." Al Ansari continued: "We look forward to another successful tourism season that will contribute to strengthening the cruise industry and maintaining Qatar's position as a leading tourism hub in the region.
In every cruise season, we always make sure that travelers are receiving the best services and the most enjoyable experiences in every step of their journey, and in a safe environment." Located at the Port is the Mina District, one of Qatar's latest tourism destinations whereby residents and visitors alike can enjoy a diverse offering of restaurants and retail outlets or a refreshing stroll by the sea.
For international passengers, the Port is ideally situated within walking distance to iconic landmarks, including the National Museum of Qatar, Souq Waqif, Msheireb Downtown Doha, and the Doha Corniche, where visitors can take in stunning views of the city's skyline.
Passengers are set to enjoy a busy calendar of events by Qatar Tourism (QT) in this year.
(QNA)