Qatar Tourism announces opening of Fuwairit Kite Beach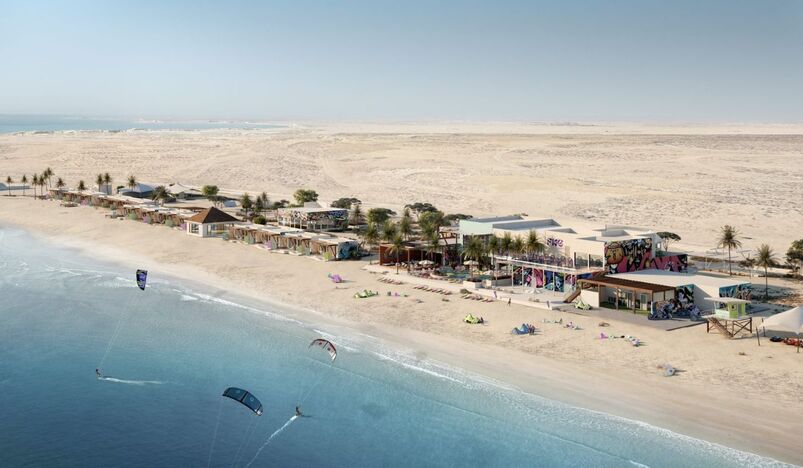 Fuwairit Kite Beach opens this year announces Qatar Tourism
Fuwairit Kite Beach, a popular destination for kitesurfers and other beachgoers, will shortly open in Qatar's north.
Official social media accounts for Qatar Tourism announced the news. "Exhilarating views while surfing the bright blue waves. We can't wait for Fuwairit Kite Beach to open! With water and winds ideal for kitesurfers, Qatar offers some of the world's best spots for kitesurfing," it said.
"Experience Qatar's coastline and calm sea, where water sports enthusiasts can soak in adventuresome activities like kitesurfing, paddle-boarding, parasailing, wakeboarding, kayaking, snorkeling, scuba-diving and more," it added.
The best of both worlds, as they say, Fuwairit Kite Beach is a well-kept secret among kitesurfers. This location is suitable for the sport due to its flat lagoon and consistent wind that lasts for nine months of the year.
In addition to kiteboarding, the beach provides a variety of other activities and amenities, such as a resort with rooms just 30 metres from the water's edge, a yoga studio, a fully equipped gym, a pool, and services for snorkelling and diving, as well as a wide selection of restaurants serving both traditional Qatari cuisine and international fare. You can learn to surf, whether it's your first time or you've been doing it for years, since there are instructors and pros waiting for you at the beach.
Hannah Whiteley, a professional kitesurfer described the beach as "perfect", adding, "It's going to be fantastic if the world tour has a stop here. Flat water, windy every day. I know the other pro riders are going to love it. I'm going to keep my fingers crossed for a wheel stop here because I'm definitely keen to come back. Having a resort, the kitesurfing like this on the beach is definitely the dream and there isn't anywhere like this in the Middle East […] and it's going to be really cool when it opens."
"The wind looks like it can be really good and the spot with this flat water, the sandbar out the back has been [amazing]. I'm looking forward to maybe coming back again one day," said professional kiteboarder Aaron Hadlow.
Fuwairit Kite Beach is roughly an hour's drive from Hamad International Airport.
In July of this year, Qatar Tourism became the Global Kitesports Association's (GKA) Official Tourism Partner for a three-year period, while Qatar Airways became the Kite World Tour's Title Partner and Official Airline in the same month. Qatar Tourism will henceforth be the primary sponsor of events in Qatar.
GKA Secretary-General Dr. Jörgen Vogt revealed a few months ago that the country would host the opening and closing rounds of the GKA World Tour in 2023.
Kitesurfing is the fastest-growing and most popular kite-sport activity, according to the Global Kiteboarding Association (GKA), with various career paths open for high-level riders.
Kite freestyle, wave, and racing World Championship events and competitions have been produced. Kiteboarding will be featured for the first time in the 2024 Summer Olympics in Paris. There are also annual championships for more specialised sports like as kicker and slider riding.