Qatar, South Korea agree on mutual visa exemption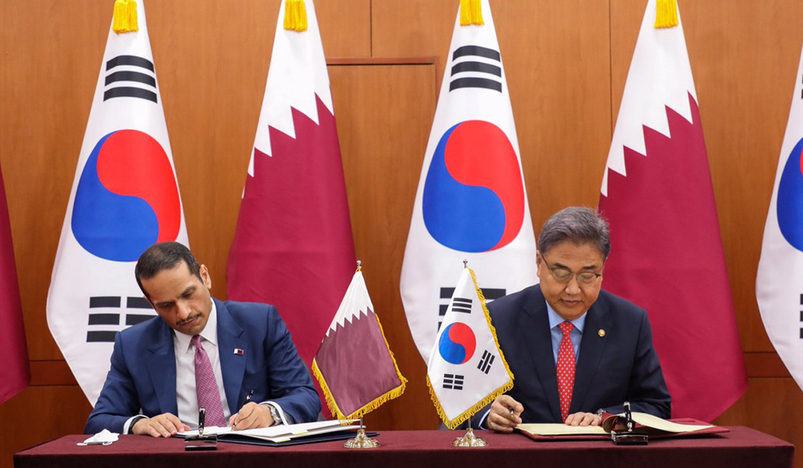 H E Sheikh Mohammed bin Abdulrahman Al Thani
Qatar and South Korea yesterday signed an agreement for mutual exemption from entry visa requirements for citizens of the two countries.
The agreement was signed by Deputy Prime Minister and Minister of Foreign Affairs H E Sheikh Mohammed bin Abdulrahman Al Thani and Minister of Foreign Affairs of South Korea H E Park Jin in Seoul yesterday.
Earlier during their meeting, the two FMs reviewed bilateral cooperation, especially in the fields of energy, investment, economy and security cooperation for the FIFA World Cup Qatar 2202, and the latest developments in the nuclear agreement talks, in addition to a number of regional and international issues of common interest.
The Deputy Prime Minister and Minister of Foreign Affairs extended the State of Qatar's congratulations to the Republic of Korea on the occasion of latter's National Day.
The Korean Foreign Minister praised Qatar's efforts in the field of mediation, its role in the signing of the Doha Peace Agreement in Chad and the Participation of Politico-Military Movements in the Chadian National, Inclusive, and Sovereign Dialogue, its hosting of the round of indirect talks between the United States and Iran, and its mediation between the United States and the Afghan Taliban.
The Deputy Prime Minister said in a tweet, "Met H E Dr Park Jin, Foreign Minister of South Korea, to reaffirm our strategic relations in economy, investment & energy, in addition to our common positions on issues of international peace & security. Looking forward to strengthening cooperation for the benefit of our people."
Meanwhile, Ambassador of South Korea to Qatar, H E Joon-ho Lee, held a press conference yesterday, saying the signing of the mutual visa exemption for passport holders of both countries "will mark a meaningful milestone for our solid bilateral relations".
He said passport holders of Qatar and South Korea can enter the other country visa-free for up to 90 days.
The visa waiver agreement aims to ensure visa-free entry and short stays for up to 90 days to the other country, and it will enter into force 30 days after the date of signing.
Lee said: "I expect that it will certainly increase the level of people-to-people exchanges between our two countries. Indeed, as the World Cup is getting closer, a lot of Korean football fans are showing greater interest in Qatar, and it will make it more convenient for Korean nationals who want to explore and visit Qatar before and after the World Cup." 
The Korean Embassy in Qatar estimates over a thousand Korean football fans to visit Qatar during the World Cup.
Moreover, the Ambassador said that the new agreement will facilitate Qataris' travel to Korea not only for business but also for tourism. "There is great enthusiasm in Qatar towards Korean cultural contents, especially K-pop and K-dramas."
QNA