Qatar receives final batch of electric buses to ferry fans for World Cup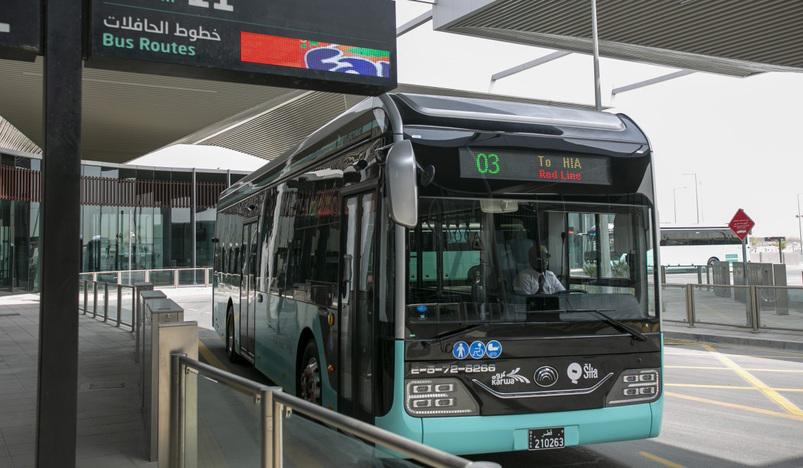 Electric buses
Hamad Port has received 130 electric buses, the last batch of a total of 741 units Qatar ordered for the upcoming FIFA World Cup Qatar 2022. 
The fleet of e-buses will be fully operated by Mowasalat (Karwa) embedded in the country's public transit system, thus creating a lasting legacy of clean energy mass transit after the championship. This step is reinforcing Qatar's leading ranking in the field of clean energy mass transit, positioning it among first countries in the world to have an integrated system of electric buses. 
It is also showing Qatar's commitment to world's clean energy solutions for transportation and backing the hosting of an exceptional, ecofriendly, and carbon-neutral world cup. The fleet of electric buses comes in the context of supporting the execution of the plan of action of the strategy of transitioning to electric vehicles that the Ministry developed in association with the bodies concerned. 
The full delivery of Qatar's electric bus order is setting the stage for transforming 25% of the bus fleet of FIFA World Cup Qatar 2022 to electric. 
During 2022, electric buses will be used on metrolink services. They will also be used on public transit routes that will basically operate in Doha City, in addition to deploying them in Lusail City and Al Khor. There will be over 200 operational and administrative staff and over 3000 drivers for the operations of the e-bus fleet. Mowasalat (Karwa) has already begun electrifying public transit routes.
Currently, Route 76 is already in full operation. Moreover, all alternative transportation services for the Gold Line and Red Line of Doha Metro run with electric buses. In 2023 and beyond, electric buses will be used on 44 metrolink routes and 48 public transit routes. 
Supporting that, Karwa will fully operate 8 bus stations equipped with electric charging equipment in Al-Sudan, the Industrial Area, Al-Wakra, the Education City, Lusail, Gharrafa and Msheireb, gradually as of this May through August 2022. The West Bay Central Bus Station will start operation in November 2022.
Karwa is also receiving 4 bus depots in Q3 of 2022, equipped with all service and living facilities for the staff, in addition to supplying and installing over 600 electric bus charging devices at bus stations and depots, as well as at metro stations and other locations within the approved routes of electric buses that serve public transportation operations and the fans of FIFA World Cup Qatar 2022, and they will be finalized in Q3 of 2022. 
Additionally, 2600 bus stops will be established at the locations of bus routes and where buses operate with the first phase of the project expected to complete in October 2022.