Qatar Creates and Qatar Museums Celebrate a Decade of Cultural Milestones Under Sheikh Tamim's rule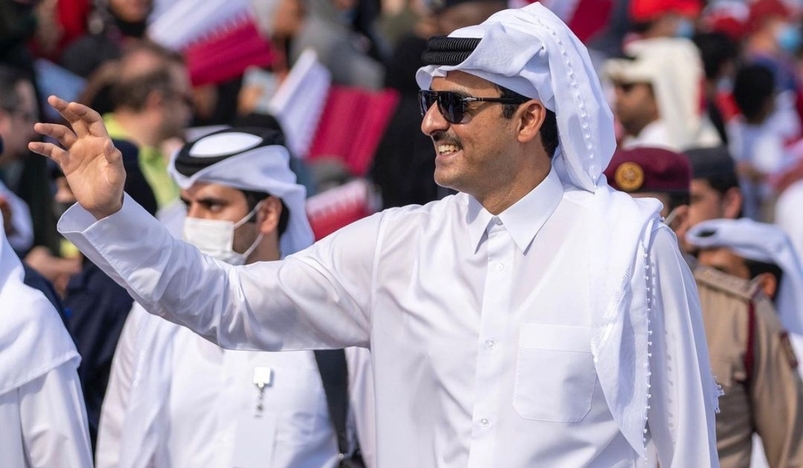 His Highness Sheikh Tamim bin Hamad Al Thani, Amir of the State of Qatar
Qatar's cultural landscape has witnessed extraordinary growth and accomplishments in the past decade, under the visionary leadership of His Highness Sheikh Tamim bin Hamad Al Thani, Amir of the State of Qatar. 

As the country celebrates 10 years of His Highness Sheikh Tamim bin Hamad Al Thani's exceptional leadership, Her Excellency Sheikha Al Mayassa bint Hamad Al Thani, Chairperson of Qatar Museums, reflects on the transformative power of culture, stating: "On this momentous occasion, we extend our heartfelt congratulations to His Highness Sheikh Tamim bin Hamad Al Thani. Under his visionary leadership, Qatar's cultural scene has become a powerful catalyst for dialogue, innovation, and sustainable development. It serves as a vibrant platform that propels our nation forward, bridging communities, enabling cross-cultural understanding, and promoting a shared vision for a prosperous future."

By embracing and investing in cultural expression, Qatar has established itself as a thriving hub that ignites creativity, celebrates diversity, and fosters a profound sense of belonging, all in line with the economic, social, and human development pillars of the Qatar National Vision 2030. Qatar's vibrant art scene acts as a vehicle for cultural expression, celebrating heritage, nurturing innovation, and shaping a vibrant future. By supporting local artists, facilitating Doha's public art scene, and cultivating a flourishing artistic community, Qatar inspires cultural expression and encourages the personal and professional growth of individuals, contributing to human and social development overall.

This commitment to artistic endeavors has resulted in a burgeoning creative community that contributes to the preservation and promotion of Qatar's rich cultural heritage. Through initiatives such as the inscription of Al Zubarah as a UNESCO World Heritage Site in 2013 and the inauguration of the National Museum of Qatar in 2019, the country's cultural legacy inspires a strong sense of identity and pride, promoting understanding among Qatar's diverse population. By presenting its multifaceted cultural identity to the world, Qatar showcases the significance of cultural heritage and contributes to a global appreciation of cultural diversity, while also addressing the environmental aspect by adopting a sustainable approach to architecture, exhibition production and heritage site preservation. 

In addition to preserving heritage, Qatar actively nurtures innovation and creativity within its creative industries, driving Qatar's Creative Economy to develop a competitive and diversified economy capable of meeting the present and future needs of all its people, thus contributing to the economic development pillar. Through platforms like the Doha Film Institute, Liwan, and M7, Qatar empowers Qatari filmmakers and designers alongside global talent, pushing boundaries and positioning the country as a hub for creative excellence that is shaping the future of the industry globally.

Qatar's commitment to cultural development is reflected in its visionary initiatives and groundbreaking projects, which aim to shape a progressive future. By fostering dialogue, innovation, and artistic practices, Qatar builds a creative nation that enriches the lives of its citizens, residents, and visitors alike. This dedication to cultural development not only celebrates creativity but also promotes cultural exchange, establishing Qatar as a global leader in the arts and cultural landscape.

Qatar's annual "Years of Culture" initiative has evolved into a powerful platform for encouraging cultural exchange between nations. Over the past decade, this initiative has showcased the rich diversity of global cultures, forging lasting friendships and solidifying mutual understanding between nations. From Qatar-Japan in 2012 to Qatar-Indonesia in 2023, each edition has celebrated the heritage and arts of participating countries. Through the Years of Culture program, Qatar continues to build bridges and strengthen international ties, reinforcing its position as a global leader in cultural exchange.

Qatar's commitment to cultural development continues to shape a vibrant future. Upcoming projects will include: Dadu, Children's Museum of Qatar - the first museum of its kind in the region, will be a unique space for children's learning and growth through open-ended play and exploration; Art Mill Museum: opening in 2030, this museum will showcase international modern and contemporary art, encompassing diverse creative disciplines; Lusail Museum: breaking ground in 2023, this museum will celebrate Qatar's rich cultural heritage through its extensive collections of paintings, photography, film, fashion, and decorative arts; Qatar Auto Museum: with a focus on public-private partnerships and sustainable practices, this museum will play a pivotal role in shaping the future of transportation; and Qatar Preparatory School: Qatar's first vocational school for the creative industries will revitalise creative production and develop a skilled workforce to drive the new creative economy.

Through visionary initiatives and groundbreaking projects, the country is building a creative nation that fosters dialogue, innovation, and artistic practices, to enrich the life of every citizen, resident, and visitor.