Qatar Claims 5 Medals on Third Day of West Asian Weightlifting Championship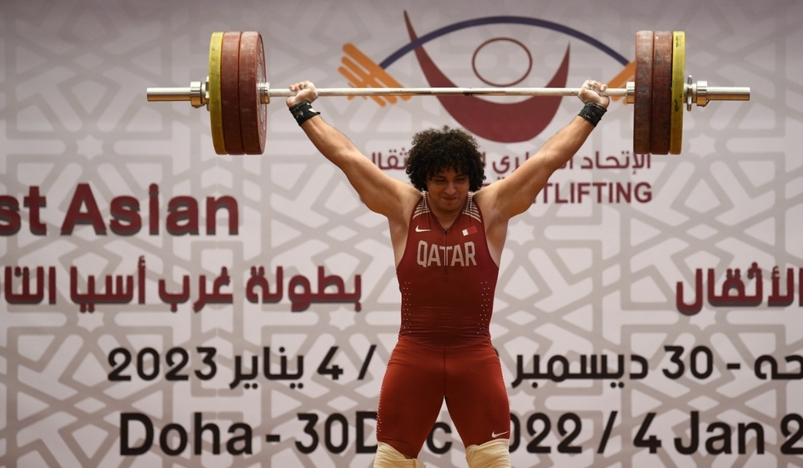 Fares Ibrahim
Qatar secured five colored medals on the third day of the ninth Men's West Asian Weightlifting Championship and seventh Men's and Women's Qatar Weightlifting Cup.
Fares Ibrahim claimed three gold medals in the 96 kg event in West Asian Weightlifting Championship. Noreen Eid secured two bronze medals in Qatar Weightlifting Cup.
In a press statement, Ibrahim expressed his happiness at winning three gold medals in the West Asian Championship competitions, stressing his chances of winning new medals tomorrow in the 102 kg competitions at the Qatar Cup.
He added that his participation in the West Asian Championships and the Qatar Cup comes as part of his preparation program for the Asian Championship next May and the World Championship that will be held in the Saudi Arabia from Sep. 2-17, and then the Qatar Cup in Dec., which qualify for the 2024 Olympics.
He added that his first goal is to qualify for the 2024 Olympics, noting at the same time that the competition will not be easy in the presence of strong athletes.
President of the West Asian Weightlifting Federation Mustafa Saleh praised Qatar's distinguished organization of the two events, adding that the two championships witnessed women's participation for the first time, which reflects the West Asian Federation's interest in female weightlifters and its attempt to develop them during the coming period to achieve good results at the international level.
The two events kicked off Dec. 30, 2022 and due to run through Jan. 04, 2023 with the participation of 100 athletes from 15 countries.
For his part, member of the Board of Directors of the Qatar Weightlifting Federation, Ismail Al Qaoud expressed his great happiness with the strong competition in the West Asian Championship and the Qatar Weightlifting Cup, pointing to the perfect organization of the competitions.
Al Qaoud said, in a press statement, that the Qatari participation was strong and distinguished, despite the presence of athletes with great experience, hailing the Qatari weightlifters' achievements despite their first-ever international appearance.
(QNA)