Qatar Begins Lifting Facemask Rules [Updated May 2022]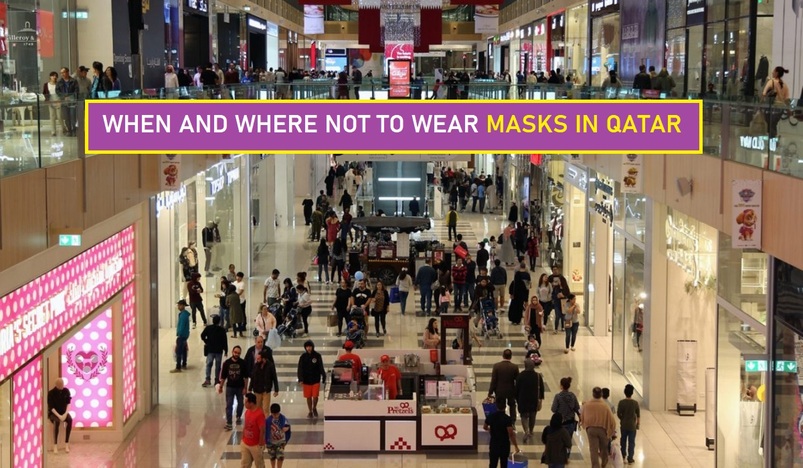 Masks NOT Mandatory in Closed Public Places from May 21
Following Qatar Cabinet's announcement on the lifting of COVID-19 preventive measures last May 18, based on the joint efforts of the concerned government institutions and the spirit of cooperation shown by citizens and residents in Qatar and the very high vaccination rates, the country is able to succeed combating COVID-19 pandemic and ease restrictions for this stage.
One of the restrictions that has been lifted is wearing of facemasks. Starting yesterday Saturday, May 21, 2022, it is no longer mandatory to wear face masks in most closed public places in the country, except in certain cases.
When to Wear Masks
The wearing of face masks is now mandatory in only the following situations:
• For all individuals within healthcare facilities (workers and visitors).
• For all individuals on public transport 
• For customer service employees working indoors including cashiers, receptionists and security personnel. 
The Ministry stated that people are advised to take personal responsibility to protect themselves and others (particularly those who they care for) by wearing face masks in indoor areas if they are vulnerable, have chronic conditions, have symptoms or are near people who seem to have symptoms and when in crowded or poorly ventilated area.
When NOT to Wear Masks
• Citizens, residents and visitors are not required to wear masks in closed public places unless they are inside health facilities or use public transportation.
• Employees and workers in the government and private sectors whose nature of work requires being in open spaces and communicating with the public during their work period are not required to wear masks, while obligating them to wear masks if the nature of their work requires dealing with the public in closed places.
Meanwhile, from today, Sunday, May 22, the Ministry of Public Health (MoPH) will cease the daily publishing of Covid-19 data on social media and switch to a weekly summary. The MoPH's website will continue to be updated daily with all the key Covid-19 data, including new cases, hospitalizations, deaths, the number of vaccines administered and the number of recovered patients. The weekly Covid-19 data summary will be posted on social media every Monday, commencing Monday, May 30.
The ministry said the lifting of Covid-19 preventive measures comes in light of the continued low numbers of Covid-19 cases in Qatar in recent weeks, mainly due to "very high vaccination rates and the great co-operation of the community". This has contributed to the success of Qatar's efforts to combat the pandemic and, therefore, most aspects of life have now returned to normal.
Soure: MoPH