Qatar Balloon Festival is back in Qatar with more surprises starting Dec 9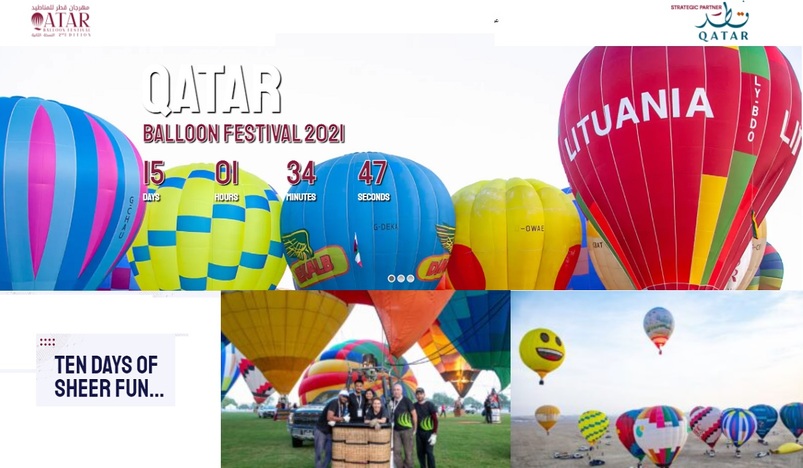 Qatar Balloon Festival 2021
The second edition of Qatar Balloon Festival, organized in partnership with Qatar Tourism, will once again fill the Aspire park with bright and colorful hot air balloons and this will continue for 10 days.
The festival returns to Qatar for a second year from December 9 to 18.
A group of colorful balloons will fly over the sky of Qatar for a period of 45-60 minutes. After dark, the balloons will be inflated and they will light up in tune with the music, to appear as huge lamps that give dazzling illumination to the audience.
The Balloon Festival coincides with four important events and occasions in Qatar, namely Qatar International Food Festival (November 25 - December 18), FIFA Arab Cup 2021 (November 30 - December 18), Qatar Music Festival 2021 (December 1 - December 18), and Qatar National Day celebrations (December 18).
EVENT DETAILS
The Qatar Balloon Festival 2nd edition is a 10-day festival of Hot Air Balloons where 40 balloons will be participating from around the world.
It features special shape hot air balloons including a frog, bear, tiger, fox, dog, clown and even a ship.
Enjoy the music and entertainment, food, novelties and so much more!
"From 4pm to 10pm, we'll have our entertainment program where we have dancers, musicians, and DJs in Aspire Park. There will also be food and beverages in the area, Kid's area, and we'll likewise hold games," added Qatar Balloon Festival Marketing Manager Ruslan Kurtveliiev.
Kurtveliiev also disclosed they are expecting to surpass the visitor's count from last year which is 50,000.
FEES
The festival will be unique from the first one as the public can now get a chance for a balloon ride which is QR299 per person.
Tickets will be available by next week on the festival's website www.qatarballoonfestival.com and at Doha Festival City.
"The 2nd edition of the balloon festival is strategically aligned with FIFA Arab World Cup in order to provide the visitors, and locals with added thrill and excitement. The new addition to this event is the opportunity for the public to book a balloon ride at reduced prices subsidized by the festival," said Organizing Committee Chairman Sheikh Abdulrahman bin Hassan Al-Thani.
The event has been scheduled to coincide with four major events in the country:
1. Qatar International Food Festival: 26 Nov – 15 Dec 2021
2. FIFA Arab Cup 2021: 30 Nov – 18 Dec 2021
3. Qatar Live 2021: 01 – 18 Dec 2021
4. Qatar National Day: 18 Dec 2021
For his part, Qatar Tourism Acting Head of Events and Festivals Technical Support Section Hamad Al Khaja said, "We are working closely with our public and private sector partners to enrich the country's calendar of events in a way that reflects Qatar's position as a prestigious tourist destination, and to attend to the likings of the visitors from different backgrounds and nationalities."
Source: Qatar Balloon Festival