PUBLIC ART AROUND DOHA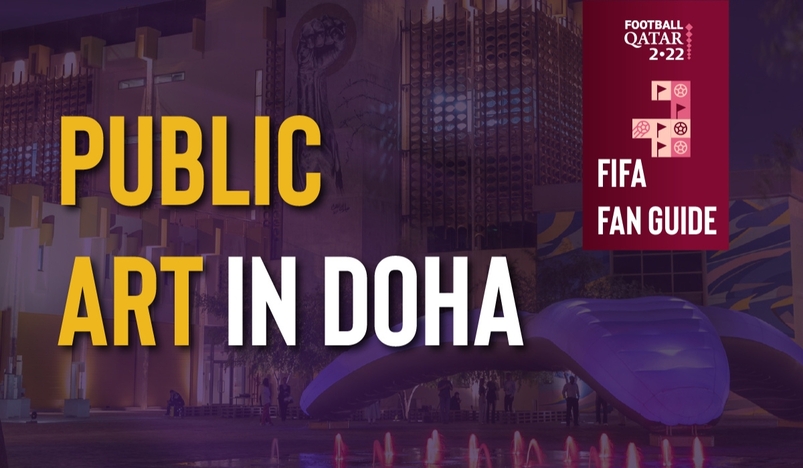 PUBLIC ART AROUND DOHA
In recent years, Qatar has become a center for experiencing invigorating pieces of public art, due to its persistent commitment to bringing color and dialogue to the streets of Doha. From striking sculptures to specially commissioned wall murals, here are some of the best pieces of artwork, you simply should not miss! 
Truck Art
Truck art is a vibrant mural adorning the walls of Al Mansoura metro station, commissioned as part of the 2022 edition of JedariArt Mural Festival organized by Qatar Museums. This flamboyant work of art was done by artists from India and Pakistan, as part of a collaboration that intends to bring these traditional art forms to the streets of Doha. Truck art is a popular practice in South Asia that evolved from the decoration of trucks and buses with floral patterns and calligraphy. Take the scenic route on your next visit to Al Mansoura, and take in the beauty of this striking piece of art. 
Artist: Phool Patti, All India Permit
Location: Al Mansoura Metro Station
Pow! Wow! Festival
POW! WOW!, the popular international mural arts festival was recently held in Doha, hosting 12 local, regional and international artists that breathed life into the walls of Al Sadd Metro Station. Mural art is described as an art form at the core of freedom of expression and this festival was initiated as an attempt to take art and culture outside the museum wallas and bring them closer to the public. These newly added artworks have truly played an important part in uplifting the community. 
Location: Al Sadd Metro Station
100 Days of Blockade, Fire Station Doha
Fire Station is Doha's leading contemporary art space that regularly hosts artists, curators and the wider public through residencies and public programmes. Housed in a former fire station, this gallery is now a go-to spot for artists and art lovers. "100 Days of Blockade" is a series of captivating murals that brilliantly intertwines art and politics.The art exhibit documents the illegal blockade of Qatar, through the eyes of its natives. 
Location: Fire Station Doha 
Cuban and Qatari friends
Unveiled as part of the preparations leading up to the start of the FIFA World Cup in Qatar, the artwork titled "Cuban and Qatari friends" is part of a mural series known as "Sus Colossos" by renowned artist Maisel López. The artist describes the picture of two kids playing with a soccer ball as a universal metaphor for feelings of brotherhood and unity. 
Artist: Maisel López
Location: Katara Cultural Village 
Pouce
A prominent marker of Souq Waqif, the installation of César's Pouce continues the programme of installations by major artists at unexpected locations throughout Qatar. Souq waqif was chosen as the location for this intriguing sculpture so the work could act as a landmark of modern art in a center that aims to preserve Arab heritage and Culture. At night, the highly polished bronze patina of the sculpture complements the subtle amber glow of the streets while during the day, it is easily visible from numerous angles and street views. 
Artist:César Baldaccini
Location: Souq Waqif
7
Constructed from seven steel plates, this powerful piece aims to pay homage to the spiritual significance the number seven holds in Islamic culture. I M Pei, the architect of the iconic Museum of Islamic Art recommended artist Richard Serra to create 7 in order to connect the aesthetic content of the museum to the possibility of building a public space for the people. 
Artist:Richard Serra
Location: MIA Park
Doha Modern Playground, Al Masrah Park
An interesting take on playground design that connects the rich history behind some of Qatar's most iconic buildings, Doha Modern Playground is a creative crossover between public art and recreational areas. Inspired by six iconic buildings, including Sheraton Grand Hotel and the Qatar Post Office, the playground is a nod to Qatar's modernist architectural wonders.
Artist:Shezad Dawood 
Location: Al Masrah Park
The Challenge 2015, Lusail Sports Arena
A series of large bronze sculptures depicting larger-than-life hands reaching for the sky, The Challenge 2015 was commissioned in 2015 to commemorate Qatar's hosting of the Men's Handball World Championships. Located just outside the Multipurpose Hall at Lusail, this thought provoking piece was created by Iraqi artist Ahmed Al Bahrani in just five months. 
Artist:Ahmed Al Bahrani
Location: Lusail Sports Arena
Shadows
Amidst the desert sands of Al Zubarah, lies a site- specific installation by artist Olafur Eliasson. The artwork aims to explore how our perception of the world informs our relationship with reality. Twenty circular shelters, three single rings and two double rings are positioned in a symmetrical pattern, with ten shelters, the underside of which is covered with mirror panels. Visitors standing in the shade of the roofs may experience a moment of disorientation, due to the visual illusion created by the unique composition of this installation. 
Artist: Olafur Eliasson
Location: Al Zubarah