Ooredoo introduces Shahry Plus and Qatarna Plus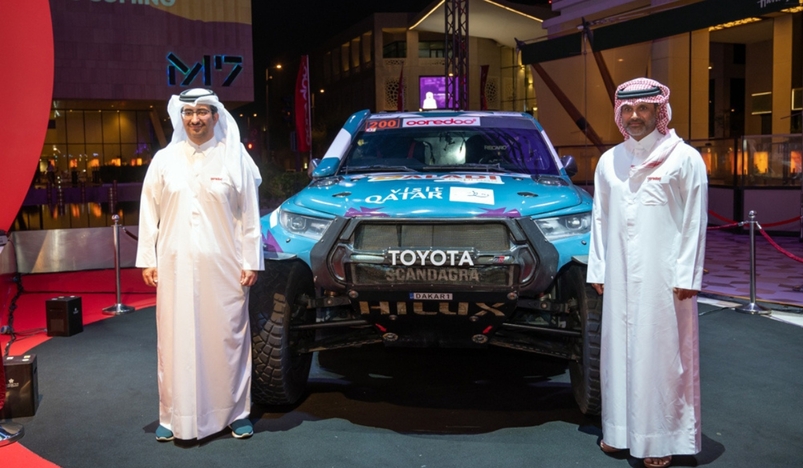 Sheikh Ali bin Jabor Al Thani, CEO at Ooredoo, and Nasser Al Attiyah at the launch event
Ooredoo – Qatar's leading telecommunications operator – has announced a major overhaul of its postpaid offering, with its Shahry 5G and Qatarna 5G plans being revamped in line with evolving customer needs and market trends.
The new Shahry+ and Qatarna+ plans offer a wide range of features and benefits, with two key elements; customers can always rest assured they remain in complete control of their bills, and will not ever pay a riyal more than they expect, and that they can remain connected with unlimited voice calls and data depending on their choice of plan.
Sheikh Ali bin Jabor Al Thani, CEO at Ooredoo, said: "We are so excited to launch our new Shahry+ and Qatarna+ plans; plans we have meticulously designed after extensive market research and assessment of customer wants and needs. These new plans will enable our customers to upgrade their worlds, in perfect alignment with our strategic commitment to complete customer satisfaction." 
The new Shahry+ and Qatarna+ range includes three plans under each product; Shahry+ Select, Active and Max, and Qatarna+ Pro, Premium and Platinum, enabling customers to choose the features and benefits that best suit their needs.
All plans automatically feature the Worry-Free Key, protecting customers from any charges beyond their agreed monthly plan price and ensuring they remain in complete control of their bills. Unlimited voice calls and data feature heavily across the six options, meaning customers will be able to stay connected throughout each month.
Customers looking to design their own plan and pay only for what they want will enjoy Shahry+ Select, which enables customisation of allowances and the option to make changes to both allowances and Add-ons each and every month if required. Extra benefits can also be purchased throughout the month.
Current Shahry S customers will automatically be upgraded to the new Shahry+ Active plan and will be able to enjoy more benefits such as more local data and more non-telco benefits such as entertainment and lifestyle subscriptions.
Customers who currently have a Qatarna 5G Platinum plan will automatically be upgraded to a Qatarna+ Platinum plan, with the plan price staying the same and the benefits being enhanced with unlimited roaming voice calls and data in 27 countries including the GCC, the USA and across Europe.
Nasser Al Attiyah, Qatar's motor racing star, is the face of the new campaign, under the theme of 'Greatness'. Marketing campaigns for the new plans focus on Nasser's rise to greatness, and highlight the many ways in which customers can upgrade their worlds and aim for greatness with the many features and benefits on offer.
Sheikh Ali concluded: "We believe our new Shahry+ and Qatarna+ plans will meet and exceed customer wants and needs, both now and as we move further into the age of complete digitalisation, and we look forward to seeing a positive response in the market." 
Source: The Peninsula