New public Artworks are Installed by Qatar Museums Throughout Doha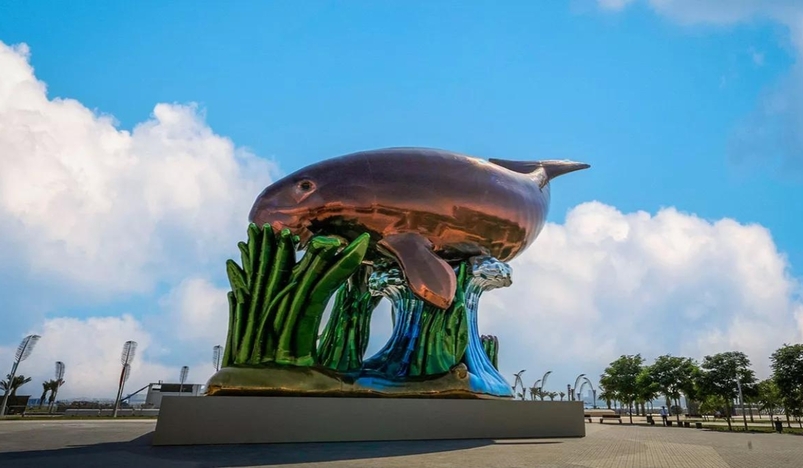 New public Artworks
Qatar Museums, in partnership with the Supervisory Committee of Beautification of Roads and Public Places in Qatar (Ashghal), recently unveiled a number of public artworks throughout Doha as part of its intentions to turn the nation's landscape into a sizable outdoor art museum experience. The newly installed public artworks include:
* Doha Mountains (2022) by Swiss artist Ugo Rondinone, on view along Doha's Ras Abou Aboud beachfront near 974 Stadium, echoes the Olympic Ring colors that encircle the 3-2-1 Qatar Olympic and Sports Museum.
* The Doha Modern Playground (2022), a site-responsive playground inspired by a group of six key modernist buildings in Doha, by Shezad Dawood at Al Masrah Park.
* Monira al-Qadiri's Zephyr (2022) is a large-scale recreation of a microscopic organism seen in fossilized marine algae found in the Arabian Peninsula. The Kuwaiti artist's work is located along West Bay's North Beach.
* Here We Hear (2022) is a series of sculptures by Korean artist Suki Seokyeong Kang at Corniche Park. Each individual sculpture provides shelter and an open square where individuals, families, and communities can share their own history. Delvendahl Martin Architects are the executive architects of the project.
* Brazilian artist Ernesto Neto's immersive installation Slug Turtle, TemplEarth (2022), which pays homage to the natural environment and creates a space for meditation, reflection, and communion between visitors and the spirit of the desert. Slug Turtle, TemplEarth is a structure in Al Zubarah comprising eight football goal frames in an octagonal ring, centered on a ceramic earth globe sculpture and surrounded by a vast surface made of white crocheted netting.
* Al Jassasiya (2022) by Qatari artist Salman al-Malek is an installation inspired by the AlJassasiya site. The Jassasiya area was a seaport, located on the northeast coast of Qatar and the sculpture sits at Al Dastour Plaza.
* Toub Toub Ya Bahar (2022) situated at the Corniche waterfront by Qatari artist Salman al-Malek is inspired by an old song from Qatar and the Gulf. It translates to "Oh sea, have mercy on the sailors!". The song is about 'waiting' and it was sung by women in the community, for their sailors and divers.
* Standing over 21m tall and stretching over 31m long, Jeff Koons's inflatable Dugong (2022) is a mammoth form gliding effortlessly through a marine habitat; a new icon at the Corniche for Doha celebrating Qatar's natural heritage.
* Qatar-based Iraqi artist Ahmed al-Bahrani celebrates a Dugong Family in Al Ruwais, highlighting the dugong's significance as part of Qatar's history and commitment to protecting the species.
* Acacia-Tree Seeds (2022) by Qatari Artist Mohamed al-Atiq, symbolizes the good and bad nature of human beings and highlights the duality of humanity and art, by depicting the seeds from the Acacia tree.
* Milestones (2022) by Qatari artist Shua'a Ali on Grand Hamad Street is inspired by construction debris and location marks (Neshan) found in both urban and desert environments. The installation is a conceptual representation of an important period in the economic history of Qatar.
Abdulrahman Ahmed al-Ishaq, Qatar Museums' director of Public Art, said: "It has been an honor to partner with Ashghal to install these incredible artworks by celebrated local, regional and international artists and we thank them for their generous support. Qatar Museums invites residents and visitors to Qatar to experience these pieces, which have transformed Qatar into an outdoor canvas."
Mohamed Arqoub al-Khaldi, chairman of the Supervisory Committee of Beautification of Roads and Public Places in Qatar, added: "Displaying artworks in public places such as parks and beaches is a part of the committee's commitment to increasing the presence of art all around us. We look forward to further expanding the cooperation between the committee and Qatar Museums in this regard as this plays a big role in highlighting Qatar's cultural identity to visitors but also benefits the citizens and residents of Qatar."
More than 40 new and commissioned public artworks have been installed by Qatar Museums throughout the city of Doha in a variety of public spaces throughout 2022, including parks and shopping centers, schools and gyms, Hamad International Airport and Qatar Rail stations, as well as a few stadiums that are hosting FIFA World Cup games.