Nasser Bin Khaled Service Centers becomes the official distributor of Gazpromneft-Lubricant in Qatar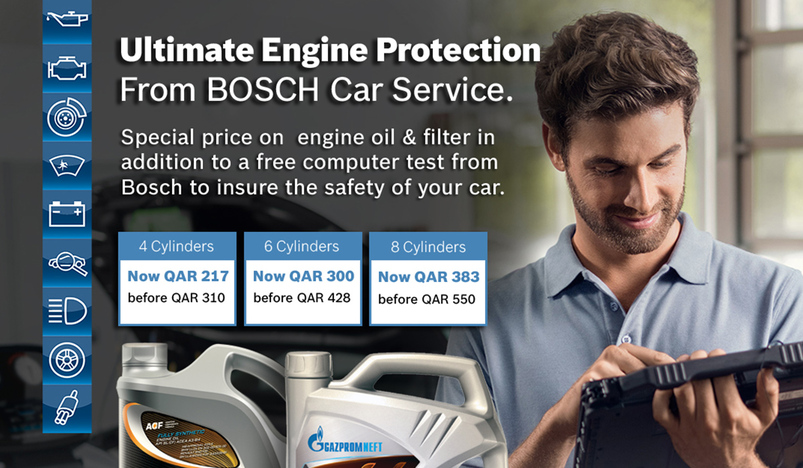 Nasser Bin Khaled Service Centers becomes the official distributor of Gazpromneft–Lubricants in Qatar
Doha, Qatar- Nasser Bin Khaled Service Centers, a subsidiary of NBK Group and authorized general distributor of Bosch in Qatar, is now the official distributor of Gazpromneft–Lubricants in Qatar. High-tech motor oils under the Gazpromneft brand, as well as premium synthetic oils from G-Energy, will be presented on the Qatar market.
The products are manufactured at 6 modern production sites in Russia, Italy and Serbia. Over 500 approvals are obtained in regard to the company's products from such leading equipment manufacturers as: BMW, Mercedes-Benz, Volkswagen, Volvo, Renault, General Motors, KAMAZ, BELAZ, Cummins, MAN, ZF, Bosch Rexroth, Wartsila, Winterthur Gas & Diesel, MAN Diesel & Turbo, J-ENG, Daihatsu, Yanmar, etc.
 
Celebrating this collaboration, Nasser bin Khalid Service Centers is introducing a special offer that is valid until 31 October at Bosch service centers in the industrial area. The offer enables customers to change the oil and filter for their cars with competitive prices, in addition to a complementary computer check.
 
HE Sheikh Faleh Bin Nawaf Al Thani, Managing Director – Auto, at Nasser Bin Khaled Group, said: "We are proud to introduce the Gazpromneft & G-Energy engine oil, a product of the renowned global company Gazpromneft-Lubricants, Ltd to our customers in Qatar. This new high-quality premium oil is exclusively available at Bosch service centers and applies to all car brands. This special offer is a clear indication of our commitment to our community to offer them the best services at affordable rates".
 
Anatoly Skoromets, General Director at Gazpromneft–Lubricants, said: "We produce a wide range of high-tech lubricants which includes oils for high-performance sports engines, environmentally-friendly vehicles with hybrid motors, heavy-duty industrial and commercial vehicles. We also have developed special product line specially engineered for hot climate conditions. The high quality of our products has been confirmed multiple times by the most challenging international rallies such as Dakar and Silk Way Rally. We are confident that products under the G-Energy and Gazpromneft brands are perfect for the fleet and customers of Qatar" 
 
Customers can book an appointment for the oil and filter service by using the WhatsApp chat number 50703985. The offer is valid at Bosch service authorized centers in the Industrial Area (St. 2, St. 26).

SOURCE: PRESS RELEASE