Msheireb-based startup tests the Delivery Robot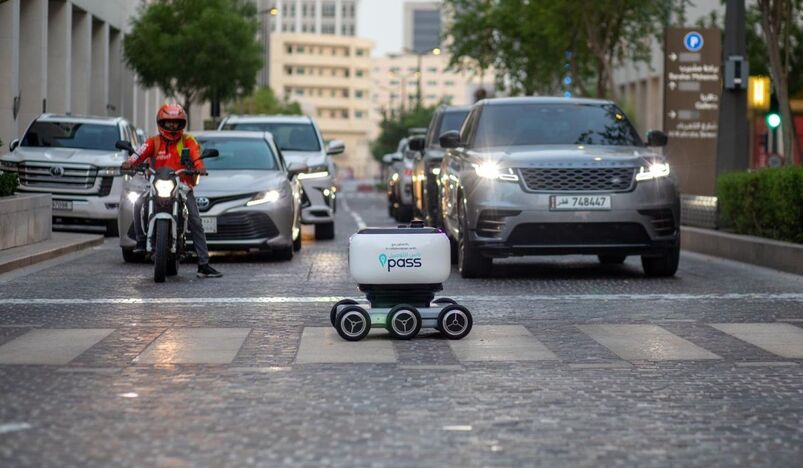 Pass, a local startup tests their bot for delivery in Qatar.
Pass is a Qatar-based startup that uses a cutting-edge mobile app to help meet the country's peer-to-peer delivery needs of both Qatari citizens and visitors. This application is compatible with both iOS and Android devices. Pass was founded initially in Qatar.
Pass has formed a strategic alliance with PEYK, one of the United Kingdom's most promising delivery platforms. This partnership will enable Pass to export its expertise and cutting-edge technology to the Middle Eastern country of Qatar. The company's advanced business dashboard has helped tens of thousands of local businesses better serve their customers, and the company's mobile app has enabled tens of thousands of customer deliveries. Over one hundred thousand of these deliveries have already been completed. These packages were sent out from a variety of nearby locations.
Since the company's inception, Pass has had the overarching goal of developing products whose production is as environmentally friendly as possible. Pass will soon be able to offer fully automated short-distance delivery services in Qatar due to its partnership with PEYK. Robots will be used to assist with these types of deliveries. Currently, Msherieb is the optimal location for testing these autonomous delivery robots. This particular robot has a length of roughly one meter, a width of approximately 45 centimeters, and a weight of about 50 kilograms. Its performance and battery life have been significantly enhanced compared to when it was not utilizing machine learning and AI. The company's goal for the end of 2023 is to have completed a substantial number of deliveries that do not contribute to carbon emissions.