Mowasalat to Conduct a World Cup Bus Service Test on August 18, Thursday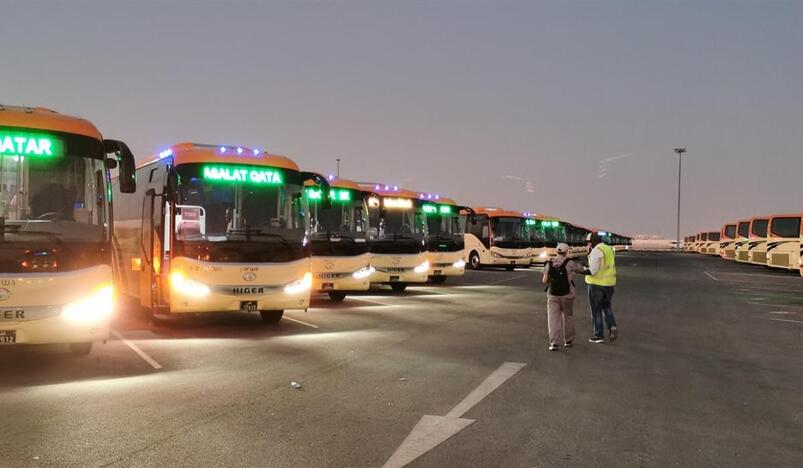 Mowasalat (Karwa) are testing their buses on various routes to ensure smooth operations during the World Cup
There will be a Qatar FIFA World Cup 2022 bus service test on Thursday, August 18, 2022 as per the announcement of Mowasalat (Karwa). It will connect AlBayt and Al Janoub Stadiums to downtown Doha. 
The company tweeted that the test will be conducted throughout the day, involving over 1300 buses.
Mowasalat has taken up this initiative to make sure its drivers 'Deliver Amazing' performance during the upcoming World Cup. 
Arrangements are being made by Qatar to make sure public transport operations run as smoothly as possible during the 2022 World Cup. The World Cup will be held from November 20th to December 18th, the public transport being used will include bus services, Lusail Tram and the Doha Metro. 
Meanwhile, the Public Bus Infrastructure Programme is being implemented by the MoT in coordination with the Public Works Authority (Ashghal) as part of the provision of high-quality transportation services and modern parking facilities strategically distributed across the country and accessible for everyone easily and affordably. 
In the meantime, the Ministry of Transport (MoT) in collaboration with Public Works Authority (Ashghal) is in the process of implementing the Public Bus Infrastructure Programme. It will ensure the highest quality standards of public transportation services and parking facilities are maintained consistently throughout the country. Making them accessible and easily affordable by everyone.
The programme will serve as a pillar for the countrys' public transport system for its nationals, residents and the Qatar FIFA World Cup 2022 visitors, who will use it to reach the stadiums or carry on with their day to day activities during the World Cup.