Moira The World Tour Qatar Concert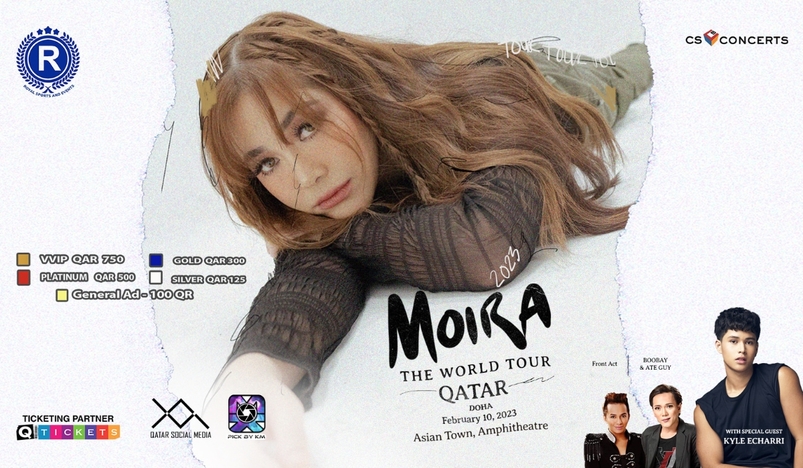 Catch Moira Dela Torre live in Qatar on Feb 10, 2023 as she embarks on a World Tour.
As part of the much awaited Moira the World Tour, Filipino Music Sensation Moira Dela Torre is scheduled to perform in Qatar on the 10th of February 2023 at the Asian Town Amphitheatre. 
Moira Dela Torre is a Filipino singer-songwriter who rose to fame for her award winning single "Titibo-Tibo" and her covers of "Sundo" and "Torete". She was also a contestant at the first season of the highly coveted "The Voice of Philippines" 
The event,"MOIRA The World Tour Qatar Concert '' is set to begin from 7pm onwards and will feature an exciting lineup of popular artists and singers. 
The fiesta is to be organized by CS Concerts, along with Qatar Social Media and ticketing partner QTickets in association with the Royal Sports and Events.
The highly anticipated concert features a line up of popular artists including Kyle John Echarri with a live band. The Filipino-American singer and actor is best known for participating in season 2 of The Voice Kids and his numerous tv appearances. 
Special appearance of Boobay & Ate Guy  is another addition to this star studded night. NORMAN "BOOBAY" BALBUENA AND GIL "ATE GUY" MORALES will perform as part of this amazing concert.
Artists Line-Up: MS. MOIRA DELA TORRE,KYLE ECHARRI,NORMAN "BOOBAY" BALBUENA AND GIL "ATE GUY" MORALES.
Date: 10th February 2023
Time:  7:00 PM onwards 
Location: Asian Town Amphitheatre
Ticket Pricing: 
•    VVIP:  QAR 750 Inclusion of Meet & Greet, Dinner during Press Conference and VVIP Lounge Access during the event with seating arrangement.
•    PLATINUM: QAR 500, Platinum Lounge access during the event with seating arrangement.
•    GOLD, SILVER AND BRONZE: Platinum Lounge access during the event with seating arrangement.
•    GOLD: QAR 300  
•    SILVER: QAR 125 
•    BRONZE: QAR 100
Gate Rules:
GATE FOR VVIP & PLATINUM TICKET – VIP GATE
GATE FOR GOLD AND SILVER TICKET – GATE A3
Book Tickets On: Q-Tickets
Access: Event admission ticket required (free entry for kids below 5 years)