Ministry of Education Ensures Ongoing Blended Learning in Safe and Healthy School Environment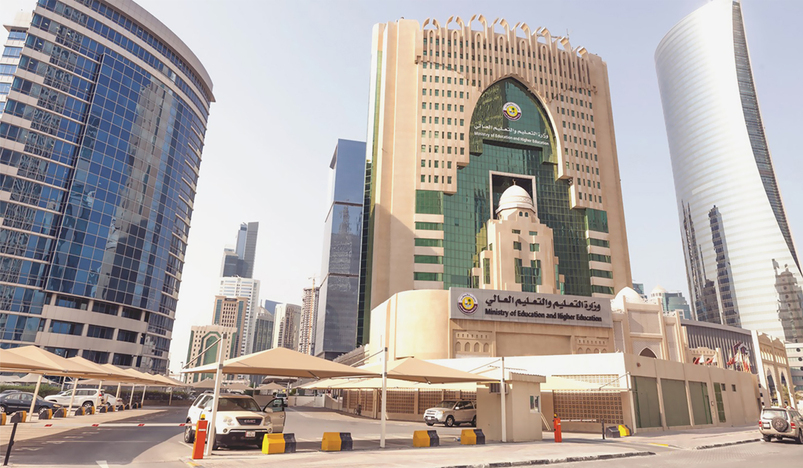 Ministry of Education and Higher Education for Educational Affairs
QNA
Assistant Undersecretary of the Ministry of Education and Higher Education for Educational Affairs Fawzia Abdulaziz Al Khater underlined that the Ministry will continue to apply the blended learning system in the government schools for the academic year 2021/2022 in addition to the adoption of the rotating attendance of students by 50% for all academic levels in schools, after coordination and consultation with the Ministry of Public Health in light of the analysis of the current situation, the spread rates of the COVID-19 in the country, and reviewing the procedures of other countries in this regard.
In a press statement on the occasion of the start of the new school year, Al Khater said that the Educational Affairs Sector at the Ministry of Education and Higher Education has planned and implemented a set of targeted measures in preparation of the new academic year 2021/2022, in order to ensure an effective start to study in all educational stages amidst a healthy and safe schooling environment that enhances the academic achievement of students.
She revealed that the blended learning will provide an integration of online learning and classroom learning at once, explaining that distance learning will be implemented via the Microsoft Teams application in days when students are not attending in the school, in accordance with the planned schedule by the school.
With regard to low-density village schools, low-density specialized schools and specialty schools for people with disabilities, Al Khater noted that the attendance will be full in the school building at a rate of 100%.
She explained that the Ministry has implemented many measures in preparation for the new school year, including emphasizing school administrations on the importance of adhering to the precautionary procedures to ensure the safety of students and staff in the school building, the necessity of the presence of the nursing staff in the school building on a daily basis, and educating new students and parents about the requirements and instructions about the schools policy in dealing with and preventing the COVID-19 disease, in addition to not allowing visitors or employees to enter the school building without checking the EHTERAZ app and checking the temperature.
The procedures also included the necessity of notifying the Ministry of Public Health immediately and informing the School Affairs Department in the event of discovering any COVID-19 case; and transforming study into the distance learning system at a rate of 100% in the event that the percentage of infections in the school or kindergarten increased after the approval of the Ministry of Health and the notification of the School Affairs Department; as well as the commitment to circulars issued by the Department of Security and Safety at the Ministry, she added.