Metrolink to operate 90 new electric buses starting October 2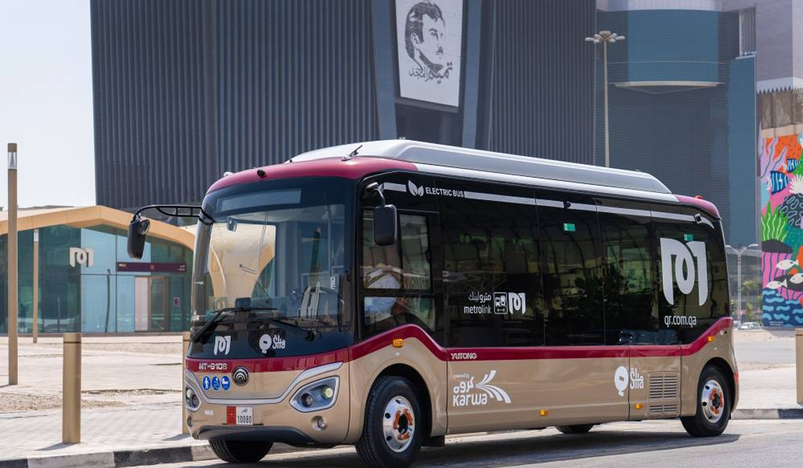 Electric buses
Mowasalat (Karwa) has announced an addition of 90 new electric buses to the Metrolink fleet to cater to the special needs of residential areas. The announcement was made yesterday during the launch event held at the Al Sadd metro station.
The event was attended by Ahmed Abdulrahman Al-Muftah, CAO of Mowasalat (Karwa), Ahmad Hassan Al-Obaidly, the COO of Mowasalat (Karwa) and Eng. Abdulla Saif Al-Sulaiti, Chief of Service Delivery for Qatar Rail.
In line with Mowasalat (Karwa)'s values and Qatar's mission to a green road transportation system, not only are the new electric buses completely zero-emission, but they have also near-zero noise generation as well. The fleet is fully customized to the environment in Doha and comprises 60 minibuses and 30 medium-sized buses with battery capacities of 163kWh and 211kWh, respectively. 
With the drivers' and passengers' safety paramount in mind, the entire fleet is equipped with 360-degree cameras and sensors to ensure drivers get a full view of the vehicle's surroundings. The buses are highly energy efficient with an inbuilt intelligent energy control system for the batteries to last longer and the interiors of the buses come equipped with changeable LED lighting. The buses are easily accessible for passengers with special needs. 
Each bus is also equipped with an alarm system that sends a warning to the driver upon crossing the speed limit, in case a pedestrian crosses the street and at lane departures. This makes the new fleet completely suitable for residential areas, also in terms of their turning radius and bus lengths. 
This new fleet of 90 electric Metrolink buses will start plying the roads of Qatar from October 2. To ensure a seamless passenger experience, Mowasalat (Karwa) implemented a comprehensive testing process that started yesterday and will continue for the next 10 days, covering 19 routes. This entire testing process will check the mileage performance and energy consumption of the fleet.
Speaking on this occasion, the COO of Mowasalat (Karwa), Mr. Ahmad Hassan Al-Obaidly said,
"At Mowasalat (Karwa), customer feedback is of utmost importance. Over the years, in collaboration with Ministry of Transport and Qatar Rail, we have continuously listened to the needs of our customers, and we are extremely pleased to present our latest offering of a new fleet of electric buses. All 90 buses are approved as per international quality standards, and, given their sizes and turning radius, they are perfectly adjusted to residential areas. The Metrolink buses form a crucial component of the transport system, providing last-mile connectivity to all the metro passengers and making metro stations easily accessible. This new fleet of electric buses provides the passengers with a significantly superior commuting experience, in addition to demonstrating our commitment to quality and safety while minimising our environmental footprint. I encourage the people of Qatar to avail of the country's highly developed and modern public transport system and make it your preferred mode of transport."
On his part, Eng. Abdulla Saif Al-Sulaiti, Chief of Service Delivery for Qatar Rail, said:
"Since the launch of Doha Metro in 2019, the Metrolink has been one of the most important first and last mile service initiatives amongst the metro customers and has played a key role in encouraging the use of metro as an alternative to private transport. Introduction of electric buses to the Metrolink fleet is a key step in the direction of achieving Qatar National Vision 2030 by providing a sustainable and environmentally friendly mode of transport.
I would like to take this opportunity to congratulate and thank Ministry of Transport and Mowasalat for their continued support and look forward to successful implementation of e-Buses to the Metrolink fleet and further expansion of the network."