Magnitude 7.8 earthquake hits Turkey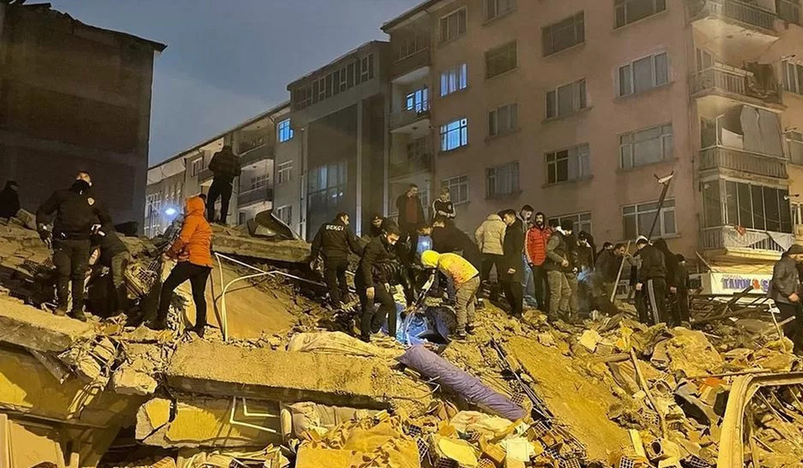 Earthquake
A deadly 7.8 magnitude earthquake rocked southern Turkey early Monday, toppling buildings and sending residents running into the streets as aftershocks were felt across the region.
At least five people were killed, Erdinç Yilmaz, governor of the southern Osmaniye province, told CNN affiliate CNN Turk. At least 34 buildings had collapsed, according to preliminary data.
The quake struck 23 kilometers (14.2 miles) east of Nurdagi, Gaziantep province at a depth of 24.1 kilometers (14.9 miles), the United States Geological Survey (USGS) said. Nurdagi is located along the Turkey-Syria border and the quake was felt in several countries across the region, including Syria and Lebanon.
Video shared on social media show dozens of collapsed buildings, while frightened residents huddled on the streets amid the chaos. Rescue workers can be seen conducting search-and-rescue operations.
Gaziantep Gov. Davut Gul said on Twitter that "the earthquake was felt strongly in our city," and advised the public to wait outside their homes and stay calm.
"Please let's wait outside without panic. Let's not use our cars. Let's not crowd the main roads. Let's not keep the phones busy," he said.
Strong aftershocks have been felt in southern and central Turkey. About 11 minutes after the main quake hit, the strongest aftershock of 6.7 magnitude hit about 32 kilometers (20 miles) northwest of the main quake's epicenter. Another intense aftershock with a magnitude of 5.6 then occurred 19 minutes after the main quake.
Journalist Eyad Kourdi, who lives in the city of Gaziantep, told CNN there were up to eight "very strong" aftershocks in under a minute after the 7.8 magnitude quake struck, causing belongings in his home to fall to the ground. Many of his neighbors had left their homes following the quake, he added.
Turkish President Recep Tayyip Erdogan sent his "best wishes" to those affected by the quake.
Erdogan said the quake was felt in many parts of the country and the Disaster and Emergency Management Authority (AFAD) of Turkey was on alert to assist the victims.
"I convey my best wishes to all our citizens who were affected by the earthquake that occurred in Kahramanmaras and was felt in many parts of our country. All our relevant units are on alert under the coordination of AFAD," Erdogan wrote on Twitter.
Strong aftershocks are likely to continue in the hours and even days to come after an earthquake as strong as this one, according to CNN meteorologists.
This is a breaking news story. More to come…