KAHRAMAA Collaborates with General Traffic Department to Inaugurate Electric Vehicles Fast-Charging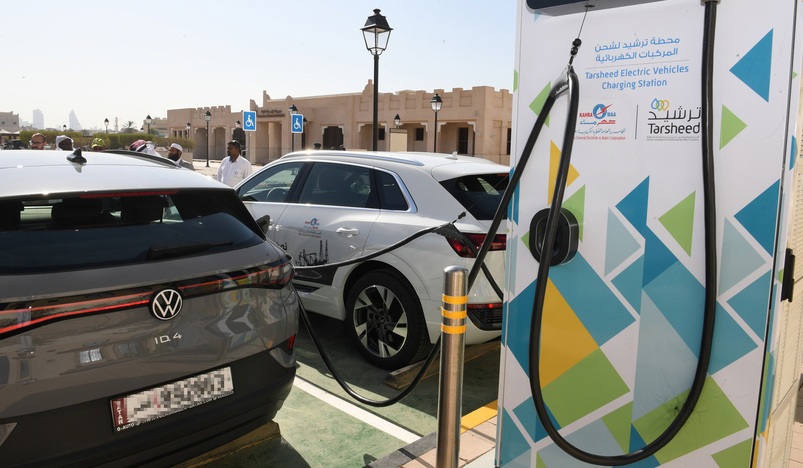 Electric Vehicles Fast-Charging Station
The Qatar General Electricity and Water Corporation (KAHRAMAA) and the General Traffic Department have jointly inaugurated an electric vehicle charging station at the General Directorate of Traffic headquarters in Madinat Khalifa, in the presence of a host of officials from the two sides.
The inauguration of the fast-charging station with a 100-kilowatt capacity came within the framework of a partnership between the Ministry of Interior (MoI) and KAHRAMAA which aims to install a collection of stations in various areas of the MoI in support of its objectives related to environmental sustainability.
The station is the second of its kind to be inaugurated MoI's sites in collaboration with KAHRAMAA after the station of Al-Fazaa building. It is capable of charging two vehicles simultaneously in less than 20 minutes.
Director of Shared Services at KAHRAMAA Dr. Eng. Abdulla Mohsin Al Wahedi emphasized the importance of partnership with MoI in supporting the transition to sustainable transport, noting that it resonates profoundly by placing the station at the General Traffic Department the regulatory heartbeat of vehicular movement in Qatar which gives significant indications and momentum to the process of transition to sustainable transport.
He added that KAHRAMAA is committed to providing the essential infrastructure to support electric vehicles through deploying high-speed chargers at strategic locations nationwide until all areas are covered by high-speed chargers.
For his part, Manager of Conservation and Energy Efficiency Department at KAHRAMAA Rashid Hussain Al Rahimi said KAHRAMAA strongly advocates for other ministries and governmental agencies to integrate electric vehicle charging infrastructure, thereby amplifying the support for electric vehicle utilization, and contributing to a reduction in harmful carbon emissions.
KAHRAMAA, through the National Program for Conservation and Energy Efficiency (Tarsheed), remains at the forefront of augmenting the electric vehicle charger network. The Corporation regularly launches projects and initiatives aiming at developing the infrastructure needed to enable wide adoption of EVs, along with policies, regulations, and best practice guidelines to enhance this transition. Notably, KAHRAMAA has announced inaugurating a platform to control and monitor the network of EV charging stations earlier this year. Boasting the launch of over 160 swift chargers, the Corporation is steadfast in its mission to commission 300 units by the close of 2024, with an ambitious target of 600 units come 2025.
(QNA)