Here's How You Can Help the Turkey and Syria Earthquake Victims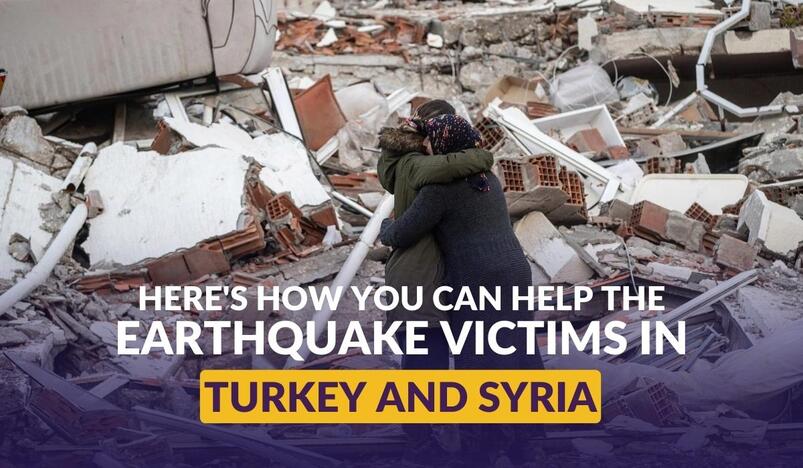 Image Source: Rolling Stone
After the 7.8 magnitude fatal earthquake hit the Turkey-Syria border early Monday morning, the death toll has since climbed to 2,316 in Turkey with 13,293 injured. The Syrian death toll increased to 1,293 and 3,411 were injured. Government-controlled areas saw 593 dead and 1,411 injured in the provinces of Aleppo, Latakia, Hama and Tartus while in rebel-held parts of the country, at least 700 people died and 2,000 were injured. 
Qatar and other neighbouring countries began their emergency responses right away and plans to launch a large-scale emergency relief campaign were put into action. If you want to be a part of the relief help, we have put together a list of reliefs and charities that are accepting donations. The focus is on the most pressing needs, especially food and nonfood items (NFIs), such as tents, blankets, tarpaulins, and hygiene kits. 
If you wish to donate to disaster relief, make sure you keep the following in mind:
Donate to reputable, registered charities.

Monetary donations are the most effective.

Consider giving monthly donations for long-term recovery efforts as many disaster relief groups see donations taper off after just a few weeks. 
1. Qatar Red Crescent Society (QRCS) 
They are Qatar's first humanitarian and volunteering organisation that aims to assist and empower vulnerable individuals and communities without partiality or discrimination. 
They have allocated 4,800 food parcels from its mission stock to be urgently distributed to the affected families in northern Syria. They also have a contingency stock of relief aid ready for shipment, which consists of 2,250 heavy blankets, 2,750 light blankets, 1,000 jerrycans, 3,000 mosquito nets, 2,000 tarpaulins, 500 shelter kits containing maintenance tools, and 1,360 family hygiene kits. 
You can donate for urgent relief here.
2. Qatar Charity
They are a group of Qatari philanthropists that came together to form a community initiative called The Committee of Qatar for Orphan Sponsorship. Qatar Charity has grown to become one of the largest humanitarian and development organisations in the world, providing life-saving assistance to those hit by conflicts, persecution and natural disasters. 
In response to the urgent humanitarian needs, Qatar Charity began to distribute 27,000 ready-to-eat meals to the earthquake victims equally in Syria and Turkey, with a value of 400,000 QAR. 
You can donate through the Qatar Charity website, in addition to dialling hotline 44290000 for donations. Donations can also be made at Qatar Charity's branches and collection points across the country.
3. Turkish Red Crescent 
Red Crescent organisations in both Turkey and Syria are members of the Red Crescent movement, an international network of disaster relief agencies. The Turkish Red Crescent has asked for cash donations on Twitter. 
4. Syrian Red Crescent 
A non-profit organisation founded in Damascus, they have around 11,000 trained volunteers that work in the areas of first aid, first aid training, disaster response and relief, psycho-social support, and health in general. The Syrian Red Crescent did not have a donation page set up on Monday, but volunteers interested in joining the organisation can find more information here. 
5. Doctors Without Borders
They are another humanitarian medical aid group. The nonprofit said its staff was providing medical supplies and support to 23 hospitals treating earthquake victims in Idlib and Aleppo in Syria. You can make donations to their donation page for its earthquake recovery efforts. 
6. Save the Children
They work in the United States and around the world to give children a healthy start in life, the opportunity to learn and protection from harm. Children are the most vulnerable during a crisis, Save the Children are always among the first to respond. 
You can donate to the Children's Emergency Fund here.
7. International Blue Crescent Relief and Development Foundation
The foundation has offices in Gaziantep, Turkey, near the epicentre of the quake, and was working to dispatch teams to the affected communities in both Turkey and Syria. 
They have asked for the specific donations:
Tents and heaters

Blankets

Thermal clothes

Ready-to-eat meals for at least 5,000 people

First aid kits
Those interested to donate should reach out to Alper Mavi, a regional program coordinator at +90 5385159806 or alper.mavi@ibc.org.tr